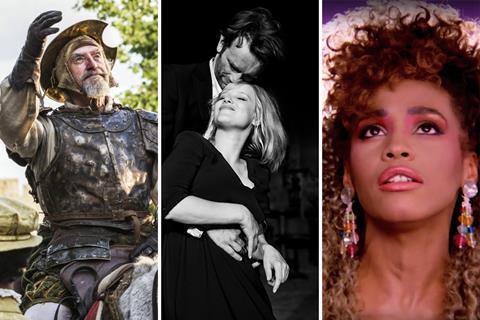 Does it matter so few UK films have been selected to screen at the Cannes film festival this year?
Pawel Pawlikowski's Cold War, backed by Film4 and the BFI, is the only competition title with any significant UK involvement. Out of competition titles Whitney by Kevin Macdonald, and Terry Gilliam's The Man Who Killed Don Quixote were added a few days after the main announcement, as well as Mark Cousins' The Eyes Of Orson Welles, which has been selected for Cannes Classics.
Their presence (just about) saves the UK from the worst representation at Cannes in recent memory but there is no avoiding the stark reality there are no UK films or directors in any of the other sections. The curators of Un Certain Regard, Critics' Week, and Directors' Fortnight between them did not choose to screen a single UK film.
But while it makes for easy headlines, what does the UK's disappointing representation at Cannes actually mean to and for festival regulars?
Bad timing
"We can't ignore the fact Cannes is the premier international film festival in the world and we're competing against exciting filmmakers from every corner of the globe," said Gabrielle Stewart, managing director of international sales agent Hanway Films.
"One could argue English-language filmmakers have such an advantage [in the global marketplace] over non-English speaking filmmakers. You could argue it's good for Cannes to promote emerging voices from parts of the world that may get ignored otherwise. I think it's great that Cannes ignores the language and just goes for whoever they feel is an exciting filmmaker."
Stewart is one of many who suggest it may just be about timing rather than a red light that something is amiss in the UK film industry.
"We had some great films in Sundance, [director of Colette] Wash Westmoreland, Michael Pearce with Beast. I do feel we have an advantage getting our films into a festival like Sundance and Toronto because those are audience-led festivals as opposed to critics-led festivals. They are more likely to go for English language films. Foreign language films have a smaller opportunity to get in there."
"If you look at the last 18 months of emerging filmmaking in the UK, the standard has been phenomenal," agreed fellow sales agent Alison Thompson of London-based Cornerstone Films. " I wouldn't be at all surprised if the Cannes line-up in 2019 looks very different from a UK perspective."
There are plenty who agree with Thompson.
"I have always thought we struggle to excite Cannes in particular with our emerging filmmakers," said Ben Roberts, director of the BFI Film Fund. "Perhaps new British cinema, which is at its strongest in years, doesn't always fit with the Cannes view of what British cinema should be?"
He points to some of the UK's biggest arthouse filmmaking debuts of last year including the BFI-backed trio of Rungano Nyoni's I Am Not A Witch, which screened in Directors Fortnight, but also William Oldroyd's Lady Macbeth, which had premiered at Toronto the year before in 2016 and Francis Lee's God's Own Country, which was at Sundance 2017.
"Put it this way, I think the autumn is looking exciting."
US challenge
The audience-facing autumns festivals in North America are certainly popular with sales agents looking to secure US deals.
"British films, British sensibilities, will probably get a warmer response from the audience-led festivals," said Hanway's Stewart. "In terms of sales to the US market, which is the most important thing for a British film, there's no better place because the US distributors love buying films out of the US and Sundance because they get to watch them with an audience. They don't get to do that in Cannes because it's an audience made up of industry professionals and critics. One of the questions a US distributor will have is, 'How does it play in front of an audience?'"
While no one will deny the wisdom of choosing to premiere an English-language commercial film at Toronto – following in the footsteps of a tradition that began in earnest with Slumdog Millionaire and was continued by The King's Speech right up to Three Billboards Outside Ebbing, Missouri – what dismays some industry figures is the lack of any truly arthouse UK films being shown at Cannes. The number of UK films being produced has been at record levels for the past few years so it cannot be a question of volume.
"A lot of the marquee names have very legitimate reasons for not being [in Cannes]," pointed out Lawrence Atkinson, director, DDA. "Lynne Ramsay was there last year, Andrea Arnold is shooting Big Little Lies, Martin McDonagh has just done the rounds with 3 Billboards, Steve McQueen's Widows is not done until the end of the year, Paul Greengrass can't be there because of Netflix, so with these filmmakers that we expect to see there physically don't have movies ready.
"What's more worrying is that there's not more discoveries," Atkinson continued. "You take a look at Critics' Week, Un Certain Regard, Directors' Fortnight, where you want to see discoveries come through and there are no new voices. It is more worrying not to see the next generation represented in any way."
Atkinson does not believe Cannes has lost any of its allure for filmmakers. "It's still the mothership of festivals and I would vehemently deny that any filmmaker wouldn't want to be at Cannes," he said. "The awards circuit is tried and tested now and films that appear from September onwards tend to fare better, but there are equally just as many casualties. With the glut of 'awards films' that get shovelled into Toronto or Venice, a huge number don't make the cut.
"Cannes offers you a standalone platform and if you have the distribution support to get you through the rest of the year then you have the same chance on the awards circuit."
But Daniel Battsek, director of Film4, believes some directors do opt to avoid the unrelenting glare of the Cannes spotlight, even with the changes the festival has made to the press screenings. Film critics can no longer publish – or Tweet- reviews ahead of the red carpet premiere.
"I do think it's kind of terrifying [for some directors] to have their films in Cannes," he suggested. "There's a certain fear factor around Cannes."
Hard sell
This year's lack of UK films may have an unforeseen detrimental knock-on effect on the media sent to cover the big films and big stars at the festival. Because for 'big', read 'English-language'.
"It will really hit a lot of the press because there are a lot of journalists who go to Cannes to do junkets and I don't know how much they'll get out of if this year," said Jonathan Rutter, director of film at Premier PR. "That applies to the international press as well. There aren't enough films with big names in them. Editors will look at what they come back with and say 'why are we sending people?'"
For one UK-based film critic at least, the lustre of Cannes shines as brightly as ever – this side of the festival anyway.
"I go to Cannes to immerse myself in the best cinema the world has to offer at that particular moment," said Wendy Ide, a critic for Screen International and The Observer. "And if the selectors feel there is nothing from the UK which meets that standard, well, certainly, that's disappointing. Professionally, it's tiresome, obviously it's easier to pitch a film as a story to a British publication if it has a UK link.
"But personally, I'm less bothered. As long as I am watching cinema which excites me, surprises me, which takes me out of my comfort zone, I really don't care where it comes from."