Alexander D'Lerma talks about his work in making his new film Fear, Love & Agoraphobia, he takes his time off the marketing of his film to seat with us. He walks us through his filmmaking process.
indieactivity: When and how did you cut your teeth as a filmmaker?
Alexander: It was my first feature film back in 2003. I was an actor desperate to book my first leading role in a feature film. I was booking small acting jobs here and there but the big movie break was not coming fast enough for me. I had made some very good money as a radio broadcaster and in commercials. One day I was playing one on one basketball with a friend. I told him I was going to write, produce, and star in a feature film that would be shot on 16mm film.
He liked my story idea and offered to give me half of the modest budget in exchange for being the 2nd lead actor in the film and writing and producing the film with me. One of my other close friends was supposed to be the director and editor. He wound up being overwhelmed by the whole process and by default I wound up becoming the director and editor of that first feature. It was a dream come true because it was a "sink or swim" situation. I did not have formal training as a director yet but I was able to pull it off because of my training and experience in the theater as well as radio where I was not only a D.J. but also a program director and production director.
I had hundreds of hours of experience writing and editing commercials and weekend radio plays. Ultimately I fell in love with writing, directing, producing, and editing for the cinema. I transitioned from acting into filmmaking and got my start as complete fluke.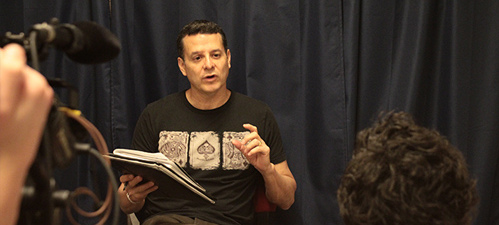 indieactivity: When writing your own films, do you start writing with a cast in mind?
Alexander: Yes. Always. It's easier for me to write with specific actors or friends or family members in mind. I use them as a foundation and then build something that is not them but is based on their core or essence. If I don't know an actor or other person in my life to base a character on then I try and find a historical figure to draw upon.
indieactivity: How long did it take to complete this latest script? Do you have a writing process?
Alexander: This script took a long time to complete. Maybe two years. And, in fact, I was re-writing some of the scenes while we were shooting them or I would delay shooting a specific scene, the ending for example, so that I could re-write it over night and start fresh the next day. You really never know if the material is going to work until you see it with an audience but by then it's too late. So when I direct a film I watch the monitor and try and pretend I'm at home watching a film. I try and forget everything I know about the material and just see the scenes with fresh eyes. If the scene doesn't work then I trouble shoot to figure out what's wrong. Sometimes the material needs trimming or in one case a complete overhaul. I do have a writing process but in the past I would resist it and just want to write and figure out the story on the fly. I don't do that as much any more and I'm better now at sticking to my process.
indieactivity: When did you form your production company – and what was the original motivation for its formation?
Alexander: That happened back in 2001 when I was writing and planning my first feature film that was supposed to take my acting career to a more successful place. The film was completed in 2003 and it introduced me to something I loved even more than acting. Cinema. It was a highlight of my life and I now have a great passion for film production.
indieactivity: What was the first project out of the gate?
Alexander: That was the 2003 feature film 'Alvarez & Cruz.' It was a crime drama about two best friends who are house breakers / thieves and both of them have issues with their fathers. Since then I've produced, written, directed, and edited a total of 13 projects, not including training videos and regional commercials.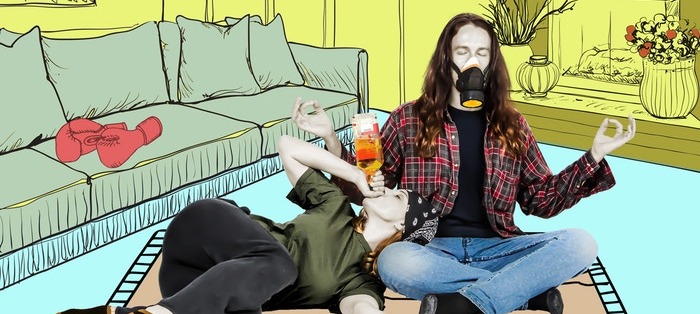 indieactivity: During production, what scene (that made the cut) was the hardest to shoot?
Alexander: That would have to be the love scene. Our leading actors Linda Burzynski, Dustin Coffey, and Ed Aristone had to be naked and in bed in the same scene. It's not a threesome by the way. You'll need to see the film to understand why all three of them are in the same scene together. And although they had their private areas covered by the the unusual items used in movie making I knew it would be a little nerve wracking for them at first. So to prepare for that I did the following. When We had rehearsal (fully clothed) I choreographed the scene exactly as it would happen on the day of the real shoot. I recorded all the shots from the rehearsal on my consumer camera. It was the same way I would have my cinematographer cover the scene later with our professional camera. It helped the actors when I showed up on set with the rehearsal footage I had shot. This allowed them to know exactly what the camera would be recording in every shot. This put them more at ease and it worked out great.
indieactivity: What works better in this latest production that mightn't have worked so well in the last one you did?
Alexander: Tone. When you mix drama and comedy it can be tricky. You have to balance the two just right and be sure you're doing something that is funny but from a truthful place and not just to get a laugh.
indieactivity: You produced and directed the film, what measure of input did it take to don these hats?
Alexander: Since I had Markus Linecker and Dustin Coffey producing the film along with me it was not a bad experience. In fact both Markus and Dustin were so well prepared and willing to share all the duties I had no issues with balancing my multiple roles.
indieactivity: Is there anything about the independent filmmaking business you still struggle with?
Alexander: No. Of course having to shoot on smaller budgets is difficult but there is also a benefit to it. When you don't have all the money and gear you want you have to get creative and if you have the ability to come up with creative solutions you could wind up making a better movie. For example I wrote a scene where the female Marine's (played by Burzynski) husband dies in prison. She is distraught and gets blind drunk. She goes to bed with her roommate (played by Dustin Coffey) and during the love making we see flashbacks of the female Marine and her now dead husband making love in the past. I had too many locations and I had to get rid of some. I thought why don't I get rid of the love making flashbacks that take place in another house? I can resurrect the dead husband during the love making session between Burzynski and Coffey. Coffey will roll over on top of Burzynski and suddenly he will now be the dead husband in bed with his wife. After all the flashbacks were supposed to be coming from the female Marine's mind so why not just have her look at Coffey's face but instead she see's her dead husband because she is blin drunk and wants to bring the man she loves back to life just for a little while. If worked beautifully and a good percentage of the audience always cries during that scene.
indieactivity: Where do you think your strengths line as a filmmaker?
Alexander: I understand story and how and why it's working and how to fix it when it needs to be fixed. I'm an actor's director too. I know what an actor needs and how to get him or her to the emotional and truthful place they need to be. Sydney Lumet and Elia Kazan were two of my directing heroes and I have learned a lot from their films and their books. When you watch a film like 'Dog Day Afternoon' the camera is telling the story visually, yes. But it's Lumet shaping that script as well as the actor's emotional life. It's how Lumet the director is orchestrating all those elements, especially the performances, that make that film magical.
indieactivity: Let's talk finance, How did you finance the film?
Alexander: I invested part of the budget. Dustin Coffey, the lead male actor, invested part of it too and we raised the remaining funds needed through crowd funding web sites like Kickstarter.com and Indiegogo.com
indieactivity: How much did you go over budget? How did you manage it?
Alexander: I did not go over budget. And I never go over time. I pride myself in being financially responsible and getting people wrapped on a set at the time I promise to. I think I went over time one day by about an hour. Then the next day I released everyone an hour early to make up for the previous day. It's important on small budget movies to not take advantage of people's time. They often work for less money than on a larger film and so you have to respect that and not take advantage.
indieactivity: How important is marketing? Do you think a project can make any dent without it these days?
Alexander: Social media has helped the Indie filmmaker, a bit, in that department but it's still hard and yes marketing is very important.
indieactivity: Can you tell us about your marketing activities on the project – and how it's gone for you?
Alexander: We've been utilizing social media, of course, and trying to get people who were part of the cast and crew to help with publicizing the film on the three main social media platforms. We're also fortunate to have Leomark Studios distributing our film and they know their stuff. They are very smart and have enlisted the help of a great publicist, Clint Morris.
indieactivity: What do you hope audiences get from your film?
Alexander: I hope that they are entertained by and identify with the characters. I think by the end of the film they'll have a feeling of hope and will be sorry to not be spending any more time with the characters of Chet and Maggie. They'll be sad to see them go away. A good book can do that to you. A good movie can too.
indieactivity: What else have you got in the works?
Alexander: I'm currently wrapping up producing a short film titled 'Mortal Coil.' And I'm writing a script that examines a great tension and danger that is growing between the sexes. But the genre is a thriller. I'm working with a female writing partner and I'm having a blast.
The post Alexander D'Lerma's 'Fear, Love & Agoraphobia' in black & white appeared first on indieactivity.