Revolutionary African film Director, Cheta Chukwu, is charting a new refreshing course as far as resourceful comedy movies are concerned, with his newly directed movie, 'PayDay', echoing the newly formed perspectives of cinema goers in Nigeria, who are more concerned about resourceful stories that will resonate with all audiences.
Produced by Orwi Manny Ameh, written and directed by Cheta Chukwu, the movie features Nollywood veteran, Zack Orji, Big Brother Naija runner-up, Bisola Aiyeola, Baaj Adebule, comedian Ebiye Victor, AMVCA Winner Meg Otanwa Mawuli Gavor, and more.
PayDay follows the story of two best friends and flatmates, Paul (Baaj Adebule) and Ortega (Ebiye Victor) who, just before they are about to renew their yearly rent, their Landlord dies very suddenly, and seemingly without any heir apparent. The young men seize upon the unfortunate but good opportunity to squander their rent. They go on an expensive night out.
The Landlord's daughter (Segilola Ogidan) turns up the following morning and gives the boys 24-hour notice to pay up or quit. They embark on an overnight scheme to recover the rent, leading to a dangerous encounter with an eccentric drug baron (Frank Adekunle Macaulay), a desperate robbery attempt, a gambling adventure, and an ego war with the neighborhood bully, Orlando (Mawuli Gavor). All the while they were hounded by Ngozi (Bisola Aiyeola), the neighborhood gossip, who just wants a piece of the action.
Since it's release into the cinema, Payday has been getting quite a lot of buzz around the country. Audience have called it "unconventional" and "unusual" and praised it for its rare depiction of male friendship on screen between its lead actors Baaj Adebule and Ebiye Victor, while touching important subjects as homelessness and gambling. Payday won the Grand Jury Prize at the 20th Detective Films International Festival, Moscow earlier this year and has also bagged official selections to festivals around the world. Cheta Chukwu, the film director, said he wanted to make an authentically youthful and urban Nigerian film with a global appeal.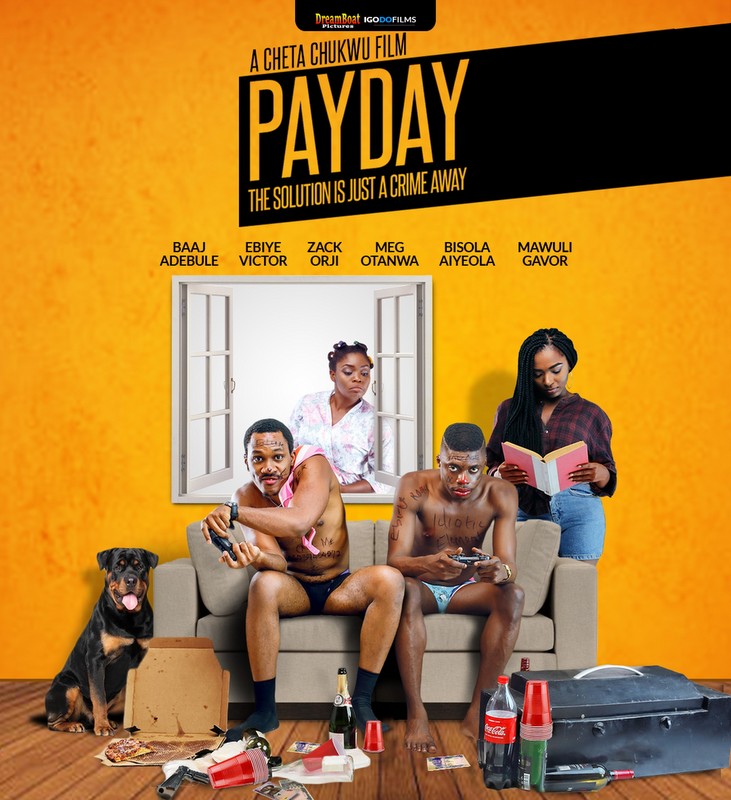 "Payday" is now screening in Nigerian cinemas and will make it's international entrance soon.
Follow Cheta Chukwu on Social Media
Facebook
Twitter
Instagram
LinkedIn
YouTube
Stage32
The post African Director makes his debut film on the big screen, with crime comedy PayDay appeared first on indieactivity.