REVIEW: by Peter Nichols | B+
Monday. We often kick of a review with a great line or copy, saying something such as, "…it is amazing indie to watch" however, this instance will be quite different. We begin by telling you that "we (Dapo, Michael & I) laughed our asses the fuck-off", while screening Alejandro Montoya Marin's MONDAY. And for the record, I am all still laughing my ass off writing this review. We actually accrued a 1 hour down-time away from work laughing, which we had to log in the timesheet. This made us conclude not to watch Alejandro's "MONDAY" on a Monday, but a Friday after work. If you do find yourself in our predicament, laughter will certainly fuck you up! And you get to shut down work early, and end up like Jim in MONDAY.
So, lets get to the review.
When a guy's day kicks off with a late wake up on a Monday, we felt oh, that happens to some of us. But, hey this wasnt his first late day to work, and it will certainly be his last, because he gets fired, and dumped by his girl friend/fiancée, sho also kicks him out of his house (his name is not on the lease). And that's not all. Everything else goes down hill for Jim, we were just glad he didnt commit sicide, we would have hated to stop laughing.
"Monday is like a Winchester Rifle, firing action with comedy rounds." – Peter Nichols
"Monday is charming, fun and entertaining." – Michael Ford
"Monday is exciting, fun and brutally indie." – Dapo
We loved MONDAY! Our chant is "Monday 'till we drop!"
Remember we watch Monday ONLY on fridays – Office Rules!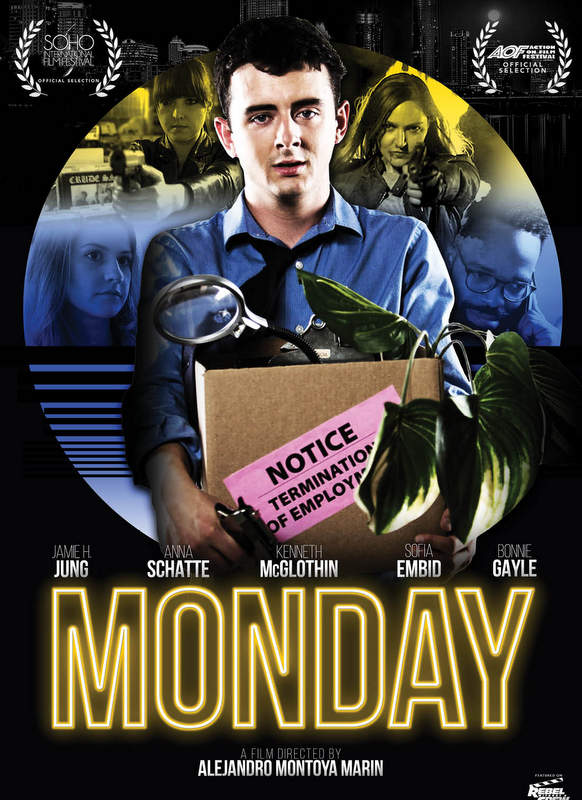 ---
Alejandro Montoya Marin's narrative work includes: Intrepido (2009), The Princess and the Musician (2013), The Joneses (2014), Low/Fi (2015), and Monday (2016). His films have screened in numerous film festivals including the Cannes Film Festival, Raindance, The Napa Valley Film Festival, Hollyshorts, and many more.
In addition to narrative film, Montoya Marin also has an intense love for music and has directed many music vídeos. He has directed for Sleigh Bells, Chikita Violenta, Motopony, Grimlin, and Stem Ivory. 
The post Movie Review: Alejandro Montoya Marin's MONDAY by Peter Nichols appeared first on indieactivity.