My grandmother and the generation she was born into inspired the story of MARGUERITE. I don't mean to say that the character Marguerite in the film is my grandmother per se, but the society in which she grew up in was much like the one Marguerite was raised in. It was incredibly different from the one I evolved in. I realized how lucky I was to have been brought up in a society in which women can speak up, speak out and be true to who they are. And I was saddened by the thought of all the women who didn't have that same opportunity (and still don't). I felt the need to write this story as a kind of homage to the women (and men) who had to suppress a part of themselves in order to conform to society's rules.
I wrote the film and within a few
months, we were able to get funding to go into production. And this is where
the fun begins for me! Finding the perfect partners to work with, searching for
the ideal locations and working on my vision is so exhilarating! Pre-production
is when your story really starts to come to life.
The shoot was magical. I really wanted
the whole process to go smoothly because of the delicate subject matter and
fortunately, it did. That is one of the things I am most proud of. That it was
a respectful set to work on. The crew was incredible and it gave the actresses
time to explore and develop their character in depth.
Once the film was completed and everyone was on board with the final cut, we started sending the film out to various festivals. I have had the chance to work with H264 Distribution with my two last films and they have always done an amazing job. They knew just how to market it and which festivals to submit it to. In fact, the film has had a phenomenal festival run and has won numerous prizes. For that I am so very grateful!
Q: Did you start writing with a cast (You or any) in mind?
Marianne Farley: I wrote the part of Rachel for my close friend Sandrine Bisson because I wanted to see her play a more toned-down character than the ones she is usually cast for. As for the part of Marguerite I thought about it for a long time before offering it to Béatrice Picard. Because I love doing anti-casting, Béatrice was the perfect actress. She is an extrovert and I wanted her to play a very introverted character. It was a great challenge for us both but she exceeded my expectations. Both Sandrine and Béatrice are amazing actresses and their onscreen chemistry is phenomenal.
Q: How long did you take to complete the script?
Marianne Farley: It took me about six months to complete the script but I had been thinking about the story for a few years. I believe that stories come to us from the subconscious. When you're ready to sit down and write, it usually means that the story is ready to come to the surface. I submitted a first version to Sodec (a government funding agency for film and television) and didn't get the funding I was hoping for. They gave me a few notes and told me I only had two weeks to resubmit it. Because patience is not one of my virtues, I wasn't going to hold off and wait another six months for the next submission deadline. So I sat down for a two weeks of crazy writing schedules and extremely difficult soul-searching. My writing process is definitely not an easy one nor is it painless. Quite the contrary. I called my writer friends and asked them for tips. I had them read and give me notes. I asked them not to spare me and so, it was a very arduous two weeks. But in the end, I felt confident that the script I was sending in was strong enough to possibly make the cut. And it did!
As for my writing process it is quite simple. I
just sit down and work through my resistance. And the only way to work through
my resistance is by just doing it! Writing without thinking about the end
result. It sounds easy but it is extremely difficult to do for most people. And
it's extremely challenging for me. I also listen to the same song over and over
when I write. There is always a song that comes up for me as a kind of "project
song" and I tend to listen to it nonstop as I'm writing. It's never about the
lyrics or what the song means. It is mostly about an emotional response the
songs stirs up in me. An emotional response that is similar to the one the story
should trigger in others and myself.
Q: When did you form your production company – and what was the original motivation for its formation?
Marianne Farley: Les Films de l'Hydre is Marie-Hélène Panisset's production company and it was formed in 1999. Because Marie-Hélène is also a director, what originally motivated her to produce films was that she wanted to be hands-on in all of her projects. She wanted to produce films that she would also be directing. Eventually she started producing short films directed by close friends and collaborators and eventually co-produced the feature "Lucidité Passagère".
Q: What was the first project out of the gate?
Marianne Farley: A short film entitled "Happiness is at arm's length but sometimes you find it at the bottom of a sea of sadness" which won Best Short Film at HDFest 2004.
Q: During production, what scene was the hardest to shoot?
Marianne Farley: The hardest scene to shoot was definitely the bath scene. It is always a delicate matter when there is nudity involved. I was so fortunate that the nudity was never an issue for Béatrice. She felt comfortable despite the fact that she had to sit in a bathtub for hours, surrounded by a whole crew. We did have to regularly add warm water to the bathtub so that her blood pressure would not drop to low. Also the bathroom was quite small so it was difficult to work without getting in each other's way. But in the end it all worked out fine and we ended up getting beautiful footage. Béatrice was such a trooper about everything!
Q: What works better in this latest production that mightn't have worked so well in the last one you did?
Marianne Farley: The hardest part for me is always the musical score. On my previous short film "Ransack" I had many different musical composers work on the film. I am very precise about what I want and what I feel will support the film's emotional narrative and that makes me quite hard to please. In the end, I was incredibly happy with the results but the process was onerous. When working on MARGUERITE I realized that I tend to get emotionally attached to my editor's audio guide track and that prevents me from being neutral when I'm working with the musical composer. In fact at first I didn't want piano to be used in the film because I thought it was too much of an obvious choice. But I had gotten attached to the guide tracks, which were piano melodies from beginning to end. And so, Julien Knafo (the musical composer) found a perfect middle ground by using both piano, electronic pads and the beautiful voice of Beyries. He really brought my vision to the next level.
Q: You produced and directed the film, what measure of input did it take to don these hats?Marianne Farley: I wrote and directed MARGUERITE but Marie-Hélène Panisset is the one who produced the film. I also produce at times but not on this project. I loved being able to concentrate solely on the creative aspect of the film. It was quite a treat!
Q: Is there anything about the independent filmmaking business you still struggle with?
Marianne Farley: The most challenging part of independent filmmaking is without a doubt getting funding. In Canada, film financing comes mainly from public funds. You have to submit your projects and wait for the government agencies (Sodec, Telefilm, Harold Greenberg funds) to greenlight you – or not. When you are as impatient as I am, it can be excruciating! And that is why I believe we have to start branching out into private funding and co-productions.
Q: Where do you think your strengths line as a filmmaker?
Marianne Farley: I think that my background as an actress makes me a very precise director when it comes to the character's emotional journey. I focus greatly on where the different characters should emotionally be at any given time and what their motivations are. I thrive on finding the subtle details that will evoke the perfect response in the audience without having to overstate anything. Artistic direction is also very important to me. In my mind, Marguerite's house is a third character in the film and it had to be representative of her whole life. The decor had to be flawless.
Q: Let's talk finance, How did you finance the film?
Marianne Farley: The film was financed through two government agencies (Sodec and Conseil des Arts et Lettres du Québec) as well as with tax credits (provincial and federal).
Q: How much did you go over budget? How did you manage it?
Marianne Farley: I'm proud to say we did not go over budget as we had an incredible production manager (Charlotte Beaudoin-Poisson) who followed the production closely.
Q: How important is marketing? Do you think a project can make a dent without it these days?
Marianne Farley: Marketing is obviously a very important step to ensure a successful run, especially for short films like MARGUERITE. Unlike feature films, shorts are, unfortunately, very limited in terms of screening options outside of film festivals. In this regard, we need to make sure the film connects with as many people as possible in the best viewing environments possible…
Q: Can you tell us about your marketing activities on the project – and how it's gone for you?
Marianne Farley: The film was made available online in Canada for free, on a national platform, in order to connect with an audience that generally does not frequent film festivals and it worked. We received a good amount of feedback from older generations and people living outside of urban areas that had the chance to watch the film and be moved by it. We had the film screened in various events related to the subject matter in Canada, Spain, Italy and in the US where, again, people not familiar with the short film format had the chance to see MARGUERITE outside of a film festival. As of right now, with the Oscars coming up in a few months, we are working head-on with the collaboration of London Flair, in order to give the film its best chance to be shortlisted. Fingers crossed!
Q: What do you hope audiences get from your film?
Marianne Farley: I just hope that me film inspires audiences. I hope they reflect on their own lives. The story of Marguerite moved me to the core. It is a tragic story and yet it is a hopeful one. That hope stems from the fact that Rachel deeply impacts Marguerite's life and vice versa. That is the film's inherent message. That human connection is primordial. That human connection is the foundation of all.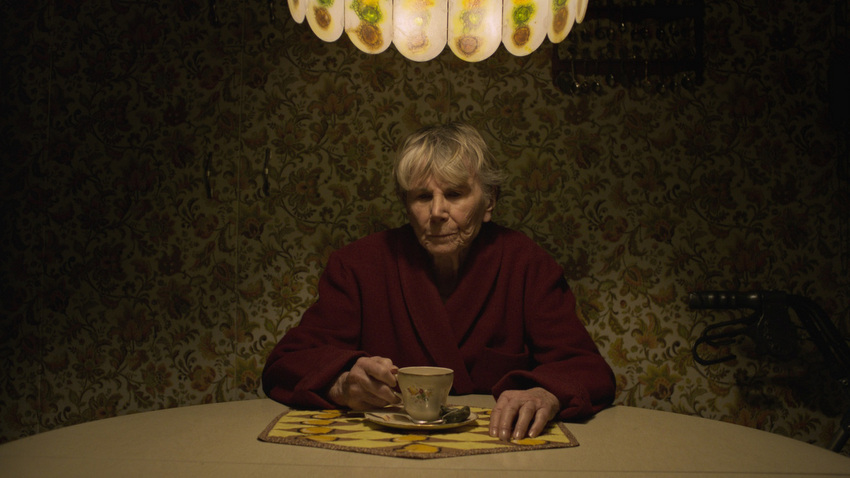 Q: What else have you got in the works?
Marianne Farley: I am in the post-production stage of a film I co-produced (with Benoit Beaulieu – Turbo Kid) and co-starred in – LES NÔTRES directed by Jeanne Leblanc. The film is set to come out in 2019. I also have a feature film in development WARRIORS as a director/producer (written by Celeste Parr – Gurov and Anna). We are in the financing stage and plan on shooting in the spring of 2019.
Follow Marianne Farley on Social Media
Website
IMDb
Facebook
Twitter
Instagram
Wikipedia
The post A Seat Down with Marianne Farley, Director of Oscar Nominated Live-Action Short 'Marguerite' appeared first on indieactivity.