MORE STORIES FOR YOU
Date: 30th January 2019
Case Study: The Making of Marguerite
Filmmaker: Marianne Farley
Q: What is your film about?
Marianne Farley: MARGUERITE is the story of an elderly woman and her caregiver who bond despite having had polar opposite life experiences. Their relationship takes a dramatic turn when Rachel (the nurse) tells Marguerite that she has a girlfriend. That revelation shocks Marguerite at first but it slowly opens her up to the changing times and inspires her to unearth unacknowledged longing. They find a way to connect deeply and learn from each other.
It is a film about regret, love, kindness and desire. I was inspired to write MARGUERITE when I came to realize the advantage I had to have been born at a time (and in a country) that allows me to be who I am and love who I want. I wasn't raised in a house where there were any taboos about sexuality or women's rights. But for my grandmother and the generation she was born into, it was quite different. They were raised to believe that women should marry and have children and that their primary focus was to make their husband happy.
The women's needs, desires and aspirations were of no importance. I wanted to write a story about a woman who breaks free from the shackles, the rules and conditioning that society has imposed on her, even if only for one moment.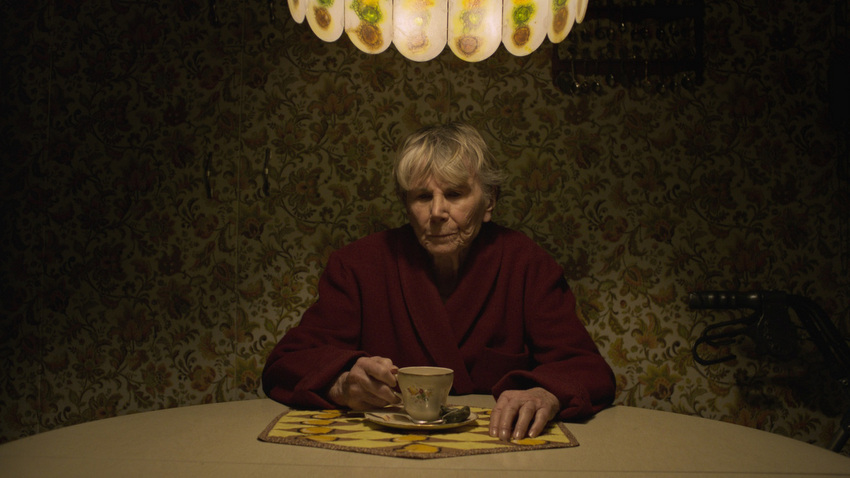 Q: Tell us about the festival run, marketing and sales?
Marianne Farley: MARGUERITE has had – and is still having – an incredible run in film festivals across the globe. It brings a unique and new perspective on the LGBTQ+ community by adopting the point of view of an elderly woman. A story that has seldom been brought to the screen before. The feedback we have received has been impressive and the LGBT film festivals have been unanimous in regards to the unique qualities of the film.
It is a reality that lesbians and gays had to face years ago and unfortunately still have to face in other parts of the world. The film has over 60 film festival selections and has won no less than 25 awards, one of them being the Grand Prize at the Rhode Island International Film Festival. As a result of the RIIFF Award, MARGUERITE is now eligible for a nomination at the 2019 Oscars.
Q: Dramatic Feature?
– Director: MARGUERITE was directed by Marianne Farley
– Producers: It was produced by Marie-Hélène Panisset
– Budget: The budget was 185 000$ (Canadian)
– Financing: The film was financed through two government agencies (Sodec and Conseil des Arts et Lettres du Québec) as well as with tax credits (provincial and federal).
– Production: Les Films de l'Hydre
– Shooting Format: HD
– Screening Format: DCP
– Website: Marguerite
– Awards:
Best Live Action Short at RIIFF 2018 – RIIFF's official academy award nomination
Best International Narrative Short at Kashish 2018
Audience Award at Zinegoak Bilbao International Festival 2018
Best International Actress (B. Picard) at Short Shorts Japan Film Festival 2018
Best Short Film at Mix Milano Film Festival 2018
Jury Award for Best Short Film at Long Beach Qfilm Festival 2018
Audience Award (Best Short Film Female) at Filmout San Diego Film Festival 2018
Audience Award (Best Short Film) at Queer Screen Film Festival Australia 2018
Audience Award (Best Short Film) at Luststreifen Film Festival Switzerland 2018
Audience Award (Best Short Film) at Proud Film Festival Denmark 2018
Jury Award (Best Short Film Female) at Filmout San Diego Film Festival 2018
Jury Award for Best Short Film at Twist Seattle Queer Film Festival 2018
Best Actress in a Short Award (B. Picard) at VIWIFF 2018
Best Drama at NYC independent Film Festival 2018
Best Supporting Actress (S. Bisson) at NYC Independent Film Festival 2018
Sequences Prize at the Prends ça Court Gala 2018
Best Women's International Short at the NCGLFF 2018
Vital Prize at the Prends ça Court Gala 2018
Uda Prize (Best Actress for Béatrice Picard) at the Prends ça Court Gala 2018
Best Women's Short Audience Award at Wicked Queer 2018
Best Queer Short Film at Provincetown International Film Festival 2018
Best LGBTQ Film – Youth Film Jury Award at RIIFF 2018
Celebration of Courage Award at Out Here Now Kansas City 2018
FTCMN Prize at the Prends ça Court Gala 2018
La Vague Prize for Best Canadian Short Film at the FICFA 2017
Q: Give the full Official Synopsis for your film?
Marianne Farley: For several years now Marguerite, a diabetic woman in her seventies, has been receiving daily visits from Rachel, her home health nurse. When Marguerite becomes aware that Rachel is in love with a woman, it inspires her to unearth unacknowledged longing. A friendship develops between the two women and in spite of Marguerite's declining condition; she gradually emerges from her loneliness as she experiences moments of tenderness and sensuality under Rachel's care.
Q: Development & Financing?
Marianne Farley: I was working with Marie-Hélène Panisset on another project that we were co-producing together at the time and I told her about the idea for MARGUERITE. She was deeply moved by the story and told me that I should start writing it and that she would produce it. At first I wanted to co-write the film but I decided I would try to do it on my own. In the fall of 2015 I had a solid first draft and we submitted it to Sodec (a government funding agency for film and television).
Unfortunately we didn't get the funding we were hoping for. I had to rewrite the script and resubmit it. Because the next Sodec submission deadline was just two weeks away, I locked myself in my office and wrote almost nonstop. It was an extremely difficult two weeks but I am quite fortunate to have a few writer friends who helped me get out of my comfort zone. They read, gave me notes and essentially challenged me until the script was strong and ready to be sent in again.
We got the funding the second time and then applied for another grant at the CALQ (another provincial government agency for the arts) to complete financing. It was an arduous process but we were lucky enough that it didn't take too long.
Q. Production?
Marianne Farley: The shooting script was written in the spring of 2016. We went into pre-production in November 2016 and shot the film December 5 to 7, 2018 in Lachine, Québec (Canada). The editing took place between December 12th, 2016 and January 31rst, 2017. We had a test screening during that period and reworked the editing for a few weeks afterwards. The visual and sound post-production happened between February 1st and March 28th. The film was completed on April 30th, 2017 and we had a crew screening in June of 2017.
Q: Festival Preparation & Strategy?
Marianne Farley: The distributor H264 felt that they had a great film on their hands and planned the strategy accordingly. MARGUERITE was submitted to over 150+ festivals and was very well received among major US festivals such as the Miami Short Film Festival, the San Diego International Film Festival and the Flickers' Rhode Island International Film Festival. The latter, which made MARGUERITE eligible for the Oscars 2019, is one of the selections that really gave the film the extra edge it has today, alongside the BFI Flare in London, the Short shorts Film Festival in Tokyo and many others.
Q: The Release?
Marianne Farley: MARGUERITE had its International Premiere in 2017 at the prestigious Golden Horse Film Festival in Taiwan, during a special screening organised by Cine Tapis Rouge which showcased the best of Quebec's short films that year. In the fall of 2017, the film won it's first award at the FICFA 2017 in New Brunswick, Canada (La Vague Prize – Best Canadian Short Film). In 2018, the film was released online, exclusively in Canada, on TOU.TV, the Canadian Broadcast Company online platform. The film is still in the midst of its festival run and is yet to be screened on television.
Q: Advice from the Filmmaker?
Marianne Farley: I always find it delicate to give other filmmakers advice. The truth is that every filmmaker has a different creative process. My creative process is rarely easy or simple but the only thing I know for sure is that there is no magic recipe for success. You have to be proactive and find a way to get your films made no matter what. Don't overthink things. Just do it! Resistance is the enemy and unwavering commitment is the only way to combat that resistance.
The post Case Study: The Making of Marguerite by Marianne Farley appeared first on indieactivity.