Cindy Chu is a Taiwanese-American writer, actress and producer born and raised in Queens, New York. She was a finalist for the Sundance Screenwriters Lab for my feature script, 69 BAYARD. My latest production project, MIRROR MIRROR with Asian American Film Lab was screened at CBS Black Rock. I started out as an actress, and received a MFA degree from the Actors Studio Drama School at Pace University. I've performed in Off-Broadway theaters such as Williamstown Theatre Festival, and am a cast member of the award winning web series, #LoveMyRoomie.
Q: Why did you get into filmmaking and screenwriting?
Cindy Chu: I noticed for a long time before I got started in the industry that there aren't many Asian American female roles in the media. As I progressed in the acting field, the more I was stereotyped for being of Asian race. I was put in a place that if I took the stereotypical role, I would be part of the problem of misrepresenting us, and that's not the legacy I want for myself. I want to be someone who improves our representation.
I knew if  we as Asian Americans want our story to be told authentically, then we have to write it ourselves. As I studied acting, I learned to write feature scripts. In late 2016, I came up with the storyline for my new comedy series, Queens, based off of my childhood friends. We were brash, loud, urban girls from Queens, NY, with opposite personalities and of different Asian American cultures. I'd never seen Asian American female friendship represented on TV let alone gals like us. Throughout 2017, I learned to write scripted series, and in 2018 I produced and acted in the pilot.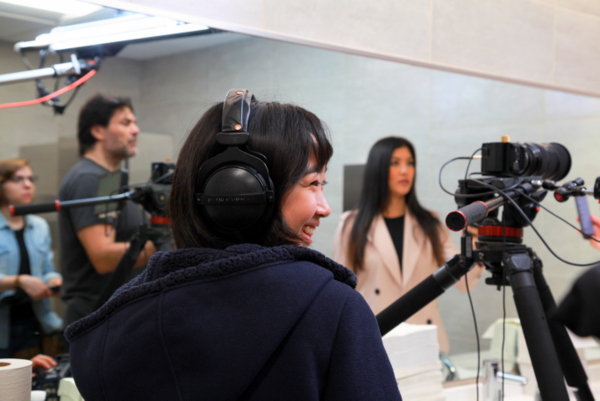 Q: How can filmmakers finance their projects?
Cindy Chu: For the Queens pilot, I self financed it, and was resourceful when choosing set locations and putting the production together. However, I've been a part of other series where they won a grant or was crowdfunded on top of self financing. 
Q: What films have you written?
Cindy Chu: This year, 2018, I wrote, produced, and starred in the pilot of my half hour comedy series, Queens. Teaser…
Q: What are the films that you have made?
Cindy Chu: Over the past few years, I joined Asian American Film Lab's (AAFL) annual 72 hour Shootout to film several short films surrounding different topics. Less Money, Mo' Problems was about the new normal of heavy student loan debts, and it was a comedic take on how 3 women plan to pay it off. Beautifully Something was about the high beauty standards placed on women, and how three women eventually find strength within themselves without all the glam of hair, makeup, and fashion.
Q: Talk to us about your concept on collaboration?
Cindy Chu: Everyone has their role in production, however I love when we're open to each other's opinions because someone might see something different that would add to the scene, but you're still the last deciding factor. For Queens, when we were in the editing process, and realized we had to do additional filming, our editor, Nic Henry suggested funny montages when referring to the fiance, David. At first, our director/producer, Nicole Gomez Fisher and I weren't sure if that would fit this comedy style, but once we filmed and added it in, it was hilarious and the audience loved it.
Q: How do you find the process of filmmaking as an indie filmmaker?
Cindy Chu: It's all mindset. It gets really hard and really rewarding at the same time. You have to stay calm when things go awry. During our 1st day filming Queens, we were at 2 different location in Manhattan. The 1st set took place at the school, and it ended up going over time, meanwhile we still had to set up at the other conference room space and meet the other actors. Being that this was low-budget, I was also concerned about being charged extra for the spaces. I find the close knit crew and collaboration to be really rewarding. I'm newer to the process, and saw how each piece was put together from pre-production, filming, post-production, and until now.
Q: Describe your recent work, or film?
Cindy Chu: For Queens, I knew before starting pre-production, how much I was willing to spend and the shoot dates I was aiming for, but I didn't really know what aspect to start with. I consulted with industry friends who've had more experience and they advised me to grab a director first. Pre-production was 2 months, we started in March, and filmed in May. I met our director/producer, Nicole Gomez Fisher through a Facebook group called Art Girl Army. Facebook film groups were invaluable for me during this process, that's where I met some of my cast and crew.
Nicole's amazing, she's more experienced in the industry, and helped me from pre-production and beyond. She sent me budgeting templates, we interviewed crew members and auditioned cast members together. She understood the world and the characters right away. I couldn't have found a better teammate. With locations, I centered it mostly in my neighborhood in Flushing, Queens because I'm very familiar with the area and knew we wouldn't be bothered much. I turned my house into 3 different set locations: my garage was an apartment where an old lady lived, my basement doubled as a studio apartment, and a legal office.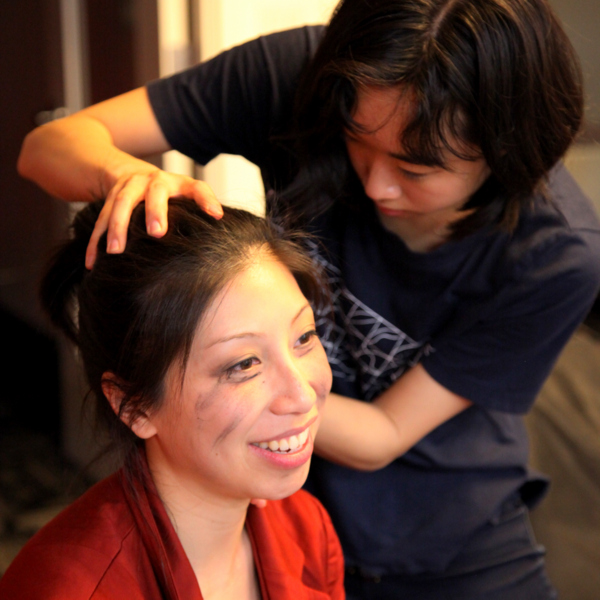 While location scouting for law offices and conference rooms, the prices were getting astounding. As I looked at the locations, my basement office looked just like them, and all I needed to do was move the furniture around.
We had 3 days of production, with 2 additional days for reshoots and additional scenes. The first day of production was really tough. We were in 2 different Manhattan locations, and on a time crunch when the 1st set ran overtime, and I had to rush over to set up and meet with the actors in the 2nd location. At the same time, that was the day we had most production assistants, so I was very grateful for the additional assistance.
Also there were a few technical difficulties, we were missing the cord to transfer the footage over to our drives, and it turned out the drives wouldn't work with Macs. During the second day of production at my house, we had so much lighting equipment that it blew out my fuse. Eventually we got everything back on track.
For post production, Nicole and I would meet with our editor, Nic Henry almost every week to edit the scenes that needed most work. In between our meetings, Nic sent us the footages, and Nicole and I would send notes over to him. During this process we realized we needed additional scenes to create a fuller story, so I wrote 2 more scenes and gathered our crew again in 2 weeks time. After the pilot was locked, we sent it to our sound designer, Jim Petty of Five OHM Productions and our colorist, Meseret Haddis to work on their portions. After that, the sound and color correction was sent back to our editor for mastering.
For marketing, I learned a whole other set of skills. I watched and listened to a bunch of Gary Vee content, he's an entrepreneur who's also huge in social media. He shows us how he creates his micro content on social media and how to add value to the audience. I took notes and applied it to all of our social media outlets. I used our behind the scenes footages, created GIFs, gave updates on our process, and talked about our cast and crew. I researched other indie series like Nice created by Naomi Ko, and Brown Girls created by Fatimah Asghar and Sam Bailey, and took notes on how they formatted their website.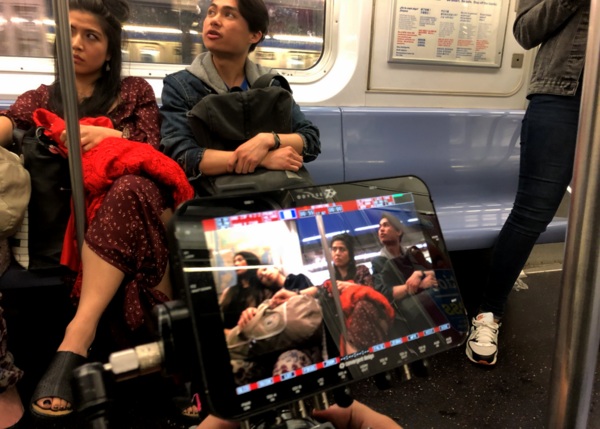 I use Premiere Pro to create clips of my interviews with Nicole and our two leading actresses, Spring Inés Peña and Carolina Do where they spoke about their experiences in the industry. For photo editing, I use PicMonkey, VSCO, FaceTune to crop and filter. Also because Instagram, Twitter, and Facebook work differently, I try to cater to each platform with our content. Recently we completed our teaser which is up on our website www.QueensSeries.com and had a photoshoot with our leading actresses, which we'll be promoting soon.
Q: What are your future goals?
Cindy Chu: For Queens, my team and I are sending it to film festivals with episodic categories and contacting networks to find it a home. My goal is to tell authentic stories about Asian Americans and People of Color while creating further opportunities for us/them to work in front and behind the camera. It's been an amazing year for people of Asian descent with the success of Crazy Rich Asians, To All the Boys I've Loved Before, Sandra Oh hosting the Golden Globes, and so much more. We're just making strides, but this is only the beginning.
Q: What do indie filmmakers need in today's world of filmmaking?
Cindy Chu: That's really tough to say because everything is so much more accessible now. There's NO EXCUSES. Also going back to mindset, you need to be resourceful and know that everything you need is already within your grasp. Be accountable. If you don't know how to do something, go learn it. From the start of Queens, I could go down the list of things I didn't know, from how to write in series format all the way through marketing, but I learned everything step by step. And know that people will be there to help you along the way.
Q: Briefly write about your career?
Cindy Chu: Every production I've done has been a stepping stone, from one thing to the next. Participating in the Asian American Film Lab's (AAFL) 72 Hour Shootouts gave me the courage to simply ask people to collaborate with me. From there, it taught me to how to think on my feet in terms of storyline, locations, and scheduling. I acted and was part of the marketing team for the award winning series, #LoveMyRoomie where I learned how to spread our news through Instagram. Back to AAFL, I was the production manager for their pilot, Mirror Mirror where I worked closely with the director to organize crew and extras. That was another skill I picked up and transferred to my own production for Queens.
Our casting for Queens could not have been more perfect! The 3 leads are Sarah, Kim, and Gia. I play the role of Sarah, Spring Inés Peña plays Kim, and Carolina Do plays Gia. The character Kim is born in Bolivia, of Korean descent, and raised in Queens, NY. She's a type A, no nonsense woman who grew up less wealthy compared to her friends. I wrote a monologue in Spanish, and I was afraid we'd have to cut it because finding an Asian American who speaks conversational Spanish is rare. Spring sent in a self-tape and came in to meet with Nicole and me. She speaks both Spanish and Korean, and her personality matches Kim so much. She even added onto the Spanish monologue and made it her own.
For Gia, she's a free spirit who doesn't care for "rules". She failed out of college a few times, and has been living on her parents' dime. After her parents financially cut her off, she heads back to F.I.T. for her bachelors and is having an affair with her professor. Carolina captured the whimsical personality and the playfulness of Gia. There's a scene where she's trying to manipulate Prof. John (her secret lover) into giving her a good grade, and Carolina incorporated a mixture of sexiness and playfulness that brought Gia to life.
Nicole and I are making strides with promoting Queens, getting it into festivals, and finding it a network home. There's more things to come in 2019, and we'll be updating our followers along the way. You can check out our website and teaser at: www.QueesSeries.com
Follow Cindy Chu on Social Media
Facebook
The post Interview with Cindy Chu appeared first on indieactivity.