Indie series writer, Cindy Chu's first comedic series, Queens is set in the urban streets of Queens, NY, and centers around the friendship of Sarah, Gia, and Kim. When Sarah is dumped by her now openly gay fiance, she must rethink her future with the help of her best friends, Kim & Gia.
Made on a low budget, the 1/2 hour pilot takes the audience through the highs and lows of the main character, Sarah. The resourceful crew, excellent production value, and the great performances make it a funny and overtop comedy with emotional depth.
How did you develop your short, web series,
and or film?
Cindy Chu: I based the three leads a.k.a. The Homies after my childhood friends growing up in Queens. I started with the distinct personalities of Sarah, Kim, and Gia. Through my stream of consciousness, I wrote down any words that came to mind about each character. Then through Pinterest, I collected images that described those words and fit the character traits. During this period and over the course of 2017, I wrote down the beats and plot points, and wrote it as a web series. However, after fully scripting it out in few minute increments, it didn't suffice to tell their story so I extended it to a half hour series.
I was greatly inspired by contemporary shows
created by Women of Color who also star, write, and produce the series like
Insecure and Chewing Gum. I took pieces of my own real life experience as an
Asian American woman from Queens to create the emotional anchor and colorful
characters that brought the story to life.
How was it financed?
Cindy Chu: The production was self-financed. I worked 2 jobs to save, and as the writer, I rewrote scenes to center around areas that I knew very well that were either less costly or for free. I was resourceful with locations and set designs, and turned my house into 3 different sets: Sarah's apartment, Kim's law office, and an old lady's garage apartment.
How long was pre-production?
Cindy Chu: Pre-production was about 2 months. I partnered with my director/producer Nicole Gomez Fisher, and gathered our cast and crew, while I scouted locations, and designed the sets and props.
What was your rehearsal process and period?
Cindy Chu: We didn't rehearse for the pilot. At most, we would practice the scenes on set to plot the movements before cameras started rolling. We were very fortunate to have amazing actors who were easy to work with, knew their characters well, and truly embodied their roles. Two of the characters were played by my parents, so I rehearsed the lines with them before the shoot dates.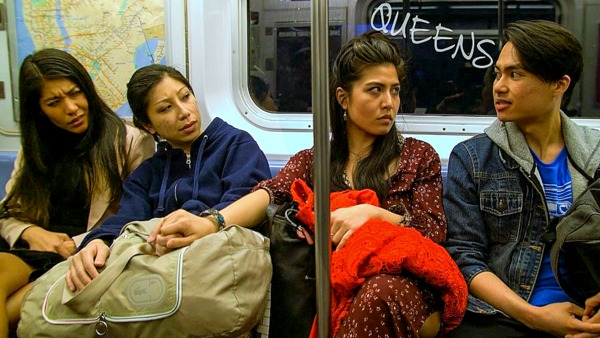 You shot the film in how many days. How long
were your days?
Cindy Chu: We had 3 principal photography days and 2 days for reshoots and additional scenes, so total we filmed for 5 days. The hours varied between 10-12-hour days.
Did the tight shooting schedule make it harder or easier? How did it affect performance?
Cindy Chu: I don't feel the tight shooting schedule affected the performances. The actors were very focused and knew their characters well. Everyone felt the time constrictions, and there were technical difficulties with equipment so there was a lot of adjusting of lighting and set ups. For me, I felt a lot of pressure as a producer and one of the lead actors to give my best performance and at the same time keep production running as smoothly as possible.
Fortunately, things kept working out in our
favor. Our 1st Assistant Director, Rose Ozkan became our 2nd camera and filmed
scenes from different angles. Originally it was supposed to rain during our
outdoor scenes, but the weather held up until we wrapped. Also for our hospital
scene, we got kicked off the premise after we already started filming, so we
went around the corned and adjusted it to a walk-and-talk scene, which ended up
being more dynamic.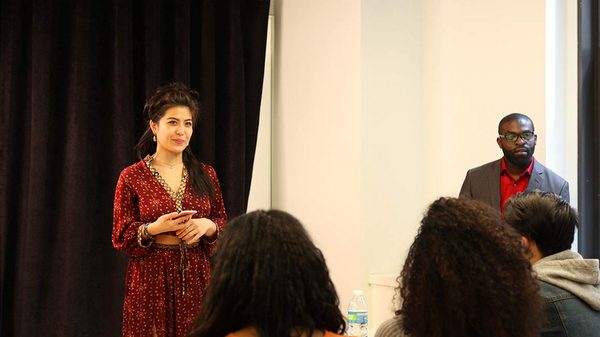 What was the experience like of working with such a small shooting crew (15)?
Cindy Chu: It created an intimate atmosphere where we got to be more familiar with each other. Everyone was utilized and even doubled up on their positions. The crew was very diverse with mostly women and people of color. The crew came together through different channels, some via Facebook film groups, some were industry friends, and some were people I'd worked with from other sets.
The film looks stunning. How did you get such a good look when shooting so fast?
Cindy Chu: I have to thank my director, Nicole Gomez Fisher, Director of Photography, Mark Fraunhofer, 1st Assistant Director/Additional Camera, Rose Ozkan, and Additional Photography, Nestor Garland, and editor, Nic Henry for this. They had such great visions and captured different angles that made the pilot work.
Did you look at dailies? On what format?
Cindy Chu: We didn't have dailies while shooting. At most we watched a few scene back via the camera, but because of budget we had to film blind. During pre-production we discussed what we wanted to capture beforehand, and had to just trust the process.
What were the advantages and disadvantages in the way you worked?
Cindy Chu: We could have definitely used more hands on deck to run the production. By the end of the 12-hour days, I was exhausted from acting and managing the shoot. However, I truly appreciate all of our cast and crew doubling up on their positions and helping out wherever possible.
On the positive side, we filmed in my
neighborhood, Flushing, Queens so I knew all the ins and out, and barely any
one cared we were around. Also as executive producer, it made me more
resourceful to seek out the most cost effective ways to get things done. For
Kim's office, when I went location scouting, I noticed their offices looked
exactly like the one in my basement. All I had to do was adjust the furniture
and add some of Kim's belongings like her diploma to bring her office to life.
This was a huge opportunity for me to learn
about the different positions I took on, and everyone else's jobs too. During
post production, I sat in on editing with our Director, Nicole and our Editor,
Nic Henry. I also watched our Sound Designer, Jim Petty put together the ADR.
It was a new experience for some of my crew, and I'm grateful I was able to
provide an opportunity for them to learn as well.
Follow Queens on social media
Website
IMDB
Facebook
Twitter
Instagram
Vimeo
MORE STORIES FOR YOU
The post "Queens" creator, Cindy Chu goes Behind-The-Scenes of her Comedy Web Series appeared first on indieactivity.