Q: Give a background of your personal experience with the story, writing, production and marketing?
Steve Kenny: I had wanted to tell a story set in the Travelling community for a long time. Most on-screen portrayals of Travellers tend to focus on the more sensationalist aspects of Traveller culture but we were keen to tell a story that was about family and the strength it can give in the face of adversity.
Then quite separately, I've been obsessed with the Back To The Future films since I was a small child and the DeLorean has always occupied a fond place in my childhood memory. So when I had the idea to combine these two sensibilities, things just sort of snowballed from there and Time Traveller is the result.
Tribeca Favourite, Time Traveller, Tells Touching Father-Son Story
Q: Did you start with a cast (You or
any) in mind?
Steve Kenny: From the get-go, we knew we wanted Barry Ward to play the role of Martin's father John-Paul. I have been a great admirer of Barry's work for a long time and had wanted to work with him on a previous project which unfortunately wasn't possible due to scheduling issues. Thankfully however, we managed to get him for this and the performance he gives as a worried father forms the heart of the film alongside our fantastic child lead, Tom Doran.
We were insistent that we should cast a boy from the Travelling community to play the role of Martin and after months of open casting, we eventually found Tom. As soon as we met him, we knew he had something special. Tom had never acted before but he has an intensity and emotional intelligence that few adult actors could match. His performance drives the film and I'm sure you'll be seeing more of him on-screen in the coming years.
Q: How long did you take to complete pre-production?
Collie McCarthy: It actually all came together quite quickly – just over a year from idea to completion. Steve first pitched me just the title and logline in early 2016. I loved it and we set a target of having a script in place by that summer. We applied to Screen Ireland's 'Focus Shorts' scheme in August, they selected us later that year and we started prep the next March, filmed for 4 days in April, and completed delivery in June 2017.
Q: When did you form your production company – and what was the original motivation for its formation?
Collie McCarthy: I founded Forty Foot Pictures in the UK in 2014 to produce my first short film Joseph's Reel by writer/director Michael Lavers. It was the first time I was dealing with professional cast, crew, and suppliers, so it made sense to run everything through a company. I then opened an Irish arm in 2016 to produce Time Traveller.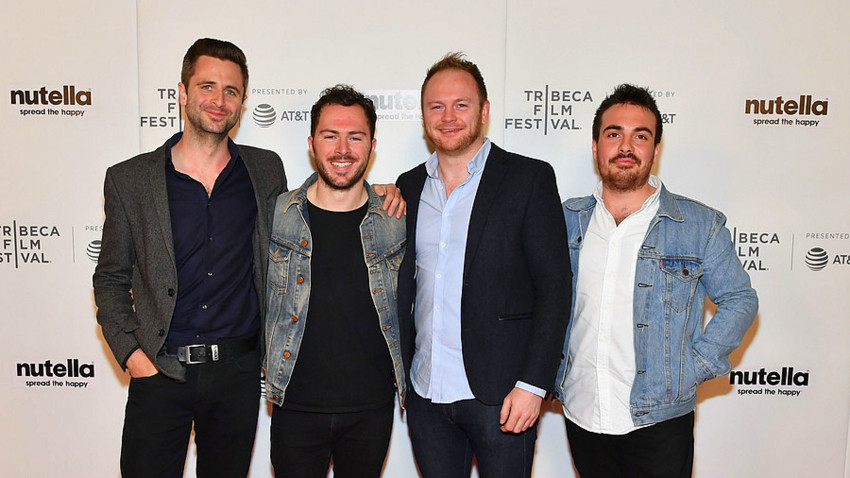 Q: What was the first project out of
the gate?
Collie McCarthy: Michael Lavers' romantic fantasy short Joseph Reel was the first film through the company, but my first collaboration with Steve was Coil – a short psychological horror about a priest in the West of Ireland being messed with by an occult.
Q: During production, what scene was the hardest to shoot?
Steve Kenny: The driving scene where John Paul tows Martin and his DeLorean around the field at high speeds. It involved the use of a stunt driver, stunt doubles and a drone for tracking shots for the shots where we were actually driving and then a lot of creative camera movement, lighting and wind machines for the shots where we needed to simulate motion on a pretty tight budget.
There was a lot of different elements to it but thankfully it all knits together well in the final film and from a filmmaking point of view it's one of the sequences that we're most proud of.
Q: What works better in this latest
production that mightn't have worked so well in the last one you did?
Collie McCarthy: Preparation. Time Traveller was the first time I took time off from my paying work beforehand to focus fulltime on prep for a short film. We had a clear run of 3/4wks prior to the shoot to get everything setup and it really paid off in terms of the people we managed to get involved and how smoothly the shoot ran.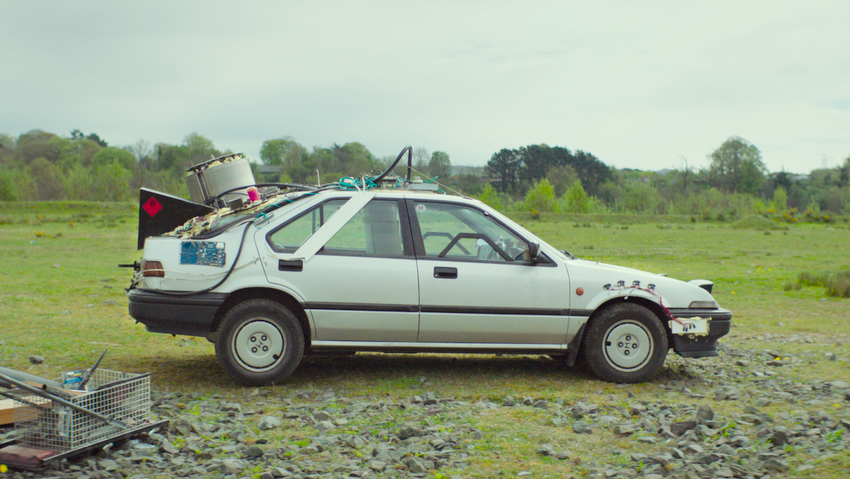 Q: What measure of input did it take to complete the film?
Collie McCarthy: It's certainly not something that comes together by chance! I spent a number of hours a week in the year before the shoot packaging the film and ensuring we would have the best cast, crew, and kit possible for a shoot of our size.
I was also able to focus solely on the short for 3 weeks prior to the shoot (a luxury generally not afforded to short film producers) and from that time I was working anything from 12-20 hour days until the film was in the can. Afterwards, we turned the film around very quickly to have it included in the Galway Film Fleadh in July 2017 so the long hours continued (around my day job) and since that date I probably spend a few hours a week dealing with festivals and other promotional things for the film.
Q: Is there anything about the indie filmmaking business you still struggle with?
Collie McCarthy: It's all one big struggle! No I'm joking, you have lots of exciting often arm-pinching days when working in the film industry when things are going right, but there are many more when you're in the trenches trying to motivate any number of people to back your director's vision, and it generally comes down to money. Either they don't have enough to support you, or you don't have enough to pay them, or the eternal question – how do we fund development and support ourselves in between films.
Q: Where does your strength as a
producer lie?
Collie McCarthy: I like to think of myself as a bit of a matchmaker. Stories to Writers to Directors to Financiers to Cast & Crew to Audiences. If you know what everyone is looking for, then it's easier to try and provide everyone with what they need – which ultimately, is an introduction to the next person in the chain. My strength is in enabling those people to work together.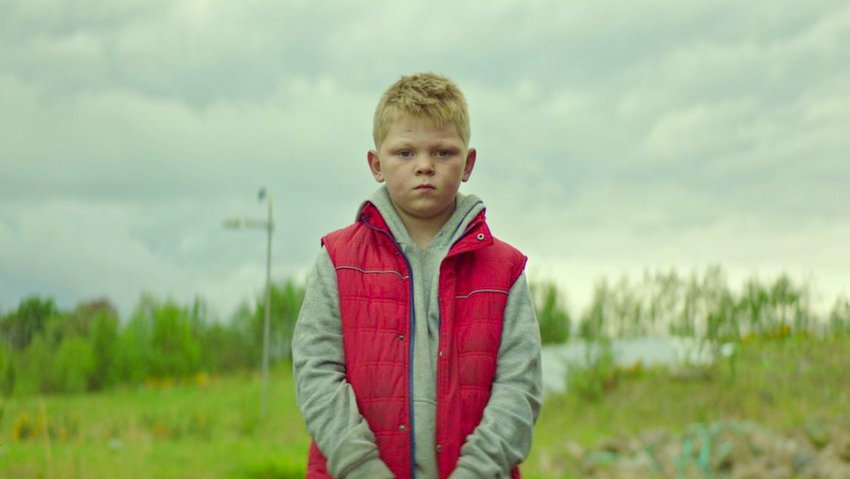 Q: Let's talk finance, How did you finance the film?
Collie McCarthy: Screen Ireland (then the Irish Film Board) funded the film entirely. We were the inaugural project through their 'Focus Shorts' scheme. They offer so much more than just money though. Now I'm out the other side, what appeared as the scheme's strict guidelines and deadlines throughout the process, proved to be a really good education for me in bridging the gap from shorts to features, especially in terms of legal paperwork and general financier collaboration.
They were on hand to offer both creative and practical help whenever required, and since completion have really got behind the film on it's festival run. I hope it's the start of a long and prosperous relationship between us.
Q: How much did you go over budget?
How did you manage it?
Collie McCarthy: Thankfully, I didn't. I had a very conscientious director and team of HODs who knew our financial limitations and worked with what they had. I also had a great line producer in Hazel Cullen who was able to stretch the money we did have and find innovative solutions to get around any issues our relatively small budget presented us with.
Q: How important is marketing? Do you think a project can make any dent without it these days?
Collie McCarthy: I think marketing is essential even at the earliest stage of a project's development in terms of creating a good pitch, look-book, and maybe even a sizzle reel. You need to be able to sell your idea to those who can enable you to go on and make it. Once completed then it's compulsory in order for your film to be seen.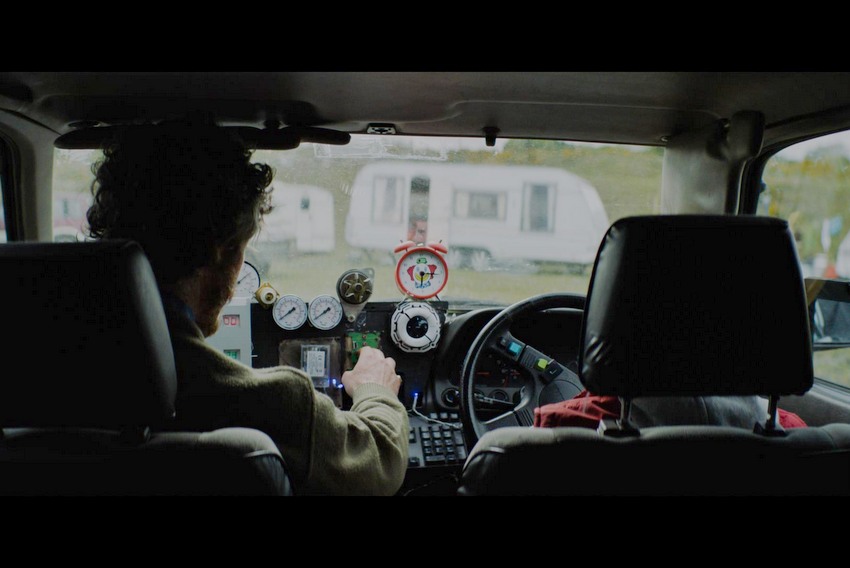 At the short film level, that means submitting to film festivals, creating a good poster, and keeping on top of your social media platforms in order to share any successes with those who helped along the way as well as the general public. As things progressed for Time Traveller, we engaged Flair PR who are now promoting the film across Ireland, the UK, and US to create whatever buzz we can in the run up to awards season.
Q: What do you hope audiences get from your film?
Collie McCarthy: As Steve touched on earlier, we wanted to show people that behind the lazier negative portrayal of Travellers, there's a universality in their relationships and struggles. However, on top of this, ultimately, we want people to escape and smile for a while; to be entertained.
Q: What else have you got in the
works?
Steve Kenny: I have a couple of projects in the works, chief amongst them being my debut feature which is a horror-mystery set in a rural valley in the West of Ireland. I'm also developing my first TV series about a small town that becomes overrun by characters from Irish fairy folklore in the wake of the disappearance of a teenage girl.
Collie McCarthy: Aside from Steve's debut feature and first TV idea, I'm also developing a number of projects with debut writer/director Sam Johnson, a music-infused drama by Eddie Sternberg, and a US set psychological thriller to be directed by Guillem Morales. All the while looking to meet new talent, unearth new stories, and build the Forty Foot Pictures slate.
USA Today nominates The Chelsea Film Festival (CFF) for Best Film Festival in North America.
The post Exclusive Interview with Writer/Director Steve Kenny & Producer Collie McCarthy of Time Traveller appeared first on indieactivity.