Laura Somers is originally from Houston, TX living in Los Angeles. She is a determined, nurturing, and enthusiastic director committed to being an in demand film director. Laura's directing strengths lie with her solid storytelling skills, powerful use of imagery, and her ability to inspire dignified, passionate performances from actors. She is excellent with young talent.
A
graduate of NYU, American Theater Magazine called her work "hot, hip and on the
verge", SHOOT Magazine highlighted her as a new commercial director to watch,
and she is a Project Involve Fellow with Film Independent. She was an Editor
for TruTv, Spike, SyFy, TV One, and Lifetime, which helps her ability to direct
quickly and efficiently on set. She mentors screenwriters with the Veterans
Writing Project and the WGA. She is a member of Film Fatales Los Angeles.
Laura Somers is proud that her feature film "Rich Kids" employs a diverse group of artists in front of and behind the camera, is an eleven time award winner, and currently on the 2019 festival circuit.
Q: Why did you get into filmmaking and screenwriting?
Laura Somers: Really the number one reason I got into this is simple: because it's fun to tell stories. I love to figure out problems with a team of people, to emote together, to make beautiful pictures, and to share the final version with a group of people sitting together in the dark. Writing has always been the way I like to communicate my experience of this life. It's very rewarding when I make a film that resonates with other people – to share something publicly and have people say, "I feel that way too".
Q: How does an indie filmmaker distribute his/her film?
Laura Somers: We're in an amazing time right now where there are so many options for indie filmmakers to get their work out there to audiences. I'm definitely NOT an expert in any part of the process, especially since this is my first time trying to get a film distributed…I'm figuring it all out as I go along. But the pattern I'm seeing is that indie filmmakers can choose to go the sales agent route, or contact distributors themselves, or we can self-distribute, or a hybrid of all of these!
As for me, I'm currently reaching out to targeted distribution companies on my own with a very simple letter that talks about why my film might be a good fit for them, and including our awards and our trailer. And at the same time I've been implementing a self-distribution plan, prepping the film to go through an aggregator for an iTunes and Amazon release, and I've also just partnered with Gathr, so anyone can host their own screening event in their community of RICH KIDS in a movie theater!
The most important thing for me is to not stop pushing the film forward, to continue building on the buzz. My hope is that we can partner with a distributor who can help us get some of the other outlets that I can't reach, like streaming services, cable channels, and international distribution.
Q: At what period in the filmmaking process, does an indie filmmaker need to start planning for distribution?
Laura Somers: Probably the wise thing would be as you're writing the script and before you shoot it. If you're looking to go the traditional route with distribution companies and if you want a shot at the bigger festivals, you have to think about casting – it's key to getting the doors opened. We chose to cast unknown actors knowing full well that we wouldn't get into Sundance and the bigger fests. Think about what your film's niche could be and start getting that audience excited right away.
Some filmmakers reach out to distribution companies and sales agents before they even shoot to get a sense of whether there's any interest.I think that's a great idea. BUT – all that being said, you might not get any interest in so many stages of the process – but then if your film suddenly develops a great word of mouth or becomes timely in some way, that can turn everything around. You just never know. It's important to weather the rejections and to keep being an advocate for your film.
Q: Indie filmmaking is a model based on zero-budgeting or small budgets. How do I get my film in theatres with such a budget?
Laura Somers: Film Festivals are a great way to do it for only the cost of a submission fee – but plan that money into your budget and cast your net wide, because I feel that it's a numbers game with the fests. Tugg and Gathr on demand theatrical screenings are excellent ways to get into theaters on your own for nothing. Calling theaters and asking if they'll screen your film for a ticket split. You'd be surprised how many say yes. Reach out to film societies that want to program indie films. Try and figure out what your niche is and separates you from the rest of the pack and ride that wave.
Q: How can filmmakers finance their projects?
Laura Somers: I can't say enough about the power of crowdfunding. We raised $40K over two separate campaigns for RICH KIDS and we wouldn't have been able to make the film without it. We all talk about the emotional hurdles you have to jump over to get the courage to do it. You have to ask every single human you've ever met on the planet for support. But IT IS WORTH IT. I would do it again.
Q: What films have you written?
Laura Somers: RICH KIDS (2018) is the only film I've written that's gotten made. I did a sizzle for a comedy feature I wrote called MANDOULA (2012) but we never made the feature.
Q: Talk to us about your concept on collaboration?
Laura Somers: I start with a lot of listening, asking questions of my collaborators. I work to draw their creativity out of them, to give them ownership of the project, so that their work is 100% their own. Then I pick and choose the ideas they've presented and work with the ones that resonate or improve upon my own vision. I think it's important to let every single person on the project, from the DP to the craft services person, give their creative input if they feel they have something to add. Great ideas can come from anywhere.
Q: How do you find the process of filmmaking as an indie filmmaker?
Laura Somers: It's a lot of work, but I'm a very self-motivated person so I don't mind it too much. It's hard for me to sit around and wait for other people to get around to green-lighting my script, finding financing, watching my film and deciding it's value to the market, and make a decision about the destiny of my work. Although I really prefer having a larger team of people because I don't want to carry the full load and I know I'm not good at everything. What I do like as an indie filmmaker is that I can call all the creative shots and not have to answer to anyone, which allows me to make a film that can push the envelope more in what it's trying to convey. It doesn't have to appeal to a mass audience, so it can get super personal, and it can get controversial, and nobody's running the numbers in the background.
Q: Describe your recent work, or film, take us through pre-production production and post-production. Marketing too?
Laura Somers: David Saldaña and I worked for a year on the script – six months outlining and six months writing and we stuck to a deadline. We didn't send it out for notes to many people. We were confident in our vision. We wrote the script to be ultra-low budget, around free locations and one main location so that we didn't have a lot of company moves. The focus was going to be on solid storytelling and good acting, not costly special effects or camera work.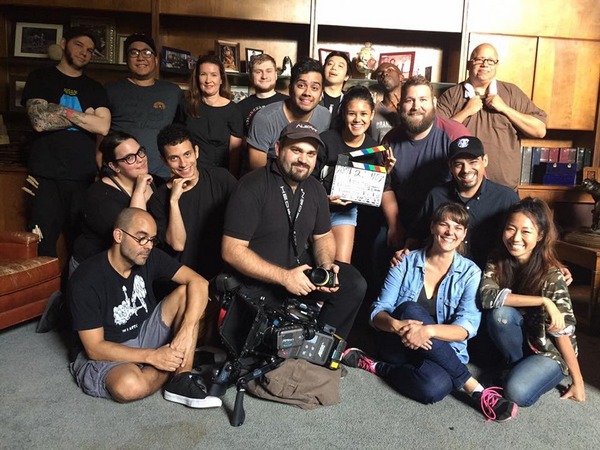 At that point I started working on
casting – seeking actors who were out in the world that embodied the soul of
the characters – I looked everywhere – online postings, acting teachers,
agents, craigslist! I spent time talking
with the actors I was interested in and getting to know them so that I could
put together an incredible ensemble.
Once I had several cast members on
board, I moved into crowdfunding on Seed & Spark, preparing the campaign
for about a month before launching it and we worked that campaign for 8 hours a
day every day for 30 days. The last four
days we were still at only 50% funds raised and I took the chance to bring on a
crowdfunding coach, Fanny Veliz at Avenida Productions – she got us to 103%
funds by the end (a little over $20K for production) and by working with her I
learned so many skills about marketing and audience outreach that I use for
everything now…
Once we the campaign was done, it was
time to hire a crew. Seed & Spark is not just about funding your
film but creating a community of filmmakers who can help each other, and so
they have a way you can contact people working on other projects on their
platform. So I looked up Houston made
films and found my Producing partner Eddie Rodriguez there – Eddie had so many
amazing contacts in Houston that were excited about shooting an indie film in
their backyard and his enthusiasm for the script was infectious and really
pushed us to getting a talented team on board.
Meanwhile, I was still casting up until
two weeks before the shoot. I did not
settle for the wrong people, I kept looking for the right actors and I just
trusted they would come and they did. I
also put 50% of our crowdfunding money into the
Arri Amira camera package, Schneider lenses and our DP, Eun-ah Lee, who
was extremely experienced shooting indie films like ours and had an amazing body
of work to show for it. I wanted to
mention that we were so lucky to get our sound department, Gerald Morris to
work with us. Gerald and Eun-ah were
integral to the movie and they both (our entire team, really!) kept such great attitudes
during the shoot, always giving their best, and I'm forever grateful to
them.
We shot the film in 11 days – it was
exhausting and emotional and SO. MUCH. FUN.
I really try to run a fun set and give people a lot of freedom to
express themselves, and so the creative energy and output was very high.
Once we wrapped I forced myself to take a month off to rest and process. Because we had no money for Post, I decided to act as my own Assistant Editor, organizing the footage and synching the sound myself. I have a professional editing background so I was able to do that. Then I spent about 6 weeks cutting an assembly cut of the film, which is basically editing every scene together very roughly to get a sense of the story. I started looking for an editor at that point to take over and through a recommendation met Carmen Morrow, who had been working on expanding her portfolio and really connected to the material. Her pass on the film gave birth to the movie.
We determined at that point that we needed to reshoot a few scenes and do some pick ups, so in May we went back to Houston with the same team and shot for three more days. It was so expensive to reshoot those scenes, and it all came out of my pocket, but it was the best decision we could have made for the film so it was worth it. I would do that again and encourage every filmmaker with a feature to reshoot any problematic scenes to improve them. Carmen did another pass and we were very happy with what we had and at that point we passed the film onto our Composer, Ming Vauz.
While Ming was working, David, Eddie
and I went back to Seed & Spark and did another crowdfunding campaign to
raise the money for post production. It had been a year since our first one, and
our contributors were happy to pitch in again because we had such amazing
footage to show for ourselves. We had
kept them updated the whole way – they were 100% part of our journey. Our post took the longest, almost a
year.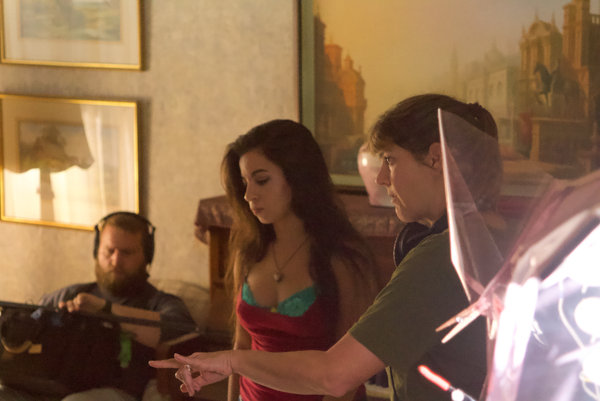 Once we had a final cut we started submitting to film festivals. We submitted to a wide variety of fests on different tiers because we had no idea where we would land, so it was trying to target which fests accepted films like ours or who were interested in promoting women directors and Latino stories and artists, and just places we wanted to travel to. We premiered at the Houston Latino Film Festival, we thought it was important to have our world premiere for the community the film represents.Once the ball started rolling with the festivals, we've been going more then we could have ever imagined.
I've tried to go to every festival so that I can connect with the audiences in each city and I always pass a notepad around to collect emails of our fans because they will be the ones who will continue to help us promote the film. There is a relationship between you, your audience, and the film festivals- you have to work to continue to promote each other – it's a give and take relationship. We've done almost all free marketing at this point on Facebook, Instagram and Twitter. And I am always reaching out to press, bloggers and organizations in each city we go to, to let them know about the film in hopes that they will help push us out there.
Q: What are your future goals?
Laura Somers: I would just like to keep getting to make more movies. I've let go of the idea that being a director is a self-sustaining career. I don't think anyone can survive on that alone anymore, unless you're one of the big dogs in Hollywood or you're financially independent. In a few months when things have settled down with the film festivals, I'm going to start working outside of the entertainment industry so that I can have a consistent income.
Something flexible, so I can continue to direct films. I feel like if I can let go of the need to work in entertainment to support myself, I will be able to open myself up more creatively and continue to make the kinds of movies I want to make. David and I are currently writing a new script that we want to shoot next year in Huntsville, TX, another character driven story that explores other facets of the American experience. And because of how well RICH KIDS has done, and the relationships I've made because of it – I've had several producers tell me they'd like to do films with me, so I'm generating additional material to make with them! It's very exciting!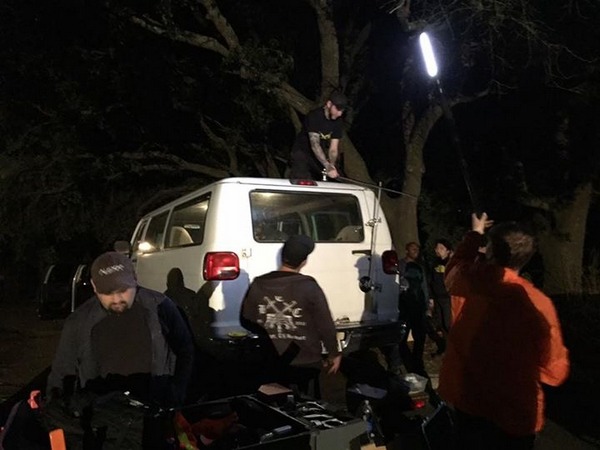 Q: Tell us about what you think indie filmmaker need in today's world of filmmaking?
Laura Somers: We need to be as transparent with each other as possible about the entire process, including the financial part. I would never have made RICH KIDS if it hadn't been for the filmmakers who did it before me who generously give me their time and free advice. To tell me EXACTLY how they accomplished what they did, and their failures and successes. We have to lift each other up. We're the mom and pop shops up of movies. We have a place, we are important in the movie food chain. Independent filmmakers historically are the ones who have the greatest finger on the pulse of society – the world needs us. So don't stop telling your stories.
Follow Laura Somers on Social Media
Website
IMDb
Facebook
Twitter
LinkedIn
"Write what you love and what's familiar to you" Sadie Katz
The post Interview with Laura Somers appeared first on indieactivity.