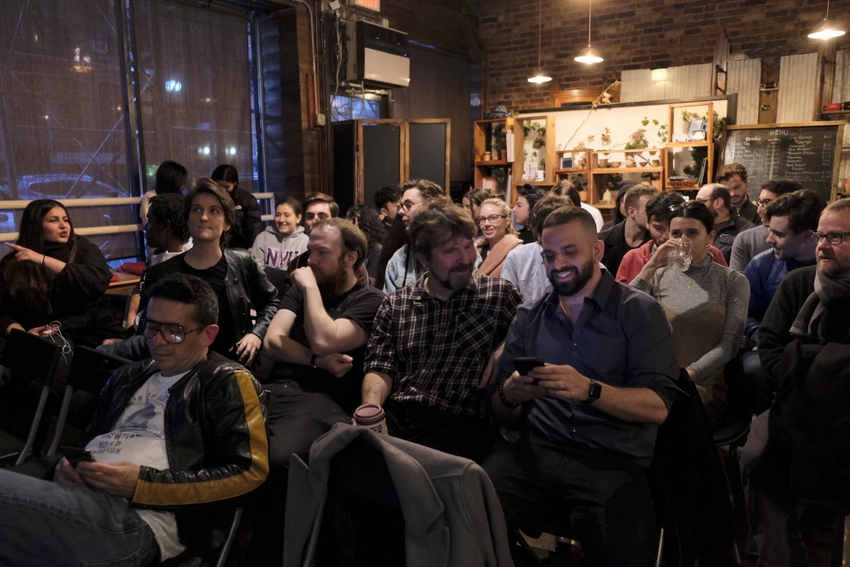 New York, New York (March 4, 2019).
Entholigy, a New York City based entertainment startup, organizes indie film
screenings in non-traditional spaces throughout the New York City Boroughs.
The team have so far organized indie
screenings in Brooklyn, The Bronx, and this weekend they successfully organized
their first screening in Manhattan at Resobox (a Japanese cultural center) in
the East Village.
The screening drew a cloud of over 55
film enthusiasts, actors, writers, filmmakers, and artists traveling from
throughout the five boroughs and beyond for a night of celebrating local film
in Downtown Manhattan.
Entholigy brings together the indie film community in New York City
"This
is what we are all about. We partner with local businesses and work to bring
together the indie filmmaker community to celebrate local film and art a few
nights a week in New York City." – Ethan Messinger, Founder at Entholigy.
Messinger founded Entholigy alongside
college roommate Esteban Jaramillo, a writer and film enthusiast. The two met
while studying abroad at New York University's campus in Florence, Italy the
spring of 2015.
"As
former NYU students, it is really important for us to bring this movement to
the East Village and the area around the many universities that make up
Downtown. We had a number of students come tonight, and we are actively looking
for student projects that we can screen at our events." – Esteban Jaramillo,
Co-founder and Creative Director at Entholigy.
The screenings usually consist five or
more films spanning from a wide array of genres and themes next to one another.
"The
audience loves it. They see a horror film, which is followed by an animation,
followed by a comedy. You never know what is coming next and it keeps the
audience on their toes!" – Ethan Messinger, Founder at Entholigy.
For the future Entholigy plans to
continue to host these small screenings and with plans to continue to expand to
the many neighborhoods of New York City including a partnership with boutique
post-production studio Gigantic Studios, where the startup plans to host two
screenings.
Upcoming
Entholigy Screenings include:
Wednesday, March 27th – Cobble Hill, Brooklyn
Friday, March 29th – Lower East Side Manhattan
Saturday, April 6th – Mott Haven, The Bronx
Sunday, April 7th – Cobble Hill, Brooklyn
Sunday, April 14th – Cobble Hill, Brooklyn
Thursday, April 18th – Chelsea, Manhattan
Thursday, April 25th – Chelsea, Manhattan
Entholigy is always looking for films,
which are free to submit and can be done on their website – www.entholigy.com,
which is also where you can find a list of their upcoming screenings.
More movies to be played soon
MORE STORIES FOR YOU
The post Entholigy Founders Ethan Messinger & Esteban Jaramillo Pull Off Successful Screening appeared first on indieactivity.