Emil Johansson Levin grew up in a small town almost in the middle of Sweden with his mother, father, brother and sister. From a young age Emil wanted to tell stories in any way possible. Sometimes he didn't even need an audience. Emil Johansson Levin acted out different tales, mostly with Legos. "I think that opened up many ways for me to come up with stories and/or situations. One time, I remember I built a big submarine and gave the Lego-people their own characters and with that they went on a big adventure that maybe lasted a week. Great times." says Emil Johansson Levin
Emil Johansson Levin explains, "I was diagnosed with ADHD as a child which made my life pretty rough. This was before there was a really good way to handle kids with diagnoses in schools so I got put aside in different classes many times because they (doctors and teachers) didn't know what to do with me. This made me more distant to my peers and even to "classic" education, so I had to try to fit in as good as I could while I did a lot of studying on my own by reading and writing. This caused some problems of course, but I survived school pretty well in the end. I still kinda suck at math though, haha!'
The only thing that seemed to help Emil was theater. Emil saw a local theater company do William Shakespeare's The Taming of the Shrew when he was about ten years old and he was spellbound! "I saw it maybe six times that summer and the next year I was acting with them myself, something I did for the next twelve years, back and forth. It gave me invaluable experience that shaped the way I direct, produce, act and (of course) write to this day – come on, it's Shakespeare! I couldn't ask for a better teacher!" says Emil Johansson Levin.
In our teens (sometimes even while we were doing Shakespeare shows) Emil Johansson Levin and some friends began making movies in their backyards with whatever cameras they could get their hands on. VHS, HDD, mini-DV and basically everything in between that was on a consumer level.
This was the end of the 90's and the early 2000's. They edited their first movies with two VCRs (running the footage on one and recording on the other) and they were awful, haha! But they were kids and had a lot of fun. At least "I know I learned a lot from it for my future moviemaking. We learned the basic skills right then and there and the ones of us still making movies have that time in of our lives to thank for that knowledge." says Emil Johansson Levin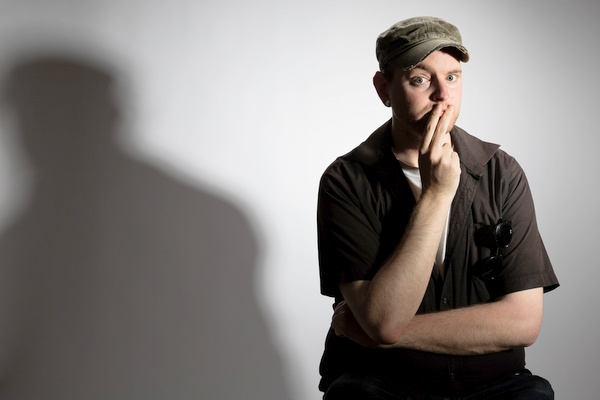 Q: Why did you get into filmmaking and screenwriting?
Emil Johansson Levin: As I said – I've always loved storytelling, and sometimes you really want to show someone that special story, tell this crazy tale you just came up with, to someone. For me I wanted to expand my own storytelling as a child – from my Legos to whatever way I could tell my story. I did comics, novels, plays, sketches and soon enough I did short movies. The best thing with movies for me back then was that I could save my work and show it people later on in a easy way. I didn't have to act out anything live and the audience didn't have to read anything – only watch. I could also watch my performance and evolve my work, learn from what I did bad or wrong from that project and make the next one better.
Films and Television had an special effect on me as a child. It really affected me in ways I never thought were possible. Since I liked being alone (I did have very close friends, but I've always liked being alone), which I still do, I spent a lot of time reading, thinking and watching films. Some films really got under my skin and affected me on a deep emotional level, in every possible way. Comedy and horror were and still is my favorite genres to watch and work in. Both hard to get right, but when you succeed it's magical.
I had a traumatic nightmare because of a Swedish B-horror called Besökarna (The Visitors (1988)) and it freaked me out for years. As did classics such as Halloween (1978) and especially The Texas Chainsaw Massacre (1974), but with good reason. The Visitors isn't a scary film, but it has its moments and I respect it for that. But Halloween and TCM are some of the most terrifying things ever put to celluloid (arguably) and their effect on me solidified the horror genre right in my soul and made me realize that horror is a trusty and powerful source to get into peoples minds and into their own free will – they put it on, they watch it. As filmmakers we shall listen and deliver…
I look at comedy the same way – a great way to affect people if you handle it right. But it's much more fun to write about horror and use it as an example, right?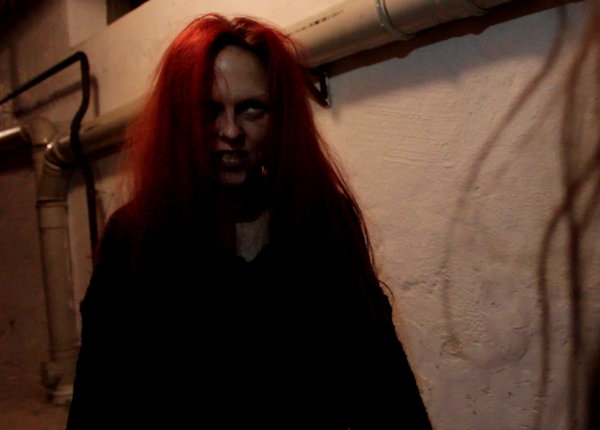 Q: I get all kinds of request from filmmakers, but the most prominent question I often get is 'How does an indie filmmaker distribute his/her film'?
Emil Johansson Levin: A frequently asked question that has many different answers. It all depends on budget, connections and how widespread release you want. Let's say that you want as big of a release that a Marvel film gets – that will cost you a lot of money and you need to know how to sell your project to a big enough distributor and it needs to be "good enough" and have kind of an mass appeal for them to spend money on marketing and releasing into theaters. Preferably you have a studio backing your project up from the beginning.
As low budget indie filmmakers this doesn't happen really. So
what other options do we have?
Well, you could release it online for free… We all have done that and sometimes it's the best possible way to get your movie seen. I know that this isn't what most people want to hear, but it's the way things work today. To make money on your low budget indie film today the best cause of action is to spend as little money as possible from the beginning. Plan accordingly. Some guys I know "recently" finished shooting their debut "feature" (it ended up being under thirty minutes) and before their production began I gave them some hints, tips and tricks to minimize costs and make everything as smooth as possible.
Sadly they didn't listen and they lacked the experience to handle a bigger (or maybe even a smaller) production. One guy ended up spending over $1500 on travel costs for actors alone when they actually have a theater school in the same town they shot, without any contracts to speak of… From what I've seen they won't win any prizes or be able to make back their budget for their hard but ineffective work. Last time I heard anything the whole project laid dormant because none of the involved knows how to edit or do any post-production really.
Their heads are way under water and has been since the start, sadly. I still hope they manage to release some version of it online, but sometimes things should remain buried and maybe this might be one of those cases. They're nice guys but incompetent and doesn't handle critique very well. So for their own good and mental health they maybe should let it go and just move on to new and different things.
So anyway – always think ahead of how you want your movie to be
seen and always record "behind the scenes" because if you decide on making a
DVD people want to have as much content as possible for their money, simply
more bang for their buck. Plan your budget, I can't stress that enough.
If you can't or aren't willing do that then don't helm something as impossible
as a movie shoot with any kind of budget to speak of. Don't count on breaking
even, furthermore making a profit, if you don't plan and know the costs and
plan on releasing you movie on the market. We planned out our budget for our
last project pretty well and we still haven't made our money back, and I don't
count on us doing so.
Our latest shorts have a planned DVD-release. We have moved the date back three or four times now because of the lack of planning and communication, we've even been in talks with different distributors before we found some great people we could trust. At the first place they told us the budget for 200 DVD units was about 200 – 300 dollars for a very limited and self-distributed release. We were totally fine with that (even if it sounded too cheap now in retrospect, and it was). Then all of a sudden it shifted to about 450 – 500 dollars and we were on such a tight budget that an increase like that could've broken us. I said no to that "offer" and I went looking for alternatives.
Let me point out that 500$ isn't a lot for 200 well put together and professionally pressed DVDs – but we were, and still are, a poor team, haha! As of now we're in talks with a few different distributors in different parts of the world for limited DVD-releases in their regions. Again – we won't make any money on these deals since the distributors take all the risks releasing our work in the first place and until we've made a movie with a bigger budget with a bigger market appeal I feel no need to fight over the crumbs that the distributors, frankly, deserve. Support indie cinema and their creators – buy the things that you like, even if it might cost you a few dollars more. I guarantee that your contribution will be noticed and greatly appreciated and help making even more films come true.
Streaming is big as well. Sites such as IndielaneTV and CINISTREAM are really helping indie filmmakers out by getting their content out there. There exists many more sites like them, but they are a two of the ones I have spoken to and they are very helpful and nice people. Stephen Biros Unearthed recently launched a streaming service for their releases that I highly urge you to check out if you like extreme cinema.
Want to self-distribute a "stream"? Well, Vimeo on Demand! We released (even if we got picked up by From the 3rd Story Productions Ltd) two of our movies in a anthology called Chunks of Horror (trailer and anthology here) on there without any problem with regions or anything like that on Vimeo – it's great. "Chunks" is now available to watch on a couple of different streaming services like Amazon Prime (but since Amazon are having a purge on indie horror I urge you not to watch it there, and besides Vimeo is cheaper) and the horror oriented Screambox, among others.
Troma got WatchTroma for cheap and fun b-splatter and Full Moon got Full Moon Streaming – just pick your poison and pray that people want your movie! So there you go, some possibilities for you.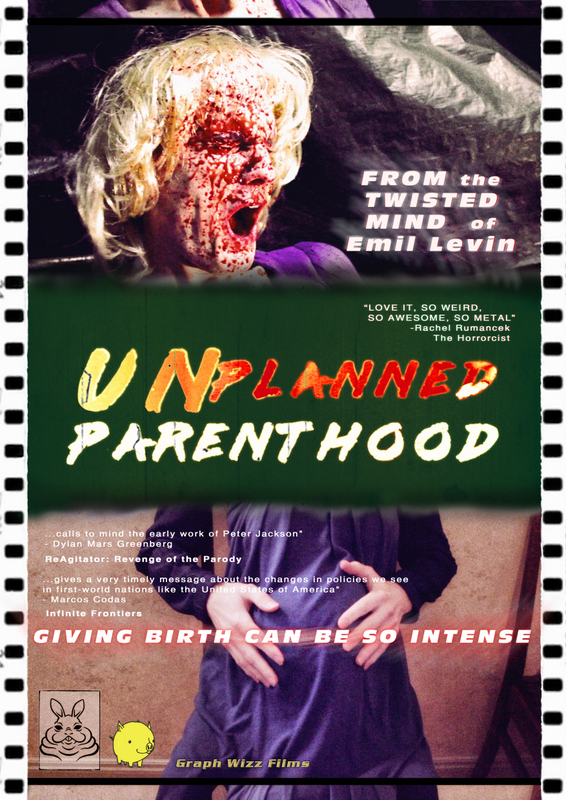 Q: At what period in the filmmaking process, does an indie filmmaker need to start planning for distribution?
Emil Johansson Levin: As I said – try to think about it as early as possible, or even better – get someone else to think about it for you. You need to keep your focus on making a good movie so people want to see it in the first place. Also ask yourself: "Where is my audience?" and cater to them. Do they buy DVDs, stream or download? Find out, check out the market and where can you find similar content to yours. Then you might have an answer.
Oh, I almost forgot a cardinal rule – check your rights and read up on copyright and creative commons! You never know when you might need it and when you do you'll be glad you did your research.
Q: Indie filmmaking is a model based on zero-budgeting or small budgets. How do I get my film in theatres with such a budget?
Emil Johansson Levin: For more "in depth" – check the above. Otherwise: get into festivals, more specifically "buyers screenings/festivals" where represents from distributors might be looking for new talent and content. Some of them might want to put your movie up on the big screen!
Push your movie hard to every festival you can think of (I can't even remember how many festivals have shown our shorts the last year and they're still making the festival rounds), go to as many as possible and market yourself. Talk to local theaters and make a deal with them to have a limited run with your movie where you can visit and talk to the audience and maybe even have a Q&A. Get a booth, go to some conventions, talk to people, show your trailers, sell some posters and sign them for free (something many independent filmmakers and even James Gunn do from what I know). Make people talk about you and your movie, keep the buzz going. But also make sure to have your next project going so you have something new to show off next time. Show that you are a force to reckon with. And the most important part – make a good movie, that helps a
lot!
Q: How can filmmakers finance their projects?
Emil Johansson Levin: Always have a solid pitch. I can't tell you how many times I've had people wanna pitch me an idea and they never have anything really prepared! Get a solid pitch together first of all, then start looking for money. You could talk to your local film commission and apply for budgetary support. Sometimes they can't offer you money, but they can make things a lot easier and save you money instead. Apply for funds and scholarships for moviemakers.
Talk to rich people looking to get their toes wet in the filmmaking business.
Make a well put together crowdfunding campaign and pull every string possible and use your contacts that you hopefully have and ask them to help you push it on social media, forums and movie sites. Networking is so important for these kinds of things.
We actually try to finance our projects really independently
with our own money. Working other jobs and saving the money until we are able
to do what we want to do. I would say that it's the best way to stay truly
independent and retain total freedom over your project.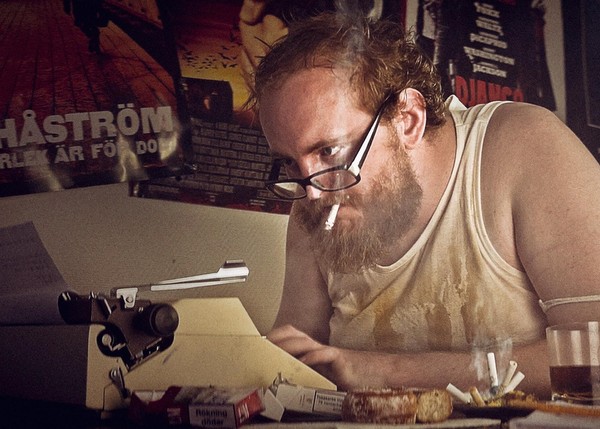 Q: What films have you written?
Emil Johansson Levin: My main focus is scriptwriting. It's the role I usually fill in most teams. I have written a lot of scripts and most of them will never be made, they aren't supposed to be. They are a part of the writing process. Getting something out of your system. Some of them turn into finished products, some disappear in time. Most of the movies I've written I've directed myself. But since last year I've written a couple of scripts for other people and I have done a lot of uncredited script doctoring on other people's scripts – and I mean a lot!
One trailer we premiered at a convention in Sweden (in front of a bunch of kids I might add) was for one of the shorts I directed during 2018 – Unplanned Parenthood (2018), featuring music by my dear friend and the great musician Frej Wentzell Samuelsson.
This trailer is for one of the other shorts featured in the "Chunks"-anthology – Swedish Horse Movie (2018) (directed by Patrik Brander and Yngve Stigberg), which I co-produced and acted in.
There isn't a trailer for my latest short, Auopssessed (2019), yet, but it's making the festival rounds now so I guess I should get on that, haha! It as well features a soundtrack by Frej and it's amazingly nightmarish. I can even throw in a, somewhat, violent little short we did for a competition in which you have to produce a five minute short in 24 hours – for free (English subtitles are available)!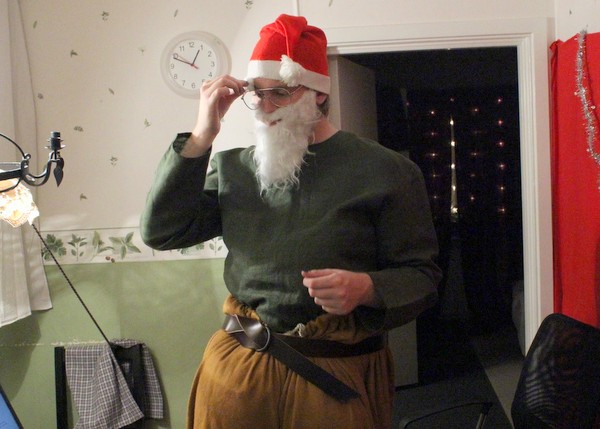 Q: What are the films that you have made?
Emil Johansson Levin: I have made a lot of shorts since my teens. But the one I usually refer to as my "first real" is Sleigh Runner (2013). We had a tiny budget, a lot of planning and more actors than we had worked with before. It shows some really amateurish craft but it has some interesting ideas, if I may say so myself.
We never planned on making any money on it so we didn't worry too much about any copyright infringement. We just wanted to get "that" feeling and for that we sacrificed the option of making even the slightest profit. I still got a scholarship for $1000 for my work on that short. Watch it for free right here (only Swedish for now, English subtitles are coming)!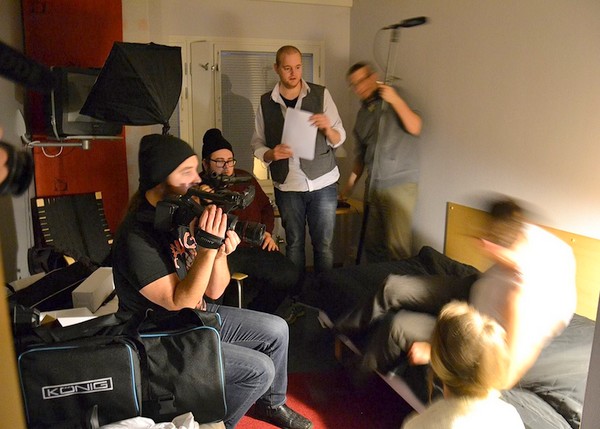 I did some shorts after that and even an unfinished and
unreleased anthology until I made my own next short. Evy (2015). A slow paced horror thriller I
got to make during my year in film school. This was a harsh production with a
insanely tight schedule and some sad stories that I will leave out for now, but
people forget that moviemaking isn't fun the majority of the time. But we got
it done and it got some great response. This was the first time I handled a
"bigger" team. Watch it for free right here (only Swedish
as of now, English subtitles are coming)!
Then two years passed where a lot of things happened and changed. Many sad stories, but soon enough I was back directing again. This time a dialogue based slow paced comedy based around, and even named, Coffee (2017). I hadn't directed in a long while and this seemed to be a great start for my return to the director's chair. Sadly there isn't a trailer and that short isn't anywhere to be seen as of now since it's up for some festivals. But there's this very generous screener-review, by fellow filmmaker and musician Marcos Codas, if you're interested in reading about something I've made that doesn't feature violence.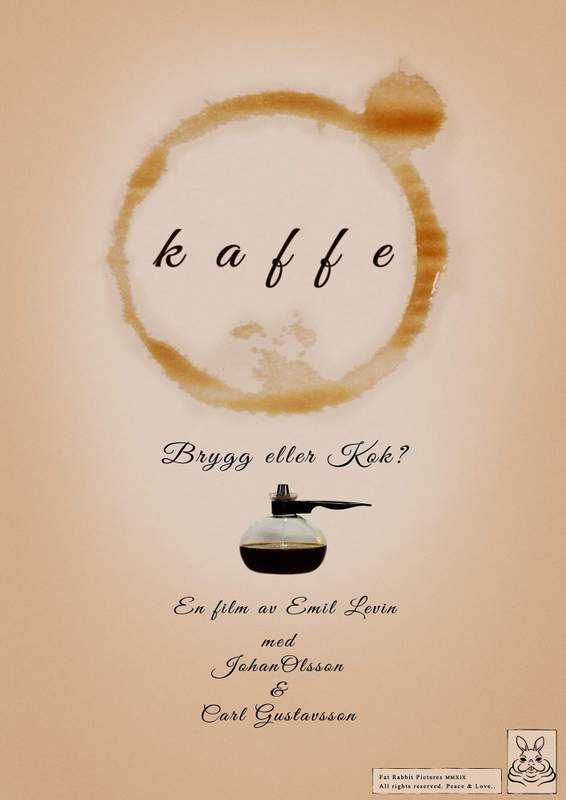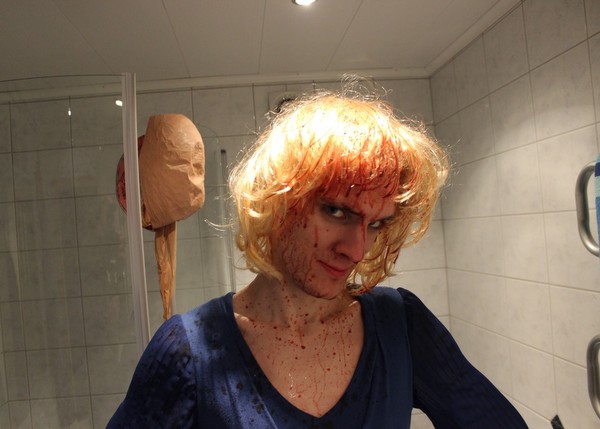 After Coffee me and some other filmmakers decided to make an anthology of short, fun and especially tasteless, (some splatter filled, mine mostly of course…) vignettes. We began shooting in January of 2018 and the production continued for the majority of the year, it was hell in many ways. Me and the other main producer had very different ways of working, it ended up being an interesting and invaluable experience. I learned a lot about myself through the whole process and how I can adapt my ways to make even the slightest of progress.
But I do have a higher level of quality control than the other producer and I stick by it, haha! We previewed an early rough cut at a small festival/convention in Sweden and it was a minor disaster, with audio levels and colour correction all over the place. Just a lot of basic mistakes and despite that some of the segments were deemed done by their makers. After the preview showing I was handed the reigns to the whole project to try to make it into a finished, somewhat coherent, sellable product.
I requested some changes, some were made, some weren't and in the end I decided to just pull the plug on the whole project in the way it was presented at the time, nothing rare when it comes to anthologies sadly, but it was – in my humble opinion – a unsellable mess. I've seen worse things, but I didn't want to be associated with a such a subpar product. The few reviews I managed to get for the whole anthology were brutal, some didn't even finish it and that in itself is a tell-tale sign that something is wrong. The worst thing you can do is to make a boring movie, that promises craziness and fast paced fun, when it barely delivers a coherent story.
As I said before, me and the producer works in very different ways and have totally different standards and trying to make a movie together when both of you are producers is a task of Herculean measures.
I still respect him and his ways, I just can't work that way and being honest about things like this is so incredibly important to succeed. We still help each other out, but that was the first and last time we'll work together in that kind of way – for our own good.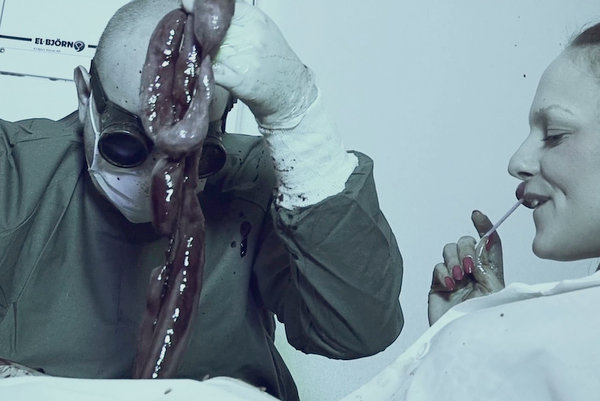 Back to some fun stuff – If you want to see me shoot a baby you can see that right here! Or if you want to see me shoot myself in the head, then it's this way! I made a lot of short things between my bigger productions, but they're not worth our time here..
Q: Talk to us about your concept on collaboration?
Emil Johansson Levin: One of the pillars of moviemaking is collaboration. With your writers, your actors, producers and crew. You need a trustworthy team to rely on when trying to do the impossible task of making a good movie.
The definition of making a movie many times is "too many cooks" and the collaboration you need to have on a production have taught me so much since there are so many cooks making what is supposed to be a tasty buffet of a movie (I especially learned that doing that anthology). Everything has to fit. Every taste has to work with and remind of each other without tasting the same, if I continue with my food analogy.
Find great actors you trust (or can easily manipulate, haha), find a great director if you're not it, a great producer that can manage everything that needs management (and trust me – there is a lot), special effects people who are freaks and like to study anatomy or at least "gooey stuff" (the correct medical term), etc. If I boil this down to a few simple sentences it would be – listen to your department heads (people responsible for effects, make-up, costume, light, camera, sound, catering, everything), drop your ego asap, don't think you know it all, listen to other people's ideas and victory will soon be yours and your team's.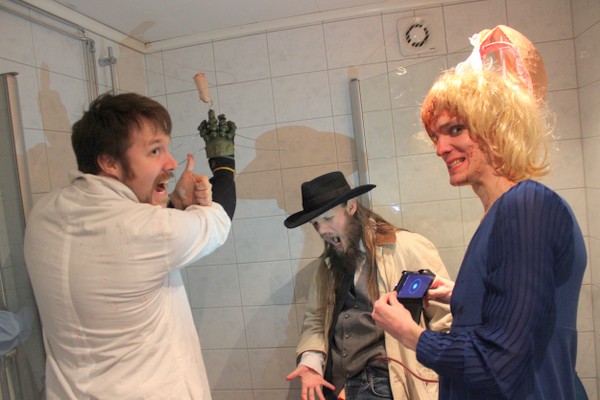 For the future, and as my personal tips for the readers, I would
say – make sure that there is one main producer that keeps his or her eyes on
the whole process of the project and ever part of it (especially concerning
anthologies). Be very clear with the communication between everyone involved.
If anyone is unsure about anything – ask the main producer. That person will
also serve as a "toneally line producer" I would say. Making sure everything
clicks, works and fits. Nothing ever goes totally smooth, but planning and
communication will certainly help things out.
Q: How do you find the process of filmmaking as an indie filmmaker?
Emil Johansson Levin: Incredible stressful, haha! But I enjoy it most of the time, I keep coming back, don't I?
Working with minimal to no budget is taking its toll many times since everything gets harder. Food, salaries, locations, gas, rent, everything. Thankfully we at least own all of our own equipment so we don't have to think about that most of the time.
Always, always, always check your dailys! I can't stress that
enough. If something is wrong you can redo it the same night or the day after.
Don't skip on the dailys at the end of the day because you are tired, it might
cost you the scene or even worse – the entire movie. Don't do stupid easily
avoidable mistakes.
One of the best parts with the indie scene is the freedom that
comes with it. You can basically make whatever you want. Most extreme cinema is
very very independent and if it wasn't it couldn't be the way that it is now,
producers would freak out. The hard part can be to get it distributed, but
there is great outlets for that niché today. As the already mentioned Unearthed
Films, the fantastic European based Black Lava and Zeno Pictures or the Swedish
Last Exit Entertainment who always releases great editions. They have released
the best editions of most of (if not all of) Russian filmmaker Andrey Iskanov's
films. Check them out.
As a indie filmmaker you sometimes feel like a "one man army".
Some people thrive on that feeling, others break down. Not everyone can become
a filmmaker and that's okay, this is absolutely not for everyone.
If there's anything else you think you would enjoy doing – do that, because
filmmaking demands way too much of everyone doing it and could easily crush a
kind spirit. But succeed and the feeling might be the best high you'll ever
get. It's addicting. Trust me, I know. I've quit filmmaking many times before,
and yet here I am…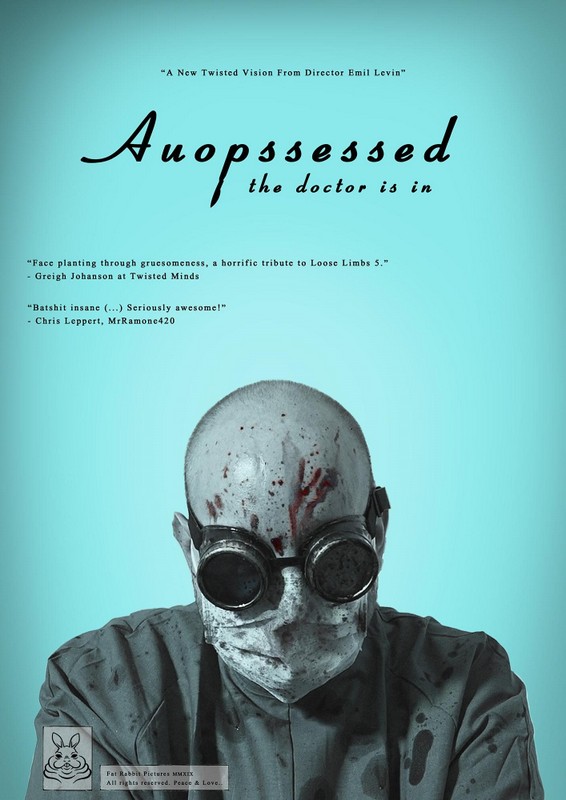 Q: Describe your recent work, or film, take us through pre-production production and post production. Marketing too?
Emil Johansson Levin: Oh my God, haha! Why don't you ask me to write a book already!? I'll be short, I think I covered some of it already.
The last (completed) thing I directed was Auopssessed which would've been my second segment for the anthology and it was quite a fun ride, although stressful as f**k. The reason for us doing another one was that we had a couple of drop out directors (one of them the Swedish cult director Daniel Lehmussaari. He got an offer that he couldn't refuse and I wish him all the best with it) which meant that the movie suddenly lost quite a bit of its running time.
After a few unsuccessful attempts to recruit new directors we got another one, but that still wasn't enough. So, while drinking, me and actress Eliza Sica talked about some future projects and she realized that one of them could be reworked into a segment for the anthology. We sat a date for the week after, threw together some special effects, found a shooting location, crabbed "my" dear cameraman David and shot the short in about two hours. I did a rough cut the day after and it looked totally fine under the circumstances.
We shot in Eliza's apartment complexes laundry room with a white
tarpaulin covering the room as good as possible. Then we got all the special
effects, guts and fake organs – everything you possibly could need! We got the
lightning done and then we began shooting. We couldn't get our sound guy on
such a short notice so we shot with a external microphone connected to the
camera and decided to dub everything if we had to (we had to do a similar thing
before with Unplanned Parenthood).
After the stressful shoot we carried everything out in David's car (me still covered in fake blood and…other "bodily fluids") and discovered that the budget for the shoot had gone up with $40. David had got a parking ticket.
I went home later that evening, started working with the sound
effects for the gore and then fell asleep
completely exhausted. The day after Eliza came over to my place and we began with the ADR (Automated Dialogue Replacement), and I promise – gore sounds are some of the funniest things you could ever work with. We're still working on the final sound edit for the final release, the same fate as with our other short Coffee. It's been a unnecessarily long process for both of them because of other productions and life getting in the way.
The marketing of it began the day of shooting really. We used
social media to upload some images of what we were doing, pushed some of them
to some media outlets and that did pretty good. Maybe because I work a lot and
have a small but loyal following that like what I do. Take that as a tip – push
what you're doing, show some pictures but do not spoil anything significant and
interact with people and followers. Soon enough you'll have some interest in
your projects, hopefully.
As of now I'm trying to deal with festivals and distribution
deals for these last two movies we made while I'm also in the process of
writing some other stuff that I need to "next level" for me. With a risk
of sounding pretentious; I need to
evolve as a filmmaker. I can't keep making shorts. It gets boring for me, the
team, the audience and a short is a hard sell to a distributor. They, of
course, are looking for features and I can't blame them. I just need to write
something cheap, easy and interesting enough to be able to cross that line into
features, or at least featurettes. It's only logical.
Q: What are your future goals?
Emil Johansson Levin: Evolve my skills as a special effects artist. Get one of my ideas for a feature/featurettes of the ground and into production, but for that I still need a bigger budget so I guess I need to find more (and better) paying work as well. I have no huge desire to breakthrough into mainstream media really, but I have some ideas that could find a place there and even flourish. We'll see about that, but I got some slow cooked things going on but I'm not counting on them. I like the underground/indie scene. I got my audience, I just hope they're open for me trying out some other genres than offensive gore shorts, haha!
I also need to slow down a bit when it comes to producing and "on location" work (if I don't really like the project or get paid) for a while. I have some ideas I need to write on and develop, I don't have time for that as things are right now. As well as being a screenwriter I'm also a writer for the Swedish site called Nördliv and for the underground cinema site Twisted Minds so I got a lot on my plate at all times, fortunately my editors are very understanding with my lack of content, haha! I like to write good articles and reviews, I don't want to just throw something out there so it takes time go get it done well, same thing as with my scripts. I also have a podcast that we've been working on for a while and that needs its attention.
Besides all that I'm hoping to start my studies to become a film professor (eventually…) so I have to be a bit picky with my time and the projects I chose to dedicate my energy and attention to (I've burned myself out more than a couple of times and been medicated because of it more than once, the dark side of this whole ordeal. I need to be careful when with what energy I do have).
There is a lot of plans going on and I like to cover all my bases and do the best that I can for all of them. And of course – the DVD-releases is a pretty big thing as it is my first wide physical release, keep an eye out for that.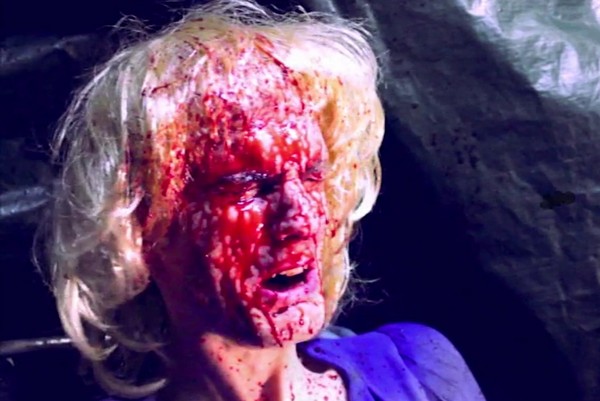 Q: Tell us about what you think indie filmmaker need in today's world of filmmaking?
Emil Johansson Levin: Patience and process. Might sound a bit weird but hear me out without a big budget you might want to take your time and think about what you should do and how you should do it. Even with a big budget I would tell you to do that but with a microscopic budget it's even more important when you want to get something worthwhile made, this isn't true of everything of course but use it as a basis. Plan out as much as you can and "plan away" all preventable mistakes you possibly can or at least figure out solutions to problems that more than likely will show their ugly face.
But don't be afraid to make small mistakes. Filmmaking is a lot of experimentation after all. Let the actors do their job and try somethings out, they might try stuff during rehearsal that makes you cringe in your throne of a directors chair but they, or even you, might find something really interesting in the process that none of you would have came up with without it.
Never stick to the script word for word if there is room for experimentation and improvisation because you'll never know what you might discover, the script is a blueprint to guide you along the way. With that said – again, always listen to the department heads, they mostly know what they are talking about. If a special effects guy says that you can get a great shot where all the squibs and tubes are hidden in plain sight then listen to him, talk with your cinematographer and plan the shot accordingly. If the sfx guy says that you have to be this many yards away from the explosion – listen to him and make sure everyone does, especially if the production doesn't have an insurance or anything.
The department heads usually know what they are talking about, it's their field and they are there to make your work look as good as possible. And as I mentioned before: you should also learn a thing or two about as much as you can about everything in the production, this might sound like a lot and it is. But knowing a little bit about everything gives you an advantage when speaking to everyone about their job. Knowing a bit about editing is sometimes crucial to know what shots you can skip when you have a time crunch breathing down your neck.
It have saved my behind more than once. As a director I would recommend you to act. Do small parts or take some courses, anything that can help you understand the actors job and how to speak their language. But don't do their job for them, let them do the acting and coach them through it.
If you can't get your "magnum opus" off the ground from the
start (which you likely won't be able to) then keep making shorts or anything
to keep you shooting and practicing. Gather as much experience as you can
before doing "your big thing" and keep the interest for you and your work
relevant. Some people just want to do their thing and only that, those people
doesn't have a lot to do on any movie set. Sure you can have your
passion/vanity project – but sometimes you'll have to do work that won't be
your proudest moment just to be able to keep going and maybe even do that oh so
important film of yours. Show that you are able to work with most things and
people will likely want to work with you again, maybe even pull some strings to
really help you out later on.
Also – if you ever have said "I wanna be a writer but I need this or that" or "If I only had the time or energy" you won't make it and you don't want to be a writer. You want to have the work done already. That won't happen if you don't take the time to write. You have to prioritize it and spend time by the blank screen or paper. I have some friends that have said just those words "I don't have the time", then trust me – you don't have the time to be a writer.
Some of those friends rather spend their time with video games or watching movies and that's totally fine! But they are consumers before they are creators. Again, nothing wrong in that. But you won't be creating anything great if you put enjoyment and relaxation before unpaid hard labor at your own expense and by your own hand. That's just how it is.
My tip is to put aside an hour a day to write. Doesn't matter what you write as long as the word are scribbled down. You'll probably just end up throwing it away anyways, but that's a part of the process. You could say that you are refining your creative pool and finding out what's worth spending your valuable time on. Something might be born out of the ashes…
Basically – there is no excuse not to write. All you need is a pen and paper. It has never been as easy to create as it is today. You're just not willing to do the required work. It might be hard at first, but then again – this isn't for everybody.
Oh, a couple of solid "pro-tips":
During long days or night shoots have water, tea and fruit
instead of coffee, sodas or candy. You need to be effective and at the top of
your game as long as possible. Find the "zen" in you and work from that because
a sugar rushed and crashed filmmaker won't get much great work done.
Bring two pairs of socks and shoes and switch by lunch.
You'll probably be on your feet a majority of the shoot and you want to treat
your feet like royalty.
Learn to sleep or rest in the most inconvenient and
uncomfortable places possible because chances are that you'll end up in that
kind of situation more times than you ever thought.
A little bit like the first tip, but still: During lunch –
don't eat heavy meats or to much carbs. You'll get sluggish and slow and it
will show on camera. A light salad with some sliced or diced chicken if you're
into meat or maybe some tuna will do and keep you alert and on your feet. So
make sure to have good catering, it will make everyone's life easier. Drink
lots of water and do some breathing exercises, the latter especially during
stressful shoots. It will make your head clearer in an instant.
As the director – never ever lose your temper. Never ever
shout or scream. You will lose the respect of your crew and crew and risk to
never get it back. Don't show these signs of weakness and lack of leadership,
because that's exactly what it is. Your mission is to lead your team into
battle and come out victorious. You won't do that with a broken team and them
lacking respect for you.
Listen to people's ideas even if you won't use them and
absolutely listen to your department heads..
Q: Briefly write about your career?
Emil Johansson Levin: Since the beginning of 2017 I've been working on a lot of music videos. I was the cinematographer, editor and co-director for the first video I worked on. I have to mention that I did this for free and they asked me to shoot a second version since the rough cut of the first one, according to the producer, didn't make sense in context to the lyrics of the song.
I highly disagree and apparently the artist who "wrote" the story (there was no script but an idea) and directed the video with me didn't argue about his own vision with the producer from what I've heard. I agreed to shoot the second version, again for free. They had came up with an idea (while drinking I might add) about an elevator crashing down to hell. All in all a cool idea and a more abstract take on the lyrics. They wanted this for free. Let that sink in…
We shot some footage, but without money or crew it was nearly impossible to pull off. What they wanted demanded some effects work and perhaps even some models. I talked to a guy I recently had gotten to know who makes a lot of music videos – Swedish cult movie maker Jonas Wolcher of Die Zombiejäger (2005) fame. I have worked with him a lot since. He could help us out without any trouble, not for free of course but extremely cheap. I would direct, shoot and edit the project while Jonas handled the rest.
I presented this idea to the artist who would present it to his producer, I was left in the dark since I only communicated via the artist. But I was okay with that. It was decided that me, Jonas, the artist and the producer would have a meeting to talk everything through. I went into town and waited for the call from the artist who was going to tell me more specifically when and where we were suppose to meet. The call never came. Instead Jonas sent me a message telling me to meet him and the artist at a place where the artist were going to play that night. I went there, mildly annoyed that everything had taken so much time. When I got there Jonas told me he had been offered and accepted to take over the entire project if I was okay with it.
I had been very unceremoniously fired from the entire thing
without talking to the producer even once, except right before shooting the
first version, and I got to hear it from my own replacement. I stayed for the
show. It was great. The artist is great. Best of luck in the future! Still a
very nice person that I enjoy talking to when I do. The producer is very
disrespectful sadly, but I hope that it goes better in future endeavours.
In the end they stopped speaking to Jonas as well and the
project fell through. Eventually they released a video that was underwhelming,
seizure inducing and frankly very boring, without any kind of connection
between the lyrics of the song and the video itself – something that apparently
wasn't that important anymore.
Do I hold a grudge? A bit, but "only" on a professional level.
Everything was handled very unprofessional from the start to the crash. I've
withhold the names as you might have noticed because they deserve a second
chance, and if the fail that time, well…it's their problem and that's how it
goes. I can say this: the recording studio behind everything once was one of
the big ones where I live and I hope that they don't completely fall from grace
and instead manage to regain some of their former glory. There is talent
lurking around there, but as of now it's soaked in cheap beer, pot and
arrogance. Having a "rockstar lifestyle" gets sad after a while and leads to
nothing except failure. Still – I wish the best for them, but I'm not the only
one who have noticed the downfall. Please, get back on track.
Anyways…
Since then I've done a couple of shorts and worked on many more, doing everything from acting to blowing stuff up and that's pretty much how the cookie have crumbled. I still do all and everything whenever it's needed. That's how we work.
I try to incorporate some of my older filmmaking friends in the projects I do nowadays and one of them is the already mentioned Patrik Brander. If and when I see talent that is willing to work hard I want to do whatever I can to help them out – and he is one of those talents. I got Patrik into the anthology project and even if that ended up falling through he might have written and directed the funniest segment of the whole thing which we then released independently!
Sometimes he might be a bit unsure about himself, but he's a great filmmaker. I'm lucky to work with him and will help him out whenever I can. He always seems to grow as a writer and filmmaker and that's something I love seeing in anyone – them growing in their field.
In my closing words I would like to say this:
Get into filmmaking if you want to tell stories, If you want to affect people in any way. It's quite easy and effective with this medium if you handle it correctly. If you want to great any kind of art that might last longer than you yourself and be easily consumed – do it. But be prepared and hear my warning. Art demands a lot of its creator, more than anyone think.
You'll have the highest highs and the lowest lows, but in the end it's worth knowing that someone out there might have laughed or cried because of what you once made.
A piece of you will always be stuck with that moment, frozen in time, preserved for the future for anyone to watch. It might sound a bit pretentious, and it is. But it's one of the ways I look at art and film. And I hope you find the same passion and love for the art of cinema as I have. If only I still had time to watch it.
Now you'll have to excuse me, I have scenes of gratuitous
violence, guts and chainsaws to edit!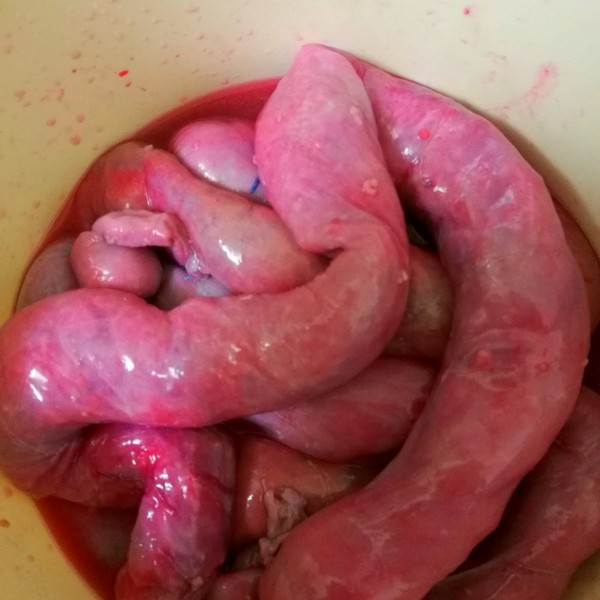 Follow Emil Johansson Levin on Social Media
Website
IMDb
Twitter
Instagram
YouTube
MORE STORIES FOR YOU
"Write what you love and what's familiar to you" Sadie Katz
The post Interview: Emil Johansson Levin, Upcoming Swedish Indie Filmmaker Spits Classic Horror appeared first on indieactivity.