Menik Gooneratne starred in Mortal Engines as Sathya. Menik take us through her work on her new film, detailing the her audition, the challenges, why she enjoys working in film, her collaboration with director Christian Rivers, and her next project.
Thousands of years after civilization was destroyed by a cataclysmic event, humankind has adapted and a new way of living has evolved. Gigantic moving cities now roam the Earth, ruthlessly preying upon smaller traction towns. Tom Natsworthy (Robert Sheehan)—who hails from a Lower Tier of the great traction city of London—finds himself fighting for his own survival after he encounters the dangerous fugitive Hester Shaw (Hera Hilmar). Two opposites, whose paths should never have crossed, forge an unlikely alliance that is destined to change the course of the future.
Q: How did you get connected to the project? Did you have to audition? If you did, would still have got the part?
Menik Gooneratne: Yep I auditioned. The request came through my Australian agent so I had to put down a self-tape as I am now based in LA. MORTAL ENGINES was shrouded in secrecy, so I wasn't given any specific information as to what they were looking for -I just had to go with my gut instinct regarding the character. When I was told that I had made it through to the shortlist I read the quartet of books and I couldn't put them down. I felt an instant connection to my character, Sathya.
A few weeks later I had a meeting with director Christian Rivers and producers/writers Fran Walsh and Philippa Boyens in LA. Then I jumped on a plane back to Australia for the premiere of LION. When I landed, I had a number of calls from my team congratulating me on getting the role, and the rest is history! I still laugh at how seemingly simple my casting was. Usually the expectation is you have to jump through so many hoops when it comes to being cast in big budget films, but I guess this role was just meant to be.
Q: What part of the story challenged you when you read it? What drove you to get on the project?
Menik Gooneratne: First and foremost the opportunity to step outside my comfort zone and play a badass action hero was the most appealing. The fight training & sequences were so gruelling but also so rewarding. Another driving factor to getting myself on the project was the chance to work with such iconic Oscar-winning filmmakers as Peter Jackson, Fran Walsh and Philippa Boyens. 
Q: You're not new to films. What do you enjoy about the work that keeps you working?
Menik Gooneratne: What attracts me most to indie films are that the filmmakers seem to have more freedom to take greater risk in their storytelling resulting in richly complex characters, which is a goldmine for an actor. It tends to be a much more intimate experience as well as the production overall is usually smaller. LION was such a special film to be involved in and having the chance to work with such a revered and prolific actor as Nicole Kidman was icing on the cake.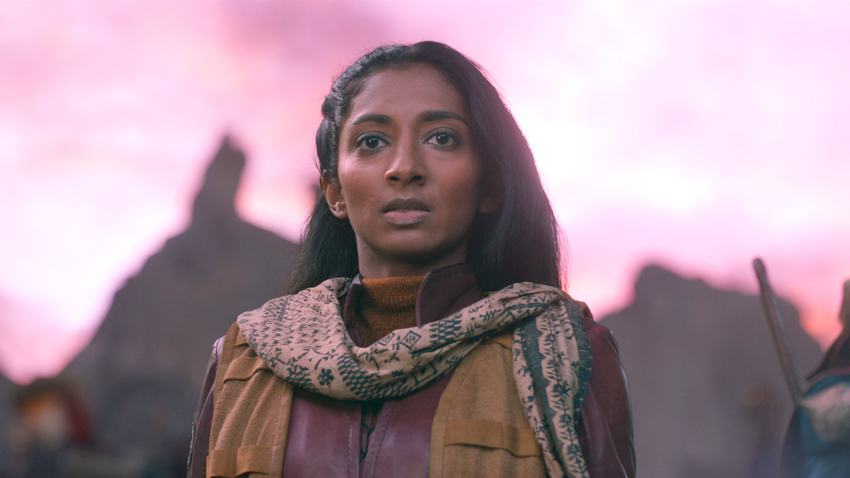 Q: Give an example of a direction you received from the director during the production?
Menik Gooneratne: Christian was a very generous director and allowed us the freedom to really experiment with each take. So typically the type of direction he would give would be along the lines of "we've got that version in the bag, so where else would you like to take it?"
Q: How did you create your character from ground up?
Menik Gooneratne: I really enjoyed my prep time for this character, as her background was so complex. Sathya is essentially a freedom fighter, a ruthless warrior, but also quite spiritual. She is deadly and also quite cunning. She came from abject poverty and has come to view the Anti Traction League as her family. She's also from 1000 years in the future. So I spent a lot of time learning about freedom fighters as well as Buddhism. My grandmother was Buddhist so I'd spent some time in Sri Lanka at the temples there, so I was able to draw on that personal experience.
I trained in Muay Thai in preparation for our fight sequences, which also helped me with creating how Sathya moved. I experimented with different accents as well to find a sound and rhythm to add to her gravitas. I was also able to draw some inspiration from one of my all time favourite historical figures – Noor Inayat Khan. She was an Indian princess who was an English spy in occupied France during WWII. She was on the Gestapo's most wanted list, and like Sathya, was cunning, ruthless, spiritual and defied everyone's expectations.
Q: As cast on the film, describe the feeling of responsibility that you shouldered. Where you scared? Or did it fire you up? What scenes where difficult to shoot?
Menik Gooneratne: Every new job is always a little scary at the beginning. As nervous as I was by the responsibility I was equally excited and ready to step up. I tend to throw myself in 100 percent to any role I commit to, regardless of the size, so after my initial trepidation over the magnitude of this role, the stakes didn't really feel that much different to any other project. The hardest scenes to shoot were the fight and stunt sequences as I'd never done anything like that before. I relished the challenge and trained really hard. I rearranged the furniture in my hotel room so I had space to practice in my down time. It also helped that our trainers on set were world-class martial artists like Mark Trotter (a 9x World Champion and 4x World Cup Champion in ITF Taekwon-Do).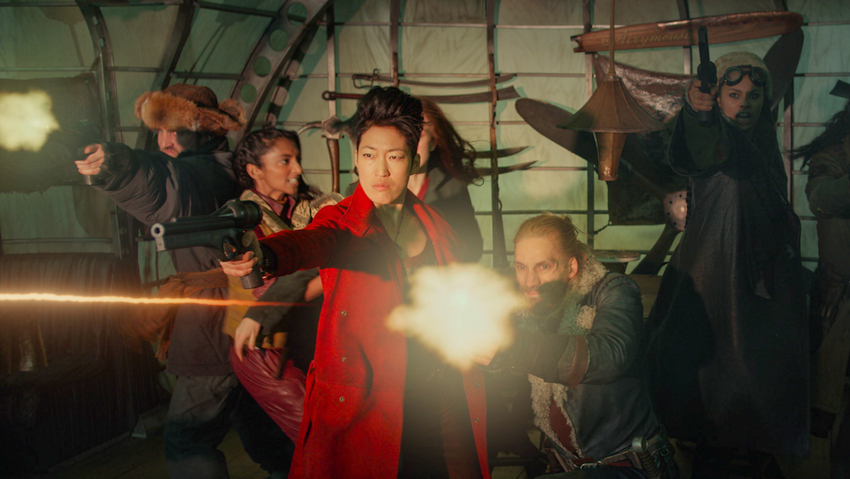 Q: Explain one creative choice you made on set during production?
Menik Gooneratne: One of the things I found advantageous on MORTAL ENGINES was the fact that it was based on a series of books. So I had pages and pages of reference material that gave me insight into my characters evolution. And luckily for me, my character has an epic story arc spanning the entire quartet. Knowing her fate at the end of the series gave me so much that I could play with and hint at in this first film. So I made the choice to do just that. Even though it wasn't specifically called for in the script, I looked for any opportunity in my scenes to plant the seed of what is to come in future films.
Q: What did you take away from the film production?
Menik Gooneratne: Working with Peter Jackson and the team in New Zealand was by far the best experience I have ever had on set. Action films are super fun and I want to do more of them!
Q: What do you like most about the director, and his collaboration with his team?
Menik Gooneratne: Christian is a very generous director. I loved working with him. He allowed us the chance to experiment with our own ideas for our characters, which is not a luxury you get all the time. In doing so he created a very collaborative and open environment on set. He is also an amazing artist. If we had a little downtime or a break, you'd often find him doodling some amazing picture on a scrap of paper.
Q: What is next for you?
Menik Gooneratne: I've been focusing on expanding my television profile in the US lately. I shot a crazy multi-cam comedy role for CBS a few months back, which was another first for me. I am also in the process of adapting a book I optioned called "The Wedding Season" into a screenplay. It's set in my hometown – Melbourne, Australia – and is a wonderfully riotous snapshot of life as a Sri Lankan Australian. Think BEND IT LIKE BECKHAM meets TRAINWRECK. With the recent success of CRAZY RICH ASIANS, I have found that a lot of doors have opened up. So watch this space!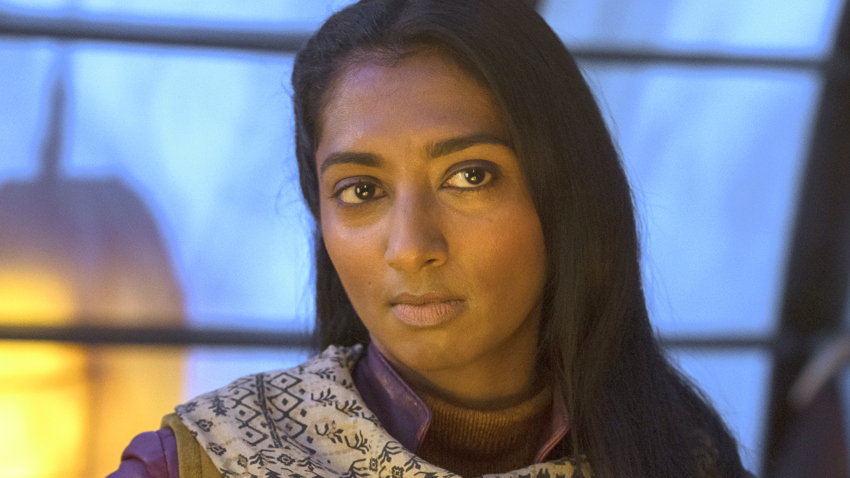 Q: What advice do you give actors regarding what you learnt on the project?
Menik Gooneratne: Be patient and trust in your talent. Understand that a successful career is a marathon not a sprint.
Follow Menik Gooneratne on Social Media
Website
IMDb
Facebook
Twitter
Instagram
MORE STORIES FOR YOU
Deep Under is a short film by British Indie filmmaker, Eric Garson.
The post Interview: Menik Gooneratne, Aussie Actress talks about her work on Peter Jackson's Epic Film, Mortal Machines appeared first on indieactivity.