Dustin Ardine is a multi-award winning actor currently living in Los Angeles. He started acting when he was 6 years old after he was picked out of the audience at Universal Studios to take part in their "Star Trek Experience". They spent the day filming a Live Episode of Star Trek in front of an audience and then watched the full edited episode on the big screen later that night. "I knew then and there that acting was what I wanted to do with my life." says Dustin
I knew my road was going to be a very long one as I came from a middle-class family with no connections in the acting world, so I started acting in school and going after auditions anywhere I could find them. I have acted in many repertory theaters all across the USA. I'm a classically trained Method Actor, and pride myself on being as versatile as possible and have played a vast array of character and leading roles from Shakespeare to Tennessee Williams.
My drive to be the very best actor I could be lead me to study all the greatest industry teachers. I also studied at the renowned Academy of Art University under the tutelage of Hollywood leading lady Diane Baker, and at the famed New York Film Academy in Los Angeles. When I came out to Los Angeles, I had no money and knew no one in the industry. I slept in my car for nearly two years while finishing acting school and worked all the side jobs I could to eat. But I refuse to give up on my dream and will kept working as hard as possible every day to make my childhood dreams a reality.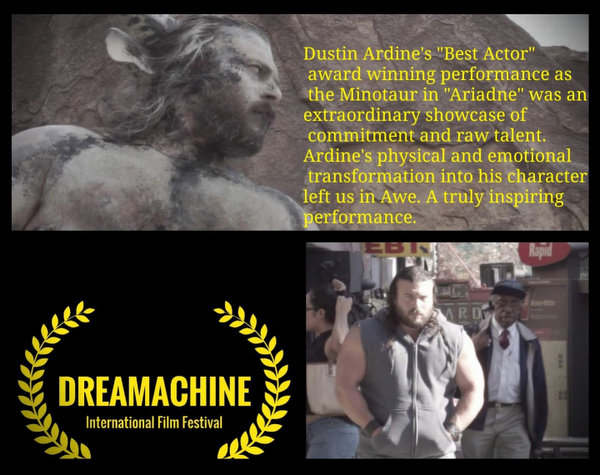 Q: Did you study acting?
Dustin Ardine: Acting is a craft and just like all crafts they need to be studied and trained on an ongoing never ending basis. As previously stated I started training at 6 years old and I read every book I could possibly find on acting. My family did the best they could to help me but coming from a working class family there wasn't tons of money to send me to the best training schools. I joined local neighborhood acting classes and enrolled in any theatre groups I could find. I remember my parents taking me to commercial auditions when they came to our town but that didn't happen much.
I was a member of my schools acting programs through elementary, middle, and high school. I enrolled at Indiana University of Pennsylvania for a degree in theatre then transferred to the Academy of Art University in San Francisco where I trained under Hollywood Leading Lady Diane Baker. I Left there and immediately enrolled and graduated from the New York Film Academy in Los Angeles. Currently I am joining the Legendary Actors studio and attending weekly acting workshops. I also train daily honing my craft and still read as many books as I can get my hands on.
Q: What acting technique do you use?
Dustin Ardine: I am a trained Method Actor. Method Acting is a range of training and rehearsal techniques including: affective memory, sense memory, moment-to-moment, given circumstances etc. All of which seek to encourage sincere and emotionally expressive performances, as formulated by a number of different theatre practitioners.
Method Acting techniques are built on the teachings of the Stanislavski's system, developed by the Russian actor and director Constantin Stanislavski and captured in his books "An Actor Prepares", "Building a Character", and "Creating a Role". These teachings were further developed by many wonderful teachers who all put their own spins on it including: Stella Adler, Lee Strasberg, Uta Hagen, Sanford Meisner etc.. I mostly follow the trainings developed by Academy Award Nominee Lee Strasberg in his book "A Dream of Passion" which is kinda like my actors Bible. Lol!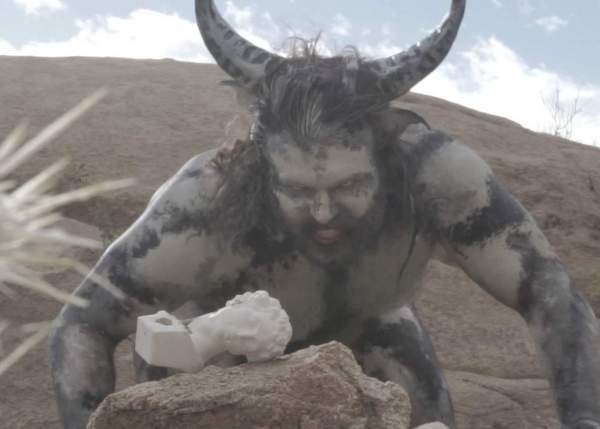 Q: Do you take courses to improve your craft?
Dustin Ardine: Over the years I have been in as many extra acting workshops and acting courses as I possible could however because of the high cost of them they were few and far between. As stated before my parents did the best they could to help me but many of these courses, especially private coaching are just to expensive and unreasonable to get unless you have loads of money to burn.
So in my case I did as many as I could but usually just had to settle with courses offered free at my school and/or self-training. I would sit by myself in my room for hours and try to recreate scenes, or characters, or voices that I had seen others do. Then try to showcase them to my family and friends to see if I had done a good job or not.
Q: What acting books do you read?
Dustin Ardine: As mentioned before my go to book is Lee Strasberg's book "A Dream of Passion" and of course studying method acting you have to read Constantin Stanislavski's books "An Actor Prepares", "Building a Character", and "Creating a Role". But there are also so many wonderful and helpful books out there that all actors should read. To many to list here of course but some of my favorites in no particular order are: "No Acting Please" by Eric Morris & Joan Hotchkiss, "Acting in Film" by Michael Caine, "Audition" by Michael Shurtleff, "To the Actor" by Michael Chekhov," The Technique of Acting" by Stella Adler etc.
Q: How do you keep fit?
Dustin Ardine: As an actor our bodies are our instruments. We use our bodies and our minds to dive into the characters we play. No matter if you follow method acting or use any other acting technique. At the end of the day our jobs are to bring our characters to life in the best way possible by using our bodies, minds, and emotions as the conduits for the characters. Obviously, in order to do this we must take care of our bodies and minds.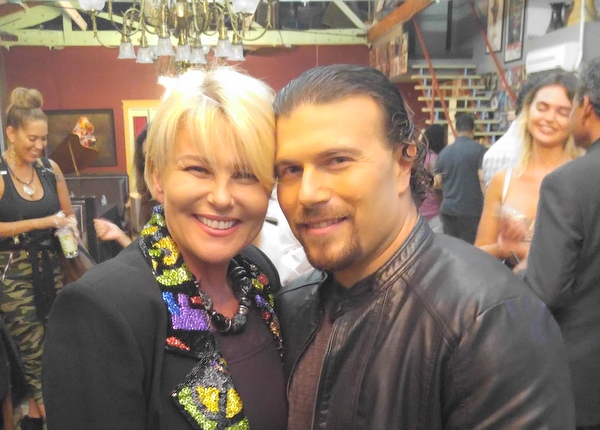 Keeping active, staying healthy, and training both our minds and bodies daily are vital to do what we do. I work out daily both with weights and cardio. I go running about 4 times a week. And do yoga for flexibility and meditation. I also go hiking as much as possible for a chance to breathe, relax, and take in the beauty in this world. This is a great way to get rid of excess stress in life. They call stress the number one killer for a reason.
Obviously, depending on the character we play we may have to put an extraordinary amount of stress on our bodies and minds: including gaining or losing weight, not to mention the horrible mindsets or circumstances the characters are in. But it's the ongoing care that we give our bodies and minds that make us able to go to those extremes when needed.
Q: How do you prepare for a role?
Dustin Ardine: When I know 100% that I have a role I first read the full script 3 times in a row taking broad notes each time. Notes range from character, time period, story arches, themes etc.. Then I put the script down and do research on all the notes that I have taken for a few days or a even a full week. Research is such a valuable tool for an actor. Especially now, in the days of the internet. Everything you could want to know about a person, time period, historical event etc.. is all at the click of your fingers.
There is NO EXCUSE for an actor not doing research for their role. Once I am done with all this and have rehearsed the role once or twice I take a break and clear my mind for a few days. Helps to stay clear headed and give you different aspects of the character and script. You NEVER want to stay married to a choice you make. You always have to be able to admit your wrong if new evidence comes into light during further research.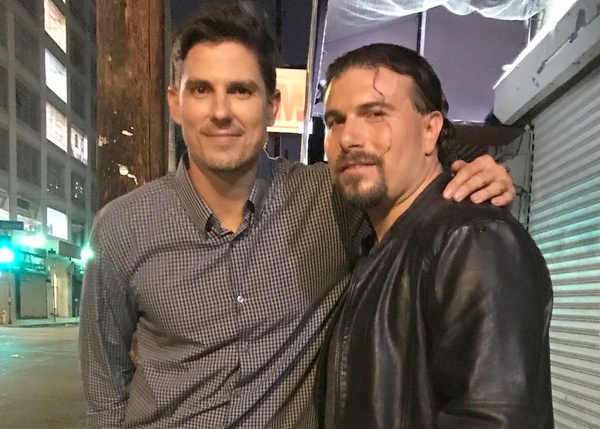 Q: How do you create a character from a script?
Dustin Ardine: Once I have done my initial reading and research and am ready to dive back in. I read the script a few more times paying close attention specifically only to my character. Learning their journey through the whole script. Finding out who they are and why they do what they do on a deeper level. Then from that I start to build my characters profile. I give them a full backstory. Where were they born, when, did anything particular happen to them at a young age that lead them to be who they are.
What are the traits they have both mentally and physically? What are they values, what do they believe in. How do they see themselves when they look in the mirror? And importantly what are their flaws. I have heard before that you must love the character that you play. However, if you love someone you forgive their flaws. We all do it. But we are all flawed and in order to play the character faithfully you must showcase those flaws. In my opinion this is a MUST for playing a character and not just playing the same character in another time and day.
Q: How do you stay fresh on set?
Dustin Ardine: All actors have their own answers to this question of course, but for me when I am on set my goal is to be on set fully as the character I play the whole time. When I am on set I don't want to be Dustin Ardine anymore. Dustin Ardine should not be there. I want to already be living and breathing as the character I am playing. I should have done so much work through my preparation and research for the character that it should be the easiest thing in the world to remain fully in character between takes. It should be harder for me to become Dustin Ardine again then it should ever be to remain fresh between takes.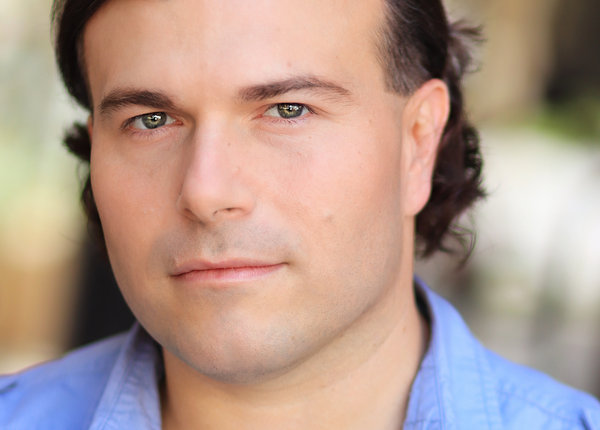 Q: Explain one creative choice you took on set?
Dustin Ardine: I was cast in a $2Million feature film called "Los Angeles Kidnapping". The role I was cast in was a rather small role and it was a comedic role. I don't get cast for comedy that much but love playing comedic characters and can play them very well. I was cast in the role of "Rose" who was an extremely feminine homosexual character. Not a lot was told to me about the character so I gave him the backstory of an ex-biker and gang member who went through this elaborate change in his life.
The film is mostly in Mandarin with a few scenes (including mine) in English. The director hardly spoke any English but because of the choices I made and the backstory I gave my character I was able to slip into character easily. I ad-libbed almost all my lines and had everyone in stitches. The director just kept saying "more..more" to me so I went fully out on each shot. The character was a tiny part of the film but I had impressed everyone so much they put my character in the official trailer for the movie which I was extremely happy about.
Q: Describe a memorable character you played?
Dustin Ardine: One very memorable character for me was actually my first lead in a feature film playing the character of The Minotaur in the film "Ariadne". The film is a modern day take on the classic Greek Mythology story of Ariadne, The Minotaur, and Theseus. I put on over 65 pounds for the role and dove very deep into the mind of the character. The Minotaur at his base core is a prisoner.
Trapped inside his life(the labyrinth), trapped with his love for Ariadne, and trapped inside himself(whom he hates). So when I was putting together the character a lot of my research was about the lives of prisoners who all have stories and little traits they had to adapt in order to survive on the inside and outside. We filmed for over 3-months and I stayed in character the entire time.
The inner turmoil going on for this character made me fear playing him but I knew it was something I had to do in order to bring him to life. And I just recently won my 12th Best Actor Award for this performance.
Q: What do you want most from a director?
Dustin Ardine: I like my directors to show passion and true interest for their projects. I don't like working with directors who have this sort of 'whatever' attitude. I like my directors to direct me and let me know if things are going the direction they want. However, with that being said, there are 2 things I want from my director above all else.
One is honesty. Don't try to lie to me or BS me. Don't be patronizing. Just be honest. I can work with a director who looks me dead in the eyes and says "what the hell was that", way more than I can with a director who tells me what he thinks I want to hear and then blames things on me behind my back. The other thing I want from my director is for them to be humble. Yes you are the director.
However, that does not make you god. We are all in this together. We all play our roles. We all have ideas and work to better the project as a whole. Truly listen to and appreciate everyone who is working hard all for the same goal.
Q: What actors do you long to work with?
Dustin Ardine: I have so many actors and actresses that I long to work with and am working hard every day in order to one day have that happen. So many brilliant artists out there that I would love to learn from. However the actor that I would most want to work with today is Academy Award Winner Russell Crowe.
Q: Why?
Dustin Ardine: When I was younger I borrowed a copy of the movie "Romper Stomper" from my brother. From the second I watched Russell Crowe's performance as Hando I knew I wanted to work with him. Russell has this chameleon like ability that I have strived for in the performances I give.
Each movie and each character that Russell plays is vastly different from each other. No matter where or when the character is from Russell employs so many large and subtle techniques to alter each performance he does. He is in my opinion the best actor in the business today.
Now of course, I don't think anyone can say exactly what makes a great actor. That's a very subjective question. I can only tell you that in my personal opinion my favorite actors are the ones who make you completely forget the actor on the screen and instead you see only the character as their own real person.
I want to go see a movie, play, or performance and be completely captivated by the story and the characters. I want to be taken on the journey that the characters go through. If I see the actor before I see the character that takes me out of my suspension of disbelief.
In my opinion the greatest of actors are the ones who try to become someone new with every performance. They are able to adapt and change themselves for the character. Not change the character to fit themselves. Just as Russell Crowe does, and what I strive to do in my work.
Q: What advice would you give actors?
Dustin Ardine: I get asked a lot of the time, how do you get booked? Or how do you get in the business? First let me say that I am not where I want to be yet in my career. I have a long road ahead of me still and I know that. I can be honest with myself and I know that to get there I have to make this my life which is exactly what I have done and is the only advice I tell people. If you want to be in this industry.
You have to commit fully to it. This can't be a hobby. This can't be something you put a time limit on. I hear so many times people say "I have given myself 5 years to make it big". Sorry but if that's how you feel there is the door. Leave! I have been an actor since I was 6 years old. I am still not a household name yet. But I will continue to chase my dream every day because it's all I want for my life. This is my life and I believe that one day I will be where I want to be.
But it's not something I do on the side. Or that I have given myself only a few years to achieve. Whether it happens in the next year or it happens when I am 70. My dreams WILL come true!
Q: Briefly write about your career?
Dustin Ardine: I started Acting when I was 6 years old. My family moved around a lot when I was younger. So I have acted in many repertory theaters all across the USA. I have won 12 Best Actor awards so far in my career. Both on stage and off and have been nominated for countless more. I was nominated for Best Actor for playing Hamlet at the Royal Shakespearean Festival.
The next year I won the Best Actor award for playing Iago in Othello. On screen I started out as an extra in any film I could including Sister Act, Kingpin etc.. I was a featured extra in the movie War of the Worlds with Tom Cruise. Got to work on that film for about a week. Tom was a wonderful man who took time out to give me personal advice on set.
My first big role in a film came when I was 22 years old in the low budget horror film "Day of the Axe". My first lead was in the film "Ariadne" where I played the role of The Minotaur. I gained over 65 pounds for the film which I then had to immediately lose for my next film called Birth. I did not eat for over 2 months to drop the weight. Birth was shot in the same house the insidious movies were shot in and it opened at Cannes Film Festival.
I was one of the leads in my next feature film called "I am Not for Sale: the fight to end human trafficking". That film starred many known stars including Tom Sizemore, Sean Faris, and Primetime Emmy winner Judi Evans. After that I starred as "Sawyer McCormick" in a Television Pilot that I was the lead for called "Angel of Mercy". Next up, I have been cast in an upcoming feature film opposite Dominique Swain and directed by Joel Bender called "Proving Ground".
Follow Dustin Ardine on Social Media
Website
IMDb
Facebook
Twitter
Instagram
LinkedIn
MORE STORIES FOR YOU
We speak to the director of the new horror film PET GRAVEYARD, about her April release
The post Interview: Dustin Ardine is one of the Hardest Working Actors in Independent Film appeared first on indieactivity.