Justin Rodriguez started acting in college, he never thought much about it back then. A friend mentioned he was taking acting class and mentioned it was fun, so Justin registered the next semester and immediately caught the bug. Justin Rodriguez started thinking he might have some talent when his Professor cast him in a play "he" (the professor) was directing.
The play was titled "School for Scandal" and Justin Rodriguez was cast as the servant, a small part, he got to make the audiences laugh to the point where people came up to him to tell him," You were the best part." After that Justin Rodriguez pretty much loved it.
Q: Did you study acting?
Justin Rodriguez: Yes, I took some classes in college with Julio Agustus Matos who is a brilliant acting teacher and taught me how to get into the business of acting. While in college, I also took acting classes with Nickelodeon coach, Lane Napper who was also starring on Victorious as one of the teachers. After I graduated, I had a job a graphic design firm, which is what I went to school for, but I ended up quitting, ultimately deciding to be pursue acting full time. I moved to LA for 6 months to study at the Margie Haber Studios in LA, and started to book work soon after that.
Q: What acting technique do you use?
Justin Rodriguez: I use this technique taught at Margie Haber, where you live the life of the actor. You do the work in setting up the scenario of the character, hence like they're background, where they are from, how they talk, their personality etc, and then you play it as if you were the character going through this. For example, if you are playing a drug addict, you work on how addicted you are, how the drugs make you feel, why you like doing drugs, what are you willing to do for drugs and what would life be like if you weren't addicted to drugs, or what will happen if you don't get to shoot up one more time. It brings a sense of realism to this made up character and world.
Q: Do you take courses to improve your craft?
Justin Rodriguez: Yes, I think one should always be improving their craft, there are always areas of improvement unless your like Meryl Streep or Denzel Washington haha. I am not taking classes at the moment. I am currently looking for an acting coach who can do one on ones with me. I just think it makes more sense, like you get more bang for your buck, as opposed to paying for a class where you really only get to act for like 5 minutes in like a 2 hour sitting. I have been trying a couple but none that I have felt synergy with yet. I think private coaching is where it's at, like I said before you get more bang for your buck.
Q: What acting books do you read?
Justin Rodriguez: How to be a Working Actor, and then I read a lot of plays, and scripts. I also try to read a new novel every week to get my imagination flowing, when you read books you create worlds in your head, which I think translates into acting.
Q: How do you keep fit as an actor?
Justin Rodriguez: Mentally, I like to "treat myself" whenever I feel rejected from a part I really wanted or feel like I am not good enough, I think it's important to treat yourself to something that will make you feel good, for me it's always a trip to the movies, an amazing meal, or quick retreat to somewhere new. Physically, I just started working out so I will let you know, but I do try to have a balanced diet, and get a lot of sleep so that my skin looks good and ready for work.
Q: How do you prepare for a role, when you get it?
Justin Rodriguez: When preparing for a role, immediately I separate all the scenes that I am in. Then before I even rehearse I start breaking down the scenes, with context clues to figure out what the character is really saying every time they open their mouth. Then I try and let the scenes inspire me, whether it's with music, something I have seen before, and then I reference that. Then if research is involved, I will do a lot of research to understand and bring the character justice. Than finally after making character decisions etc, I am ready to rehearse. I also try and rehearse differently every time so I do not get trapped in doing it the same way each time.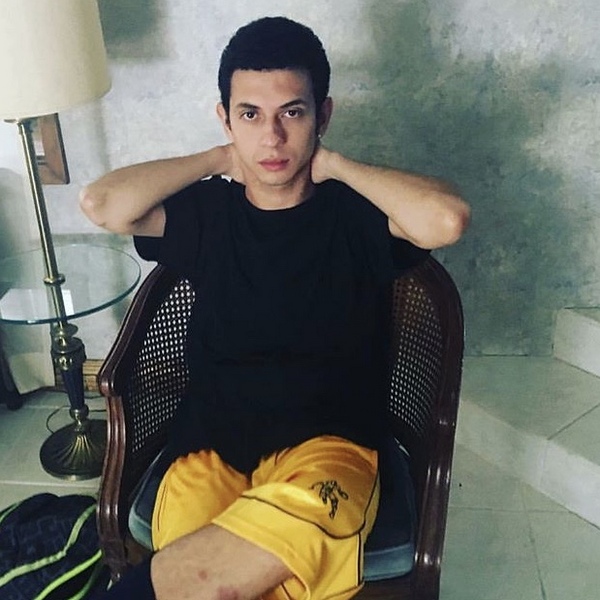 Q: How do you create a character from a script?
Justin Rodriguez: I read the character breakdown and try to incorporate those elements into my scenes. I also think tactics is a way to bring a character to life, like asking yourself how would this character do or say this. And then its sailing from there. It's also important to be confident in your choices but not married to them because the director may not like the direction you are going in, so keeping that open dialogue is important.
Q: How do you stay fresh on a set?
Justin Rodriguez: Drink water, and try different things to keep it fresh and interesting. Really listen to what your partner is telling you, be present, and have fun! I think putting on costumes usually help me stay in character because I am a different person.
Q: Explain one creative choice you took on set?
Justin Rodriguez: In "Rich Kids" Steve does a lot of like non-verbal second guessing, which is what I really wanted to make sure I portrayed.
Q: Describe a memorable character you played?
Justin Rodriguez: I robbed Allyson Williams on Season 5 of HBO's Girls with a hand gun, that was pretty memorable.
Q: What do you want most from a director?
Justin Rodriguez: Someone who I can express my ideas, and collaborate with on a character, its definitely hard to walk on a set and director who shuts down all your ideas, it makes it less fun.
Q: What actor do you long to work with?
Justin Rodriguez: Aubrey Plaza
Q: Why?
Justin Rodriguez: I just think we would play really well together, and I find her to be so hilarious, I think we would make some funny shit.
Q: What advice would you give actors?
Justin Rodriguez: If you love it and don't see yourself doing anything else, you're in the right business, and success is measured by you, not others.
Q: Briefly write about your career?
Justin Rodriguez: I have done a lot of commercials for Reese's, Smile Train, Nickelodeon, Lenovo, Puma, Ecko, Amazon, Verizon, Welfare.
As far as indie films, I starred in "The Fever and the
Fret", "This Side of Heaven", "Bottle in the Smoke"
TV Shows: HBO Girls, The Blacklist
The post Interview: Justin Rodriguez Actor with Great Range Poised to Take on Indie Industry appeared first on indieactivity.