(BAKERSFIELD, Cal.) – Oildale, a new independent film about military veterans and the healing power of music premiered in Bakersfield, California, where it was shot, on March 30. The producers plan to screen the film throughout the United States, in collaboration with veterans' organizations and community groups, to raise money for veterans.
The movie was inspired by homeless veterans
that director David Mueller and screenwriter Lynn Salt saw on the streets, when
they used to visit Bakersfield to see the late country singer Buck Owens
perform at his famed Crystal Palace.
"People often ask where the title 'Oildale'
comes from," Salt said. "It's because Merle Haggard was born there, and I
believe great art can come from suffering. People who know Merle's history know
he had a lot to deal with in his youth."
The film centers around an Iraq War veteran
(Cyrus Zoghi) and two Vietnam veterans (Michael David Farrow and Sonny H. King)
who befriend an 18-year-old girl (Jessica Castello) and her 13-year-old brother
(Caleb Brown). After learning that the girl dreams of becoming a singer, the
veterans encourage and help her to enter a singing competition at a local
theater.
"This is an old-fashioned story with a
universally appealing message," Mueller said. "It is about family, friendship
and how people in small towns tend to take care of each other."
Salt and Mueller, both Hollywood veterans with a long list of
credits, previously collaborated on the multi-award-winning Native American
documentary, "A Good Day to Die," and the surfing film, "Beautiful Wave." Rick
Davis, former Kern County Film Commission executive director, came out of
retirement to co-produce "Oildale."
"I fell in love with the script and how it
so fits our community," he said. "It's a beautiful story about how big
everybody's heart is in Bakersfield. I helped round up some of the best
musicians in town, including John Herrell, who did studio work for Buck Owens
for years. We had such a great collection of people and the energy kept growing
and growing."
Several songwriters contributed original music for the project.
Country-roots recording artist Grant Maloy Smith gave filmmakers permission to
use "I Come From America," a song from his 2017 Billboard-charting album "Dust Bowl – American Stories." He also
has a supporting role as "Brady Cooper," a guitarist.
"In the movie, my song is performed by a different character,
but I play in the band," Smith said. "The producers liked the song, because it
celebrates the common people who made America. There is also a line in the
song, about Bakersfield."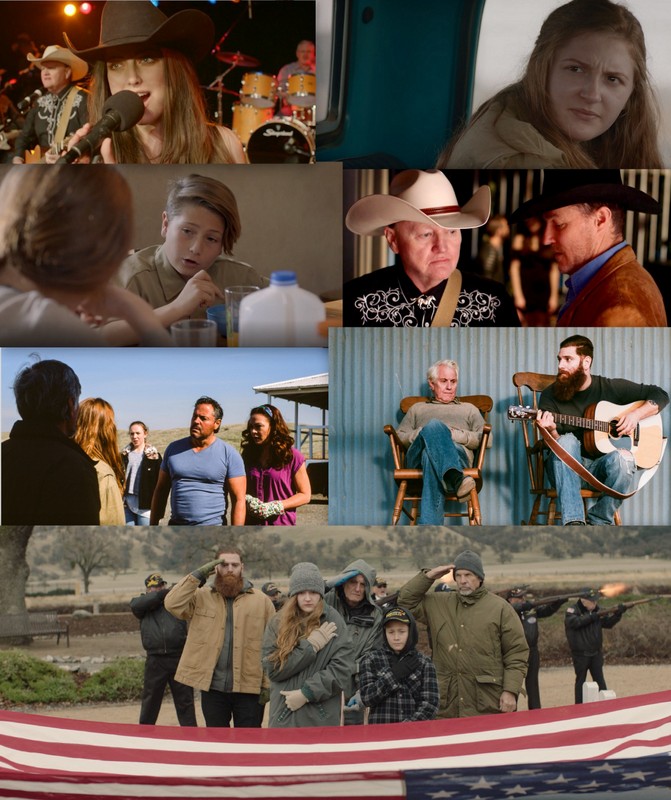 Other musicians and songwriters who appear
in the film include:
Real-life veteran Evan Morgan,
who sings his song "No Good News," which is part of the film's score.
Brant Cotton, an actor known
for "Wag the Dog," "Cold Case" and "Beverly Hills, 90210." He is also the lead
singer of the country band Von Cotton. In "Oildale," he sings his
song "See You on the Other Side" as the character "Clyde Fenton."
Therese Muller, who sings her
song "Face the Fear" as a contestant in the singing competition.
Will Branch, who sings his
song "You" on stage. He also wrote the hero's song, and main theme of the
movie, "Fog of War."
Despite its modest budget, "Oildale" has the look and feel of a
much bigger movie, thanks to support from the Bakersfield community and help
from many volunteers, including many Hollywood professionals who donated their
time. In keeping with their grassroots business model, the filmmakers are
planning an 18-month "Heartland Tour" to screen the film in all 50 states. They
are currently seeking local veterans and community groups with which to partner,
to screen the movie and split ticket sales.
"Military men and women have sacrificed so much for this
country, and many have come home carrying memories of their friends who died," Salt
said. "There are twenty-two suicides by veterans every day. Our veterans cannot
heal until their fellow Americans help them."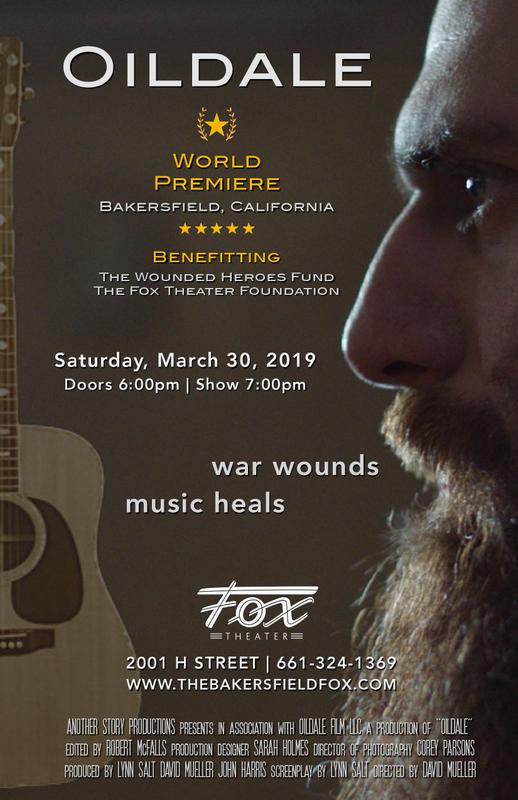 Salt has worked in the motion picture
industry for more than 25 years as a writer, producer and director. She has
written more than 20 screenplays, four of which have been optioned by A-list
producers. A Choctaw (American Indian), Salt was a member of the American
Indian Registry for the Performing Arts (AIRPA) in Los Angeles. She produced
and co-directed "A Good Day to Die" (2010 Kino Lorber) and co-wrote and
co-produced the dramatic feature "Beautiful Wave" (2011 Starz/ Anchor Bay), starring
Aimee Teegarden, Patricia Richardson, Lance Henriksen and Helen Slater.
Mueller is an award-winning director, producer and writer, who began his directorial career with Universal Pictures on "New York Undercover" (Fox) and "The Wright Verdicts" (CBS), directing second unit action sequences on the streets of New York. He has directed, written and produced dozens of documentaries, national commercials and feature films. He co-produced "Dalai Lama Renaissance" (2007 Horizon), which was narrated by Harrison Ford and won 12 Best Documentary awards. He also produced and co-directed "A Good Day to Die" (2010 Kino Lorber) with Dennis Banks, winner of six Best Documentary awards, and directed "Beautiful Wave" (2011 Starz/Anchor Bay) starring Aimee Teegarden, Patricia Richardson, Lance Henriksen and Helen Slater. Information about "Oildale" is
available at www.OildaleTheMovie.com.
Cast
Jerry Rector – "Eric Toft"
Kelsey Bohlen – "Jessie Ann Jessup"
Sonny King – "Larry"
Christina Thomas – "Ida"
Caleb Brown – "Pete Toft"
Jessica Castello – "Carlie Toft"
Catherine Fisher – "Taffy Toft"
Nancy Hale – "Jolene"
Sandra Darnell – "Nancy Toft"
Cyrus Zoghi – "Mark"
Grant Maloy Smith – "Brady Cooper"
Brant Cotton – "Clyde Fenton"
Monique Filips – "Annie"
Will Branch – "Gus Weston"
Bo the Dog – "Bo"
Mark Ala – Musician, Steel Guitar
John Bowdler – Musician, Electric Guitar
Emily Catron – Judge #5
Lillie Davis – Head Judge #1
Rick Davis – Musician, Keyboards
John Enriquez – Judge #2
Steve Flores – Musician, Bass Guitar
Tommy Hays – Judge #3
John Herrell – Musician, Acoustic Guitar
Dalisay Johnson – Musician, Fiddle
Roy Keenan – Judge #4
Jim Otell – Musician, Dobro
Janice Stinson – Fox Band, Vocals
John Stinson – Musician, Drums
Directed by David Mueller
Screenplay by Lynn Salt
Produced by David Mueller, Lynn Salt, John Harris
Co-produced by Rick Davis & Michael Tyabji
MORE STORIES FOR YOU
The post Indie Film "Oildale" from David Mueller & Lynn Salt Celebrates Healing Power of Music appeared first on indieactivity.