Award-winning Director Claire Edmondson's female-led drama EXIT stars Maria Bello (NCIS/Goliath) and Natasha Bassett (Camp/Rake), this important film follows a woman with a terminal illness who has made a life-changing decision. Exit premiered at the Toronto International Film Festival, went on to win the "Most Promising Director Award" at the Vancouver International Film Festival and will now screen at the prestigious Palm Springs International ShortFest.
EXIT captures a single day in the life of a woman confronting the consequences of an irreversible decision. An emotional exploration of rage, fear, and acceptance anchor the story and are made all the more poignant as the world around her remains serene.
There's an intensity behind Claire Edmondson's work which provokes change through a subjective shift of the viewer. Her early music videos for Austra's "Beat and the Pulse" and Broken Social Scene's "Sweetest Kill" triggered conversations and controversy in the press about feminism, ownership vs objectification and the "new female gaze". Further work on music videos and her own shorts led to The Globe and Mail naming her "Canada's Next Great Auteur" due to her distinct voice and aesthetic. 
Edmondson then broke into the commercial world with her film for Everlast, "I'm A Boxer". Its cinematic vision, immersive tone and eloquent call for equality further amplified her voice as a filmmaker. Adweek, Buzzfeed, and Huffington Post featured the film, with Shots declaring her the "New Director To Watch". She has since directed spots for Samsung, Dove, Bayer, Kotex, Greenpeace and Viagra, while her Special K "Own It" shortlisted at the 2016 Young Director Award in Cannes. Her work has been shown at the Tribeca Film Festival, TIFF and the Barcelona Sports Film Festival.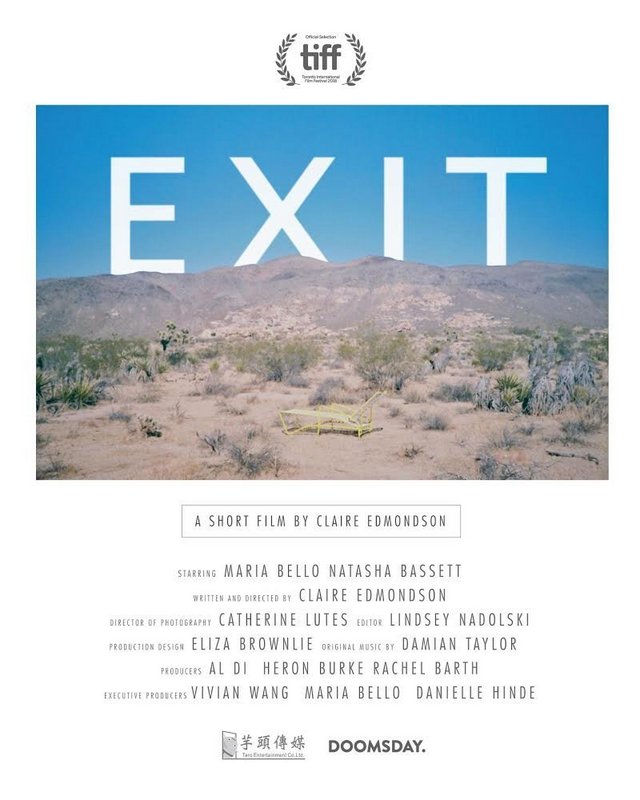 Claire's short film, EXIT, premiered at the Toronto International Film Festival in 2018. The film won the "Most Promising Director of a Short Film" award at the Vancouver International Film Festival.
Claire is represented in the US by Doomsday Entertainment, in Canada by Asymetric and by Bandits in Paris.
MORE STORIES FOR YOU
The post Claire Edmondson's 'Exit' with Maria Bello takes on assisted suicide at Palm Springs ShortFest appeared first on indieactivity.