Chris Zuhdi is from a small town in Oklahoma. He fell in love with movies around about the age of five or six. It was either that or he had to become an Astronaut. The movies are what stuck and Chris has been chasing that Unicorn ever since.
Chris Zuhdi graduated from the University of Oklahoma with a BA in Film and Video Studies. He had a tremendous Professor, back at the University of Oklahoma named Misha Nedeljkovich who really taught him how to read film and introduced Chris to his great passionate genre Film Noir and Crime Fiction.
indieactivity : Why did you get into filmmaking and screenwriting?
Chris Zuhdi : I love chasing unrealities. In one context I guess that makes you crazy, or at best delusional. In another context, it makes you a filmmaker.
indieactivity : How does an indie filmmaker distribute his/her film?
Chris Zuhdi : In spite of all the do it yourself talk about distribution these days, and there is some validity to that option, I advise to find a credible, established distributor. Easier said than done, but with all the info at our fingertips today, finding and making a short list of small to mid level indie distributors is very possible.
Then, just start contacting them. If one takes you, to be honest, that will put any project light years ahead of doing it yourself from somewhere outside LA or NYC. Goodnight, Charlene would have not done a fraction of what it has if I would have thrown it up on the internet, held some screenings, and run social media ads on my own without Linda Nelson and her company Indie Rights.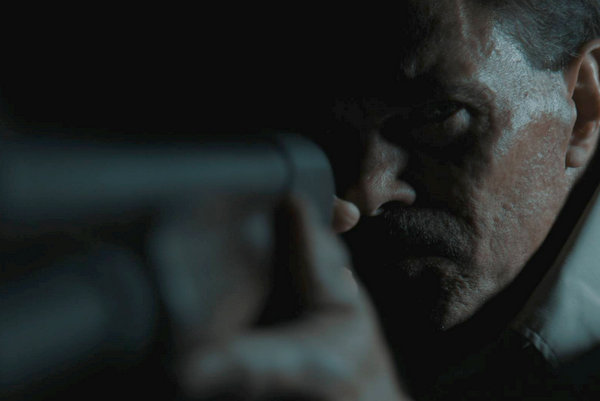 indieactivity : At what period in the filmmaking process, does an indie filmmaker need to start planning for distribution?
Chris Zuhdi : Before you write your script! I would start contacting distributors about half-way through the completion of the film. But, only show the final, mixed film. Do not show a rough cut. Very important.
indieactivity : Indie filmmaking is a model based on zero-budgeting or small budgets. How do I get my film in theatres with such a budget?
Chris Zuhdi : By raising money for a limited, theatrical release for the film upfront. Then search for companies that specialize in organizing limited theatrical runs. This is mainly for exposure and credibility, but can help stand out from all the clutter, and possibly increase ancillary sales. Just be aware there is a good chance the film won't make its money back from the box office receipts.
indieactivity : How can filmmakers finance their projects?
Chris Zuhdi : Private equity investors. Pre-sales used to be a possibility with a sales agent, but from what I  understand that has pretty much dried up. Further, that still required pretty significant projects with names attached. Be responsible though, to yourselves and your family.
Don't spend savings you don't have and  go into personal debt for a project. It's not worth it. Take your time, organize your company, and solicit investors respectfully and honestly. Then make the movie with whatever you are able to put together. Don't wait forever for the perfect deal or full budget amount to come in. Adapt and overcome based on what you can scrape together honestly.
indieactivity : What films have you written and made?
Chris Zuhdi : Goodnight, Charlene 2019
indieactivity : Talk to us about your concept on collaboration?
Chris Zuhdi : It's essential, be open, fluid and flexible in your collaboration with others, but never sacrifice your vision, unless it turns out a better vision has presented itself. Also, surround yourself with the best you can find.
indieactivity : How do you find the process of filmmaking?
Chris Zuhdi : Liberating and terrifying.
indieactivity : Describe your recent work, or film, take us through pre-production production and post production. Marketing too?
Chris Zuhdi : I developed the story shortly after graduating film school at the University of Oklahoma. I'd fallen in love with Film Noir there and was fascinated with the idea of a Neo-noir, filmed in color and set in small-town America. I completed the script about fifteen years ago, but felt my options for making it on a small budget with the technology then available weren't that great.
I filed the script away and moved to Texas in 2006. Around 2010, I discovered far West Texas Texas, specifically Marfa, Alpine, Terlingua, and the Big Bend area. It clicked perfectly in my mind to utilize that lonesome, wild part of Texas as the setting for my Neo-Noir.
Production started in 2017 and the film was shot with extremely minimal crew, few set-ups, and only four weeks of production time. Marketing took shape once the film was accepted by Linda Nelson of Indie Rights. We placed the film in the Arena Cinelounge in Hollywood for a limited, one week theatrical run. This got the attention of the LA Times, who reviewed the film. General social media marketing and, of course, word of mouth have rounded out our marketing strategy.
indieactivity : What are your future goals
Chris Zuhdi : Make as many feature films as I can, hopefully on increasingly wider scales.
indieactivity : What you think indie filmmakers needs in today?
Chris Zuhdi : Credibility to stand out from the large amount of indie films out there. That can take many forms, but credibility os essential.
indieactivity : Briefly write about your career?
Chris Zuhdi : I've only just completed my first feature film as detailed above. Hope to have much more to share with everyone after my second feature!
Follow Chris Zuhdi on Social Media
Website
IMDb
Facebook
Twitter
"Write what you love and what's familiar to you" Sadie Katz
The post Interview: Chris Zuhdi, Texas Actor-Filmmaker, Blazes indie Filmscape Film-Noir Style appeared first on indieactivity.