Tim Morrill is a director and cinematographer in the San Francisco Bay Area, cleansing the Palate is his short film
MORE STORIES FOR YOU
Tim Morrill's 'Cleansing the Palate'
Date: 11th July, 2019
Director: Tim Morrill
Writer: Tim Morrill
Lead Cast: John S. Boles, Nancy Battey, Sam Vegas
indieactivity : What is your film about?
Timi Morrill : In essence, "Cleansing the Palate" is about taking a negative event in life and turning into an opportunity for a second chance. I was interested in exploring what happens when a character suddenly loses his job close to retirement and instead of having a meltdown (as usually happens in these stories) he is encouraged to pursue interests that he had to put aside for the sake of his family's security. I've always gravitated toward the theme of the "every man" caught in an unfair situation and how they react to it (which is usually negative). 
When the idea came to me it had been a couple years after the financial meltdown of 2008. My parents, who had held the same job for many decades, were suddenly met with their companies downsizing or completely shutting down altogether. My mom, after being laid off, had decided to go back to school to study in the medical profession as a way of having a more secure job than what she had before and found that she loved it. During this time, I was in my senior year of film school and in need of a senior thesis.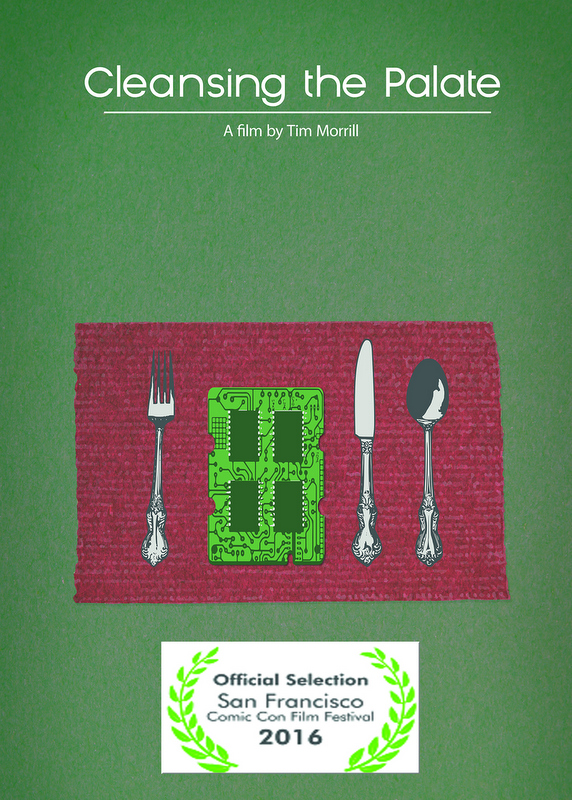 I wrote a treatment and submitted the story of "Milton, a factory floor manager, who finds himself at a crossroads when his boss suddenly out-sources his job and he comes to find that his passion for cooking is suddenly stirred" to my faculty advisor and was accepted.
indieactivity : Tell us about the festival run, marketing and sales?
Timi Morrill : The film has only been in one festival thus far with a very positive response from those who have seen it. The film was always meant to be a showcase of what I am able to do as a writer-director and I think it has accomplished that quite well considering it's a senior thesis film. If there is one central accomplishment that has come from the film it's that it has opened the door for me to write and direct my first feature film because it proved that I could deliver.    
indieactivity : Dramatic Feature?
Director :  Tim Morrill          
Producers :  Jeffrey Lapid
Budget :  $2,000
Financing :  Private Equity 
Production :  San Francisco Bay Area
Shooting Format : Blackmagic Design Cinema Camera (DNG Camera RAW)
Screening Format :  MOV
World Premiere:  Ai-SF Break-Out Student Showcase    
Awards:  Official Selection San Francisco Comic Con 2016
indieactivity : Give the full Official Synopsis for your film?
Timi Morrill : Milton, a circuit board manufacturer, takes a gamble on a life-long dream after his company is suddenly shipped overseas. After being given an ultimatum by his job, Milton comes home to find that his son, William and his 8 ½ month pregnant wife, Carol, have moved back home. As Milton tries to find a new path through a shaky economy, he realizes that his life's work was spent in the pursuit of financial means at the cost of his own artistic fulfillment. As his family reconnects, his desired life-long dream of becoming a chef is stirred.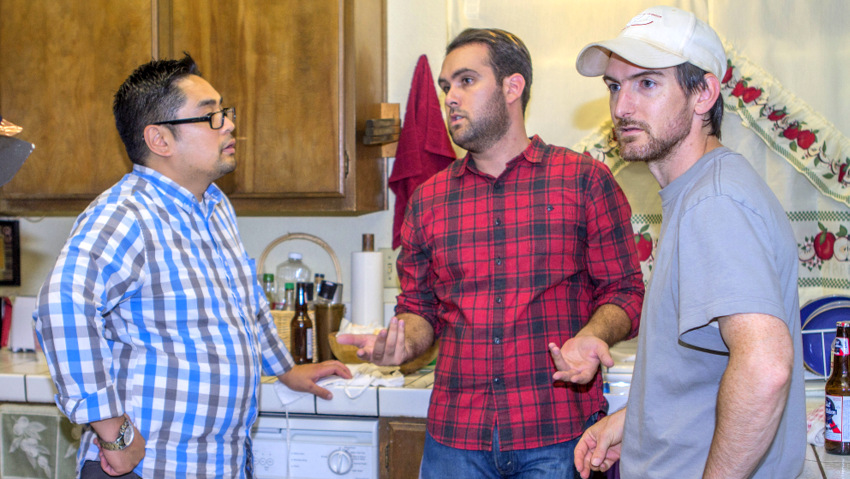 indieactivity : Development & Financing?
Timi Morrill : The development of the film happened very quickly and was inside the structure of the quarter system of the Art Institute of California – San Francisco film school I was attending. The process was that I had to write a treatment for the film I wanted to make for my senior thesis and submit it to the faculty advisor for approval. Once he gave approval, I was able to take that treatment into their pre-production class where I began writing the script and honing it for eleven straight weeks while simultaneously finding a producer (Jeffrey Lapid), getting the crew and looking at locations. 
I originally didn't want to write the script. There were other talented classmates that I thought would do the story justice a lot better than I could, but no one wanted to do it. So, I decided that I would just have to do it myself and I'm glad I did because it set the stage for my writing down the line. I had a really good idea about the entire story since I had written a treatment but when I wrote the script there was a lot of extra scenes that were unnecessary and so I began to hone it. Then, after locking the script, it would become clear that a location I wanted was going to be impossible to get and so I would cut some more and eventually I got the script down to about fifteen pages with three locations. It was a great lesson on writing to what you have access to instead of creating a script that would take more time and resources to accomplish.
In financing the film, the producer and I (Tim) tried to run a Kickstarter campaign to raise $5k, but it really crashed and burned because I was an unknown writer-director who had no track record quite yet. We ended up having to self-finance the film with our own money and donations from friends and family. We knew that we didn't need that much money since the bulk of the film took place in the house that I was living in at the time. Our budget really went to feeding the cast and crew, one location (that managed to double as two) and paying the talent. We had to spend a little money in post-production, but the bulk went toward our production days.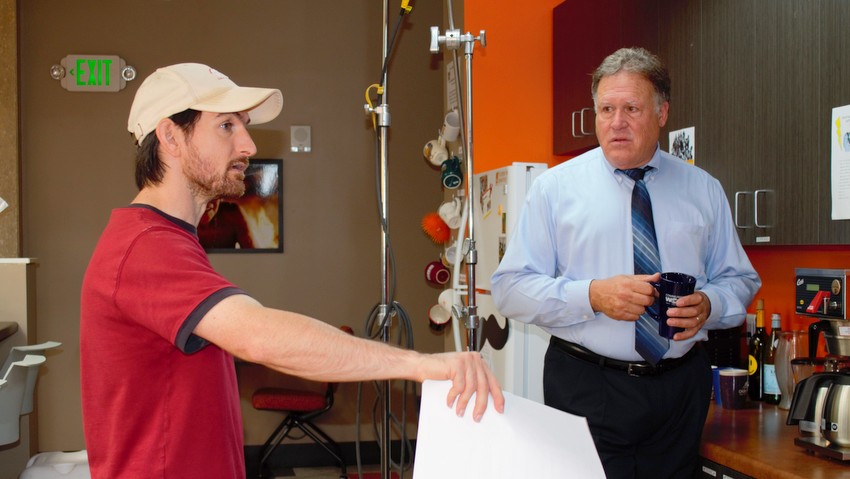 indieactivity : Production?
Tim Morrill : My pre-production class I was able to spend the quarter getting the script ready for production. This allowed for me to set dates during the eleven weeks of my production class where I was expected to deliver a first cut of the film for faculty review and to bring into my post production class. From the beginning, the producer and I knew we didn't have much time to get the entire film done and, even if we had eleven weeks to do it in, that the attention of the crew would be divided because it was made up with fellow classmates who had other classes that they were juggling. Working with the A.D. (Alyssa Glidewell), we determined that we would shoot the entire film in a block of five days (Thursday – Monday) on Memorial Day Weekend which gave us four days where most of the cast and crew would be able to work long days and one short evening shoot on the first day to get the momentum going.
We had done casting sessions at the beginning of the quarter and I had most of the film cast (John S. Boles as Milton, Nancy Battey as Maude, and Mike Sedlak as Mr. Bickford) except for a couple parts that hadn't been filled due to some actor difficulty and lack of finding the right actors for the part. I ended up filling the couple parts with a friend, Sam Vegas (as William), whom I had acted with in previous films, and with Katherine Park (as Carol), whom my producer happened to start a conversation with while he was getting coffee and found out that she was an actress. 
It seemed like everything was ready to
go but days before we were about to start shooting, one of our locations
suddenly dropped out and the producer and I had to scramble at the last minute
to find a replacement, which ended up being a shared work space in Berkeley,
which we used for two locations. It was
one of those moments where it was better that the plan fell apart because it
made way for something better to take its place.
It was a relief to get the principal photography done in a short amount of time because it allowed the editor (Michelle Gould), who was also on set, to cut together a first cut for the faculty advisors to watch at the end of the quarter. Bringing the first cut into post-production class was difficult because there were many takes that I wanted to leave longer but was urged to trim down. It was a difficult lesson to learn because I appreciate what an actor does, and I don't want to take some great moments away from them.  But once I was able to cut the film down, I saw that it made the pace of the film better.
In post, I had a small sound crew that did the music and sound effects and they had found that a couple scenes needed ADR due to the background noise of the location.  I had invited the actors back to my house to record their lines, but the date that I had scheduled them to come over was on a night that was extremely gusty. I have a great sound guy (Jon Ganzmann) who was able to record clean sound in-spite of the wind pounding against the house.
I had eleven weeks to craft the film
into the final cut and the version that was released is what I graduated with.
indieactivity : Festival Preparation & Strategy?
Tim Morrill : This film was my real-world lesson on what to do when it comes to having a festival plan and strategy. Except for the film festival that was put on by the school for graduating seniors, there was no initial festival strategy for the film after I graduated. I honestly don't think I ever intended to put the film in any film festivals, at least not at first. I had felt that there was more that I wanted to fix about the film and so I didn't submit to any film festivals for a couple years.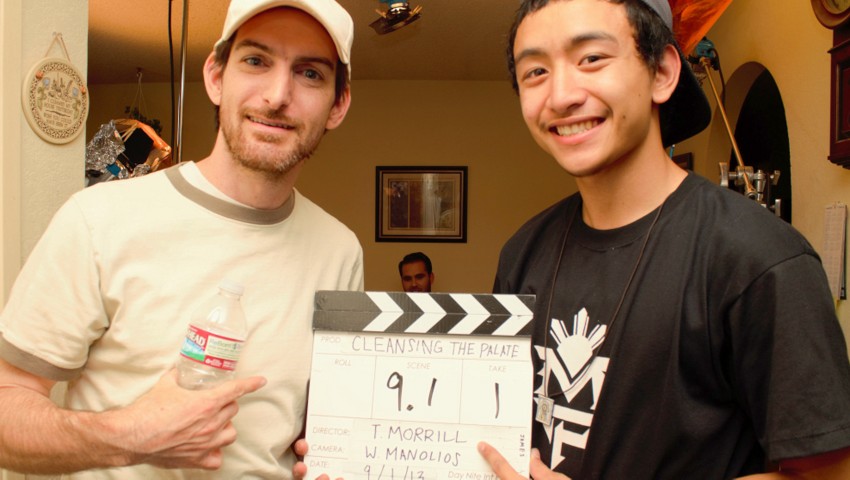 Once I had decided to release the film, I started to submit to film festivals that I thought would fit with the themes of the film. The one that accepted me was the San Francisco Comic Con who had a block of dramatic films that it was programmed in. Once I got into one festival, I used social media to promote it in hopes that I could generate interest. From there, I continued to submit to other film festivals with no further acceptances. In hindsight, I realized that even if I don't plan to put a film into a film festival that I should still make a plan for it anyway.
indieactivity : The Release?
Tim Morrill : The release of the film happened very slowly. After graduation, I wasn't happy about the cut that I had and wanted to make my own director's cut of the film to undo some of the instructor notes that I had complied with to get a good grade. I hadn't had a chance to make any changes to it when I showed it to a couple filmmaker friends after they kept hounding me to see it. They were impressed by the film and gave me encouragement to release it as it was. I first released it through the films Facebook page to let my friends see it. From there I started to research festivals to submit to.
indieactivity : Advice from the Filmmaker?
Tim Morrill : My advice for filmmakers, especially new filmmakers, is that you will be surprised at how good your work is when you stop comparing it to anyone else. I've learned that my aesthetic is something that has development in me through the influences of films that I loved growing up.  The unnecessary expectation that filmmakers put on themselves to emulate the greats is a defeating proposition. 
Every great filmmaker took what they loved and created something new and that is what I encourage other filmmakers to do. I will never make a Spielberg film or a Kubrick film or a Tarantino film because my influences are different than theirs. I will only be able make a Tim Morrill film and that's an encouraging way to think about my own work and my own process of filmmaking. I encourage us to take the pressure off ourselves to be great filmmakers because that mantle will never be awarded. So make films and fun doing it and hopefully make a living.
Follow Tim Morrill on Social Media
Website
IMDb
Twitter
LinkedIn
Vimeo
The post Case Study: The Making of Cleansing the Palate by Tim Morrill appeared first on indieactivity.