Juan Carlos Arvelo is an actor and SAG-AFTRA member most recently known for his work on Spider-Man: Into the Spider-Verse which won the Academy Awards® for Best Animated Film. The film also won seven of its races at the Annie Awards, including Best Studio Animated Feature, won the Golden Globes ® for Best Animated feature film and British Academy of Arts and Film Awards for Best Animated film.
indieactivity : How did you get connected to the project? Did you have to audition? If you did, would still have got the part?
Juan Carlos Arvelo : I got connected to Spider-Man: Into the Spider-verse through my agent Cathey Lizzio at CESD. I got an email from her about submitting a voice over audition. Many voice over auditions are online submissions, so some time ago I decided to build my own little recording studio in my closet at home, which works great for sound recording. There I recorded my voice over audition. After three months of not hearing anything about this  project, my agent called to tell me Sony Pictures was interested in hiring me… and well the rest is history.
indieactivity : As one of the main cast on the project, how did this 'choice' work for you?
Juan Carlos Arvelo : I'm not one of the main characters per-se in Spider-Man:Into the Spider-verse . I'm one of the additional voices to the film's main character 'Miles Morales', which was played by Shameik Moore. I was hired to do Miles Morales' (Moore) Spanish-Speaking "sound alike" voice in the English version of the movie, as this character is bilingual and of Puerto Rican descent and I, being Puerto Rican, could input Puerto Rican idioms and slang. I was told by casting that my voices might have also been used in different instances throughout the movie as well.  
indieactivity : What part of the story challenged you when you read it? What drove you to get on the project?
Juan Carlos Arvelo : A few things drove me to get on Spider-Man: Into the Spider-verse, one was the fact that this was an Animated Film, and for several years I've been dreaming to be able to work in a project like this. Second, the fact that the character is half Puerto Rican; I felt really connected and honored to be able to work on a character that has the same background as me, from a Puerto Rican family.
indieactivity : You're not new to indie films. What do you enjoy about the work that keeps you working?
Juan Carlos Arvelo : Acting is one of my passions. I really enjoy the collaborative aspect and the teamwork of making a movie. To be able to collaborate with different brilliant artists, all having the same goal in mind, to give out their best in order to create the best movie that can be made and the love and passion behind it, pouring our hearts into the project but knowing that we are all in this together. Recognizing that and appreciating that we can't do it all one without the other.
indieactivity : Give an example of a direction you received from the director during the production?
Juan Carlos Arvelo : One of the directions I received was to feel free to bring in any idiomatic phrases or any "Puerto Rican" slang that I could come up with. I was given creative freedom for improvisation.
indieactiivty : How did you create your character from ground up?
Juan Carlos Arvelo : I used videos that were sent to me by casting of Shameik Moore interviews, as well as the trailer of the movie to prepare for it. When I got hired and brought to the ADR room at Sony Pictures the movie was a month away from being released. So I was able to listen to Shameik 's voice in the trailer and some videos of interviews from him that I found in YouTube as well to get his voice and be as close to it as possible and bring it in Spanish.
indieactivity : As main cast on the film, describe the feeling of responsibility that you shouldered. Where you scared? Or did it fire you up? What scenes where difficult to shoot?
Juan Carlos Arvelo : Although my job in the film was to be one of the additional voices to the film's main character 'Miles Morales', which was played by Shameik Moore and not as one of the main characters in the film per se, it was a huge responsibility. In every project, no matter how big or small the part is, there's always a great sense of responsibility. So there's always some sense of nervousness involved because of this desire of giving the best performance you can give. But I wasn't really scared. More than anything, I was just truly excited. Even more so when in the recording room they showed me playbacks of a scene in this big screen they have using what we just recorded. My voice was integrated into the animated character and it was really amazing. That was a great feeling. To be able to see your work in action right in front of you. I feel very grateful for having had this opportunity.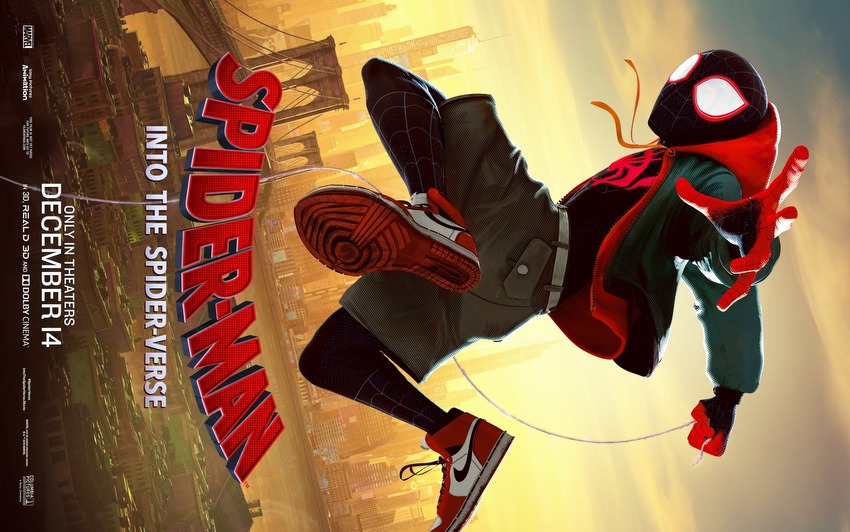 indieactivity : Explain a creative choice you made during production?
Juan Carlos Arvelo : The one and only creative choice for me in this job was to be authentic and truth to the part I was given to perform.
indieactivity : What did you take away from the film production?
Juan Carlos Arvelo : What I took away from this experience was the immense sense of respect and appreciation I was given from Phil Lord and everyone that was in the ADR recording studio at Sony Pictures. When you get the opportunity to work with great individuals who are brilliantly creative and at the same time humble and respectful it becomes the best working experience one can ever have asked for. I'm very humbled and grateful for having been able to collaborate in this film and have an input, no matter how small the part may seem or be.
indieactivity : What do you like most about the director, and his/her collaboration with his/her team?
Juan Carlos Arvelo : I worked with Phil Lord directly since he knows how to speak Spanish. He is such a kind man; so smart, so humble and respectful. I am really happy that he and his team won the Oscar for Spider-Man:Into the Spider-verse. It's truly remarkable to have witnessed the great group of people they all are. It invited the cast and crew to have had such a delightful working environment and it shows in the final product because of their amazing work ethic and commitment to giving their best to create such a beautiful project. It is a luxury to work with good hearted and respectful people.
indieactivity : What is next for you?
Juan Carlos Arvelo : I will continue to pursue and develop a consistent VO and On Camera acting career. I feel this is just the beginning of many more amazing and beautiful projects for me in the future.
indieactivity : What advice do you give actors regarding what you learnt on the project?
Juan Carlos Arvelo : My advice for other actors is to stay humble and true to yourselves. This career is full of constant rejection, and ups and downs. They should always have that in mind and no matter what, be persistent, disciplined and always keep a good attitude. That will get you far. Like the old saying goes: "It's not about achieving the ultimate goal but to enjoy the journey", that's what really matters. Open yourself to self-growth and thrive to be a better version of yourselves everyday. Also always keep yourself grounded and humble. But above all, no matter what, always, always believe in yourself.
Follow Juan Carlos Arvelo on Social Media
Website
IMDb
Facebook
Twitter
LinkedIn
MORE STORIES FOR YOU
Enter MTV Cribs with the female indie sketch duo of Not Spicy Enough
The post Interview: Juan Carlos Arvelo in 'Spider-Man: Into The Spider-Verse' appeared first on indieactivity.