Alexandra MacDonald is an Australian actor. She made her Australian television debut to over one million viewers on the nationally acclaimed program 'Sunday Night'. Soon after, she picked up roles in 'Thor: Ragnarok', 'In Like Flynn', and 'At Last'. Alex has also starred in award-winning short films, including 'Girl in the Machine' for which she was nominated for Best Actress in the Australian Screen Industry Network Awards, 2018.
She details her work on '5 Moons of Pluto', a project directed by acclaimed director Bradford Lee Walton, whose script has already been nominated for the Australian Writers Guild Monte Miller Award for best-unproduced Screenplay.
indieactivity : How did you get connected to the project? Did you have to audition? If you did, would still have got the part?
Alexandra MacDonald : From the moment I read the '5 Moons of Pluto' script I knew I had to be part of it – as cast or crew. Bradford Walton has an amazing vision, and the script had already been nominated for "Best Unproduced Screenplay" with the Australian Writers Guild. There was an energy to it and an intention that I felt drawn to. I auditioned and then met the team and the kids – as my role is as their teacher – and very happily joined the team this time last year.
indieactivity : As one of the main cast on the project, how did this 'choice' work for you?
Alexandra MacDonald : I approached the role genuinely. I brought a 'come as you are' mind set and was open to taking direction. I listened to Bradford talk about the script and took all of his notes and passion on board. It is a new role for me – I've never played a teacher before and having to act with kids was both a delight and a challenge. There is so much energy there!
Fortunately, I was a horse riding coach for a while and had spent a great deal of time communicating with children in a very hands-on environment. It is very different on set – but the entire cast was a delight and meeting them was intrinsic to the casting process. We got along and had an amazing time, and I have loved working alongside each and every one of the cast and crew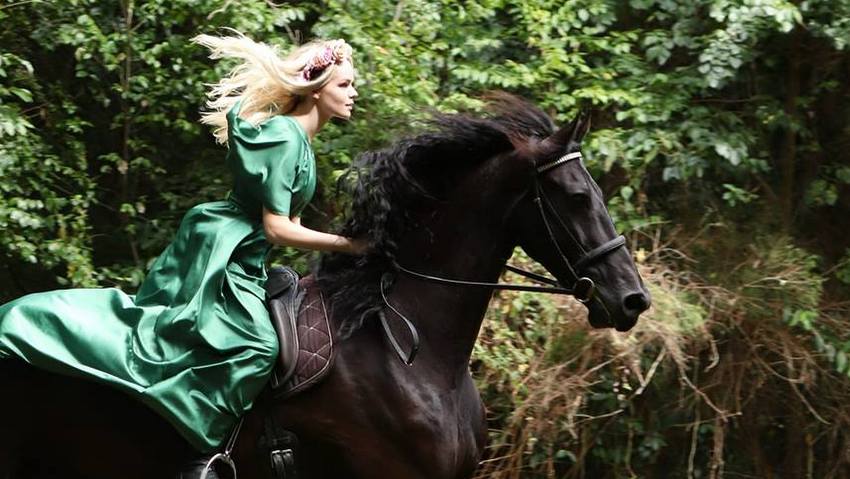 indieactivity : What part of the story challenged you when you read it? What drove you to get on the project?
Alexandra MacDonald : 5 Moons of Pluto is a universal story – it touches on the 5 stages of grief and the isolation that comes with it; both at home, in your community, and with your friends. There is a beauty to how Bradford wrote the script. He explores the pain of grief through the eyes of a child (Piper, played by Gabby), but manages to tie it to how we all experience loss and hardship. Just because we are in pain doesn't mean beauty is absent. That is what caught my attention – the absolute beauty behind the pain of the film. It is something we will all know, if we haven't already, and is a part of the human experience that we will all (unfortunately) share. But, that doesn't mean we can't appreciate the journey it takes us on.
Facing that emotion, and then exploring it with a cast and crew of all ages was inspiring.
indieactivity : You're not new to indie films. What do you enjoy about the work that keeps you working?
Alexandra MacDonald : Indie films run on passion and a desire to tell stories. It isn't about fame or fortune, it is just about getting something out there that matters. That is beautiful for the sake of being beautiful, that speaks simply to be heard. Filmmakers, both indie and mainstream, want that I think. You can't be in it for the fame or fortune because you'll be disappointed a lot if you are. You have to be in it because you love the process and the adventure. You have to be in it because there is something in each story that you want to tell. Film life is hard, but if you're in it for the right reasons – it is exceptionally rewarding.
indieactivity : Give an example of a direction you received from the director during the production?
Alexandra MacDonald : Bradford Walton is an exceptional director. He was so easy to talk to, and if I had any questions or ideas I could just ask him about them and get a clear and kind response immediately. I loved watching him work with the kids too. He was always so clear with his direction, and took the time to explain what needed to be done and would walk through it with us every time. He really put the effort in to make sure he was understood and it was something I looked up to – and I think the kids did too.
indieactivity : How did you create your character from ground up?
Alexandra MacDonald : I brought what I had to the role; my experience as a coach, my experiences with grief, and an understanding of psychology. My character is a teacher dealing with a student who has lost her mother and is feeling isolated. My character has to be patient and compassionate with her while also juggling an entire classroom and remaining fair to her other students. She is an agile, attentive, and very aware character. I have a degree in psychology, and I used it to be thoughtful about grief – both in how to approach it, but also in how it would feel to be on the outside looking in like that. There's a caution there. A softness. A bit of uncertainty too. But, she's a role-model for her students – she has to be. Once I found the place within myself where those things came together, I brought it forth genuinely and opened it to direction.
indieactivity : As main cast on the film, describe the feeling of responsibility that you shouldered. Where you scared? Or did it fire you up? What scenes where difficult to shoot?
Alexandra MacDonald : I love the challenge of being on set. I enjoy the energy and the hard work. The crew really pulled together to bring Pluto to life and, as an actor, I wanted to ensure that I came ready. They've been preparing to shoot for a while now; hours and hours and hours went into making sure we got to a point where we can film. It is my job to turn up and be the person they cast – the character that they saw when putting the script together. That is a lot of responsibility, but it is something I have an immense respect for. It takes a village to film something and I'm so inspired by the hard work we all have to put in. We come together to create and we all have our roles to play – both in front of and behind the camera. I am always honoured to be on set. Of course, I get anxious before some scenes. I want to perform well. I just try to be brave enough to be honest with myself – and with the crew – and take my entire self to set each and every time. It's a scary thing and it makes you vulnerable – but it is always an honour.
indieactivity : Explain one creative choice you made on set during production?
Alexandra MacDonald : I got to hang out with the kids a lot while on set. Being there with them in character and out was pretty seamless. I got to wrangle them in scenes – so staying in character was easy! I got to teach some of the kids who were newer to film life about some of the terms, and about how to keep your energy up between takes, how to relieve anxiety, and how to respect the crew. I didn't get to teach them any traditional schooling subjects, but I felt very privileged to help some of them get more comfortable on set.
indieactivity : What did you take away from the film production?
Alexandra MacDonald : Film makes family of productions like this. I consider myself so lucky to be part of the Pluto family. Bradford and the entire team had put in so much work and I am endlessly inspired by them. It is a stunning story and I really can't wait to see it on the screen.
indieactivity : What do you like most about the director, and his/her collaboration with his/her team?
Alexandra MacDonald : Bradford is an innovator and a visionary. 5 Moons of Pluto is a phenomenal script – and when it reaches its fullness it is going to be amazing. It is already above and beyond what I could have anticipated, and it is going to be great watching it go even further. Bradford has so many ideas and stories – you're definitely going to want to see more from him and his team.
indieactivity : What is next for you?
Alexandra MacDonald : I am heading back to Canada to work in the film and TV industry over there! I am working between Canada and Australia at the moment and have a great love for both. I will always support Australian film and have a great passion for it. It draws me back Down Under and I consider this beautiful place home. The world is so connected now; it doesn't matter where I am, I will be working creatively and doing what I can to bring stories to life – both in front of and behind the camera!
indieactivity : What advice do you give actors regarding what you learnt on the project?
Alexandra MacDonald : Work hard, listen well, and be genuine in all things. This is a tough industry and a little kindness and little patience go a long, long way. As we say on '5 Moons of Pluto' – there is Epic in the Small.
---
Tell us what you think of the interview with "name". What do you think of it? What ideas did you get? Do you have any suggestions? Or did it help you? Lets have your comments below and/or on Facebook, Twitter, or Instagram! Or join me on Twitter @oladapobamidele
Follow Alexandra MacDonald on Social Media
Website
IMDb
Instagram
MORE STORIES FOR YOU
The post Alexandra MacDonald, Aussie Actress Shines Bright in "5 Moons of Pluto" appeared first on indieactivity.