Vision Films Inc. are proud to unleash the suspenseful new tale of alien abduction, Xenophobia. The film, which is directed, written, and produced by Steven J. Escobar, Joe Castro, and Thomas J. Churchill, follows victims of alien abduction who discover that their experiences were not isolated incidents. Xenophobia will be available on DVD and VOD for the first time on August 6, 2019 across all major platforms.
Starring Manu Intiraymi (Star Trek: Voyager, One Tree Hill), Kristen Renton (Days of our Lives, Sons of Anarchy), Angie Stevenson (Sons of Anarchy, Sigma), and Baker Chase Powell (Dating Pains, Irrational Fear), Xenophobia had its red carpet premiere at The Landmark Theater in Los Angeles on August 1, 2019 with its cast and crew in attendance.
Synopsis: Six complete strangers recall the details of their individual experiences with alien forces—sharing the terrifying stories of their abductions and possessions—but the biggest challenge still lies ahead. Can they overcome their fears and trust each other in order to survive?
Xenophobia will be available to buy on DVD for $12.99 and on digital for an SRP of $4.99 – $9.99 from platforms including iTunes, Vudu, Playstation, Google Play, Xbox, and FandangoNow, as well as cable affiliates everywhere from August 6th, 2019.
"Xenophobia is an accumulation of actual alien events and encounters that have been documented over the years" said co-Director Steven Escobar.
"Teaming up with Joe Castro and Thomas J Churchill who co-wrote and co-directed the film with me, we were able to bring these stories to the screen using state of the art of special effects which we're really proud of. Xenophobia is further proof that indie filmmakers can present epic stories and great effects without a studio budget."
"Xenophobia was a chance of a lifetime for me as an artist and a filmmaker," said Joe Castro, "it allowed us to create full scale alien creatures… something that I have always dreamed of as a child."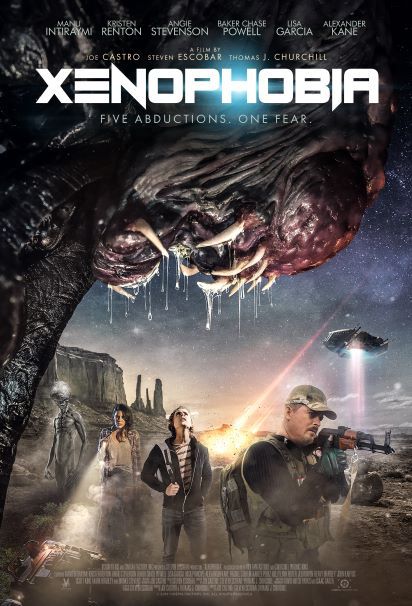 "Spending so much of my career in the horror and action space prepared me for Xenophobia, which is my first science fiction film," said Thomas J. Churchill. "It was a truly organic transition and I could not have asked for a better team and partners to have done this with than Castro and Escobar."
"We are thrilled to be representing the visually-stunning sci-fi film Xenophobia," says Vision Films CEO/Managing Director, Lise Romanoff. "The question of alien existence is extremely compelling and Xenophobia presents the subject in such a realistic and terrifying way, we can't help but wonder if we are alone in the universe."
---
Tell us what you think of the "Xenophobia". What are you thinking? What more information do you need? Do you have any suggestions? Or did this help you? Lets have your comments below and/or on Facebook, Twitter, or Instagram! Or join me on Twitter @oladapobamidele
MORE STORIES FOR YOU
The post Xenophobia, Terrifying Sci-fi Thriller, Now on DVD & VOD from Vision Films appeared first on indieactivity.