London – The award-winning debut feature film by Raya Films, Do Something, Jake released in the USA 6th August by Meridian Releasing Group (MRG).
The DVD & Blu-ray is available to order through Amazon (US & UK: Blu-ray £17.21 & DVD £13.43 on WOWHD) with more outlets including Walmart, to be announced. Online streaming/download (VOD) release to come later this year.
Directed by James Smith, with a screenplay by producer, Caroline Spence, Do Something, Jake has enjoyed sell-out theatrical screenings, a festival run and Best Feature Award, and follows the story of Jake, an unemployed introvert, unable to read or write, who draws on hidden skills when the woman he secretly loves is threatened.
Starring Jamie Alderson in the title role, Ed Bergtold (Wall Street: Money Never Sleeps) and Mia Mills (Black Mirror), Do Something, Jake is a 110-minute feature shot on a micro-budget, yet utilizing a large international cast and multiple locations.
"The story behind the production of this film would make a movie in itself," explains James Smith. "Post production was a long and hard road, and by the time we were ready to screen the film, we didn't know what we had. So to get such a positive response from audiences and critics has been amazing."
"We had no idea if we'd be able to achieve distribution," Caroline says. "In fact, we were making preparations for self-distribution when we began to receive offers from US-based companies. When MRG said they wanted to take the film on, it was an easy decision to make. They are a perfect fit for Do Something, Jake, and we're excited to finally make the film available!"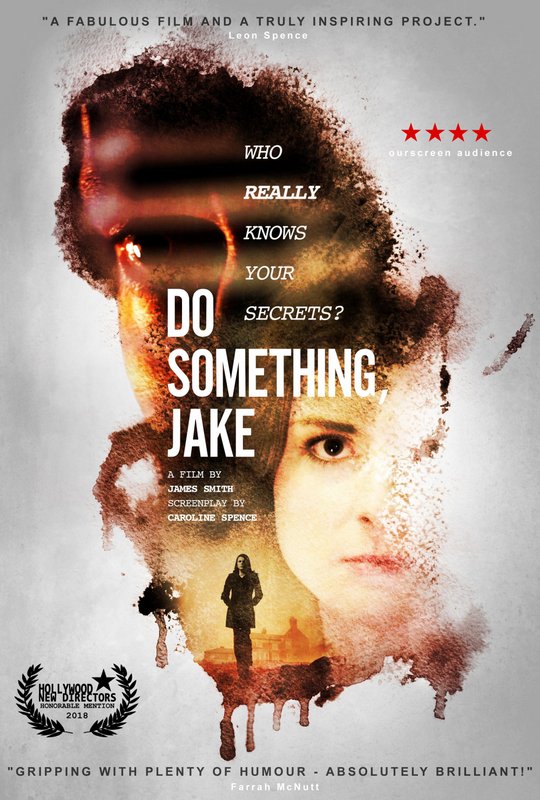 "Do Something, Jake stood out to us because it hit on all the elements that most independent films fall flat on." Says Todd Rodgers, CEO of MRG, "The performances were solid and believable, the pacing was excellent and the shot selection really moved the story forward. This struck me as the type of film that would do well with an American audience. It has the look and feel of films that have done very well over here."
With a mix of humour, noir and criminal menace, Do Something, Jake offers a fresh angle on the UK crime thriller – a British film that does not feel 'British'. This, helped by Hollywood-inspired screenwriting and bold cinematography, plus the appearance of award winning New York actor Ed Bergtold (Wall Street: Money Never Sleeps), and post-production crews from Europe and Los Angeles. Do Something, Jake is the feature film debut for Raya Films.
About Do Something, Jake
Jake is an introvert, illiterate, and unable to hold down a basic job for more than a few days. Unbeknown to those around him, however, he is intelligent and ingenious – strengths he uses to secretly observe his neighbour, Alice, the woman he loves. But Alice lives with her boyfriend, Guy, a small-time criminal and drug pusher. Events escalate when Jake crosses the line from Alice's voyeur to direct manipulation of Guy's illicit dealings. Things come to a head when Alice is assaulted and abducted. After an unconvincing appeal to the Police, Jake decides to rescue Alice in his own ingenious, yet ultimately dangerous, way.
"Laugh out loud moments are threaded through this Midlands set thriller with a heart of gold" Fiona Whitelaw [Dmovies]
About Raya Film
Raya Films is an award-winning writer-director and screenwriter-producer partnership headed by James Smith and Caroline Spence. Since 2004, Raya Films' award-winning documentary films have enjoyed sell-out theatrical screenings and worldwide broadcast distribution. Moving into feature film, their screenplays have received high praise from established companies in London and Hollywood. Having recently completed their début feature Do Something, Jake, the team are currently developing a number of follow-up features, including the 'smart' horror Surveilled.
---
Tell us what you think of the release of "Do Something, Jake". What are you thinking? What more information do you need? Do you have any suggestions? Or did this help you? Lets have your comments below and/or on Facebook, Twitter, or Instagram! Or join me on Twitter @oladapobamidele
Follow Do Something, Jake on Social Media
Website
IMDb
Facebook
Twitter
YouTube
MORE STORIES FOR YOU
The more energy you put into it, the more energy the Universe will give you from it.
The post MRG Releases Raya Films' Debut 'Do Something, Jake' into US & UK Markets appeared first on indieactivity.