Jaimie Pangan serenade's the moon with the gentle sound of dancing strings
Jaimie Pangan is violinist and a music composer for film, TV and games, currently based at the center of the nation's entertainment industry — Los Angeles, California.
She went through the film scoring summer program at New York University in 2017 with a full scholarship from the SOREL organization. Eager to learn about the art more, she fully pursued it through the prestigious Master of Music in Screen Scoring program in the University of Southern California, which was ranked the #1 film scoring school in the world according to The Hollywood Reporter.
Prior to pursuing music, she worked in IBM Philippines as an Information Technology specialist and has gotten a patent for a hit song generator their team developed from IBM Japan and Singapore.
Today, Jaime works as a composer for several films, tv series, and games.
indieactivity : Tell us a about yourself, education, interests and future plans?
Jaimie Pangan : My name is Jaimie and I'm a music composer for film, TV, and games in Los Angeles. I was born and raised in the Philippines and had always been interested in Linguistics, Psychology, Art, Philosophy and Music. However, music was the one that I wanted to pursue professionally, but did not get the chance to at first. I followed what my parents wanted for years, but when I could not take it anymore, I tried to plan how to make a transition into doing music.
Farewell – Jaimie Pangan (Warner Brothers Scoring Stage) from Jaimie Pangan on Vimeo.
At the end of 2017, I applied to the University of Southern California's Master of Music program. It was the MM Screen Scoring program which only accepts 20 students a year and I was part of those 20 students. I wanted to take a Composition program abroad because there are no composition programs in the Philippines. I was willing to fly to another country to learn despite the struggle. As of the moment, I am working my way up the career ladder and am pursuing projects that would be cool to compose for.
indieactivity : Give us an idea of a regular day at work?
Jaimie Pangan : My work times are a bit flexible and I do different tasks as a composer on a daily basis. There are days where I only compose music for 2 hours, then do revisions for a few hours on another project. Some days, I go out to meet up with directors, or go to film festivals. And some days, I compose music for 12 hours straight. I also do a lot of administration work such as emailing film industry professionals, fixing my schedule and deadlines, writing contracts, contacting people, etc. I try to have a rest day where I do not write music (but still do admin work) which is typically on Sundays.
indieactivity : What is the work process on a typical film?
Jaimie Pangan : I usually start with reading the script if the film has not yet been shot. However, if the film has been shot, I ask for the picture lock and then I try to get information on the director's vision, or listen to the director's temp music (if any) before I compose. I work closely with my directors and try to understand what they want for the film.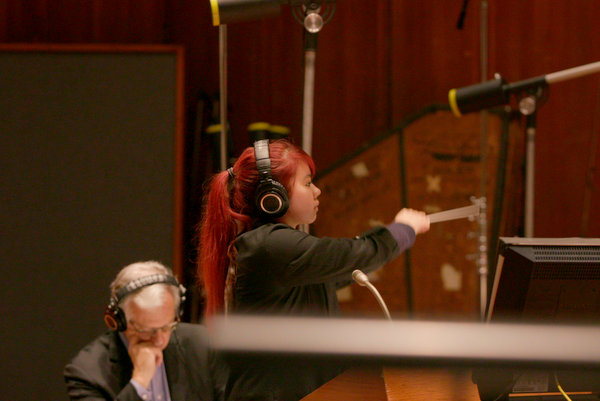 indieactivity : Describe the scoring process behind "The Wild Ones" your latest short?
Jaimie Pangan : "The Wild Ones" is a story about 2 friends who went to look for their missing friend. The themes that I saw in the film that I would have to highlight in the music was grief, loss, and denial. I also had to put some elements that I think is appropriate for the characters such as guitars since they were Latino.
It took me about 1 week to write 12 minutes of music (which was tough), then had to prepare for the music that will be recorded in 3 days. So in total, I worked on the whole film in about 1 week and 3 days. It was quite intense since it takes time to write well-thought-of music, and I wanted to make sure that the score for this would fit and that the director would love it.
I am also grateful I had amazing musicians I worked with such as Katt Newlon (cello), Alvaro Balvin Benavides (guitar), and Alek Palmersmith (engineer) who mixed my score for the film. It was overall a smooth and efficient workflow.
indieactivity : What advice do you give to growing artists?
Jaimie Pangan : Keep going. Support your other artist friends as well. We are all on the same boat.
indieactivity : What is next for you?
Jaimie Pangan : I have a couple of projects now that I am excited about and projects I finished that my directors are submitting to Sundance (fingers crossed!). I am also in the middle of negotiating for scoring a TV series in the Philippines, and 2 features here in Los Angeles. I am also about to release my soundtracks real soon under "Jaimie Pangan" in different music streaming services, so keep an eye out for that!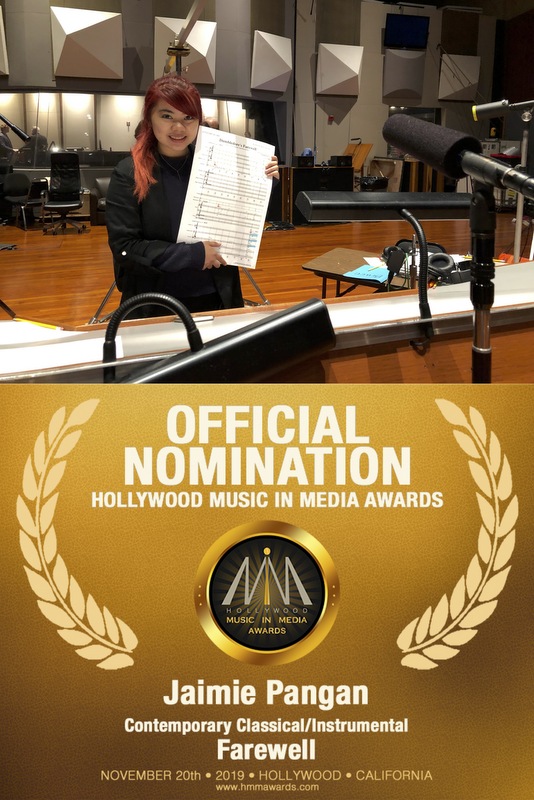 Lastly, one of my music compositions entitled "Farewell" has been nominated for the Hollywood Music in Media Awards. The ceremony will be this November at the Avalon, Los Angeles. I am very excited about it!
---
Tell us what you think of the interview with film Composer "Jaimie Pangan". What do you think of it? What ideas did you get? Do you have any suggestions? Or did it help you? Lets have your comments below and/or on Facebook, Twitter, or Instagram! Or join me on Twitter @oladapobamidele
Follow Jaimie Pangan on Social Media
Website
IMDb
Soundcloud
Facebook
Twitter
Instagram
Vimeo
MORE STORIES FOR YOU
Actress, director and writer: behind and in front of the camera inventively
The post Interview: Jaimie Pangan Asian Music Composer for Film, TV and Games appeared first on indieactivity.