An Hour to Kill is a bold film from Aaron Carter. Aaron K. Carter's original vision is part crime thriller and part low-budget indie/B-movie horror. There's no question there will be critics who adore the film .
Synopsis:
Two assassins have an hour to kill (so to speak) before their next hit. To help pass the time, they entertain themselves by sharing horror stories to one another. With bizarre titles such as "Valkyrie's Bunker" "Assacre" and "Hog Hunters" – which hit-man's story will be deemed most disturbing when all is said and done?
Tagline: Before they make the hit, these gangsters shoot the sh!t
Run Time: 96 min
Company: Rotten Productions
Directed by: Aaron K. Carter
Written by: Aaron K. Carter / Ronnie Jimenez
Produced by: Aaron K. Carter / Jacob Harlow
Starring:
Mel Novak (Game Of Death, An Eye For An Eye)
Frankie Pozos (LA 143)
Aaron Guerrero (Dead Kansas)
Amanda Rau (Living Among Us)
Joe McQueen (Confessions Of A SuperHero)
Veronica Ricci (Treasure Chest Of Horrors II)
Brendan Mitchell (WetMovie1 / YouTube Personality)
Gabriel Mercado (Dysmorphia)
Luna Meow (Things 4)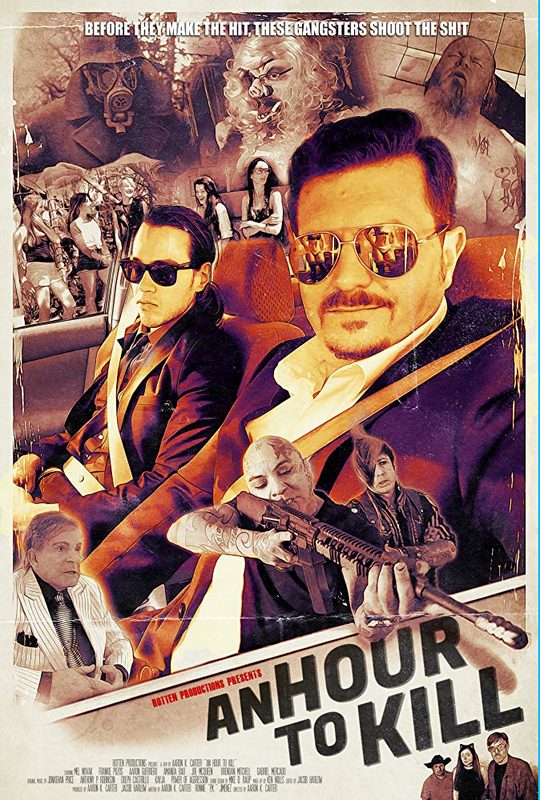 ---
Tell us what you think of the "Aaron Carter's. What are you thinking? What more information do you need? Do you have any suggestions? Or did this help you? Lets have your comments below and/or on Facebook or Instagram! Or join me on Twitter @oladapobamidele
Follow Aaron Carter on Social Media
IMDb
MORE STORIES FOR YOU
The more energy you put into it, the more energy the Universe will give you from it.
The post Aaron Carter's "An Hour to Kill" is grabs your attention appeared first on indieactivity.