Ladida is created by Pranav Kothary & Bianca Waechter
Indie-Filmmakers Pranav Kothary and Bianca Waechter dabbled in the up and coming medium of web series with their debut; "La-Di-Da". The web series is a mockumentary about a young, eager, and slightly delusional drama teacher from Austria (played by Waechter), who tries to inspire her class of unimpressionable youths.
Kothary grew up in Mumbai, India. He is committed to telling small, intimate stories which connect with wide audiences and nurture emotional reflection. Waechter grew up in Vienna, Austria. She has a natural instinct for character development and comedy. They are both graduates of NYU Tisch. Together, their strengths work together to bring together a cocktail of characters treated with love and care by their creators, a world which manages to walk the line between relatability and wonder, and a story both compelling and entertaining.
La-Di-Da is a story about dreams. Broken dreams and a desperate search for appreciation. It's about the facades put on by one and the breaking down of said facades. Having said that, these themes are dressed with charming hilarity. Laugh out Loud hilarity, which makes the series a delightfully cathartic viewing experience instead of a dreadful one.
indieactivity: How did you develop your web-series?
Bianca Waechter: It started as a class project. It was a class called "Create your Own Material" where each student got one class (3 hours long) to film their own project. Our teacher would film and some of the students were used as actors and some as crew. I did a 6 minute sketch called "On Acting", which actually won Best Concept at the Brightside Film Festival. The project was very improvised, but it turned out funny.
So I decided to develop it into something bigger. A web-series. I started by developing my character and then also the characters of the students. I already had most of the actors in mind when writing the other characters, so I used them as inspiration. It turned from a sketch into a story. Pranav helped a lot with revising the script and we decided to co-direct the project. Since I was also going to act in it, it was a big relief to have a co-director. Maxwell Roberts-Pereira, our DP, also helped us a lot with the development and shot list.
indieactivity: How was it financed?
Bianca Waechter: The film was financed by friends and family. It was a very low-budget film, so we are so grateful that we made it work. We also got very lucky because Stonestreet Studios and Casa Italiana Zerilli-Marimò offered us their spaces and even equipment.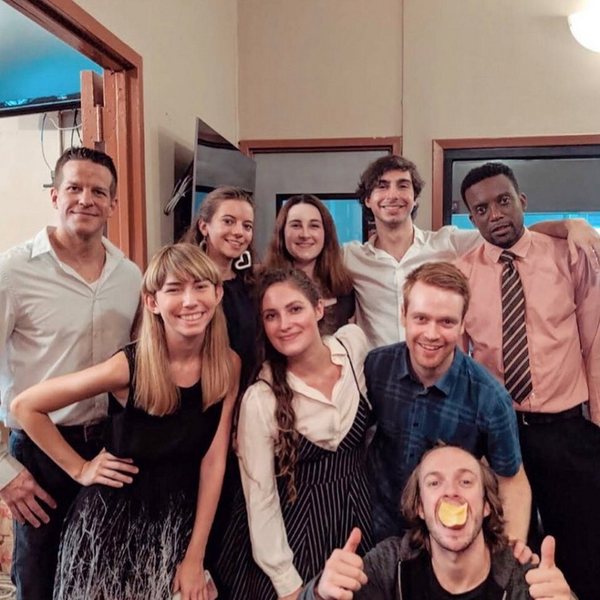 indieactivity: What was your rehearsal process and period?
Bianca Waechter: We actually did not rehearse at all. We had some debates about this, but ultimately, we felt that we did not want to take away from the spontaneity of the shoot since so much relied on improvisation and comedic timing. In retrospect we probably would have rehearsed certain scenes, the bigger group scenes, which relied less on spontaneity.
indieactivity: You shot the film in 3 days. How long were your days?
Bianca Waechter: Our days were around 10 hours. The schedule was very tight, since all of the web series takes place during the day, so we were racing the sun the entire time. Thankfully everyone on set was so positive and willing to work.
indieactivity: Did the tight shooting schedule make it harder or easier? How did it affect performance?
Bianca Waechter: Mainly it affected our nerves. Pranav was a lot calmer than I was. We also didn't have an AD because the crew was so tiny, so I was even more nervous. But I have to say the nervousness and time crunch added to the excitement and energy of the scenes. I remember we had to reshoot one scene because the first time we shot it the energy was just not there. It was at the end of the day, after lunch, so it was hard for the cast the get the energy up. And a lot of the scenes, especially this one, relied on this electric energy we were missing then.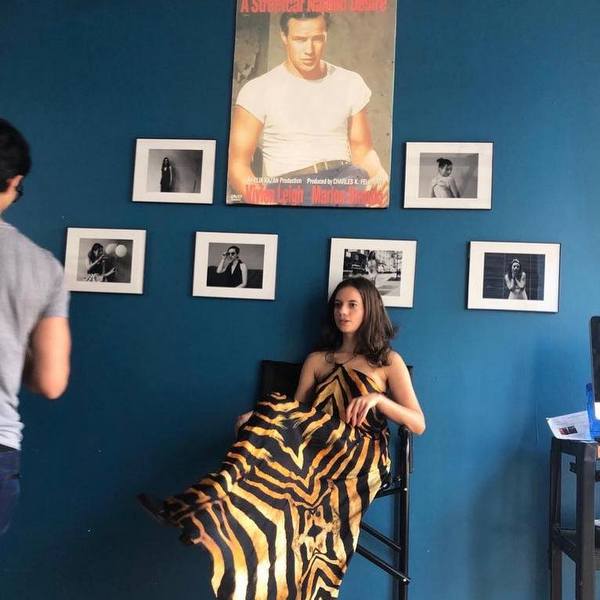 I also remember that after the second shooting day Pranav and I decided to rewrite some of the ending. We suddenly felt that what we had didn't work. And because of this we had extra things to shoot on the last day, which made the schedule even tighter. In the end, I do think the nervousness added to my energy in the performance. I think the only person who wasn't always happy about the tight schedule was our DP, because of course for camera more time is better.
Pranav Kothary: It didn't make things easier, but I don't think it made things harder either. I only remember once that the set got a little stressful, which was while shooting a scene for which we were really pressed for time. Otherwise, we managed to shoot a 30 minute web series in 3 8-10 hour days, which I think is incredible. More importantly, I never felt like I was compromising on story because of time. Everything the script had to offer in its elements of story; we captured, and that's something I personally have never felt as a director after a shoot.
indieactivity: What was the experience like of working with such a small shooting crew (6)?
Bianca Waechter: It was pretty crazy. It ended up giving people more than one role sometimes, but it was exciting because we all felt like a big part of the shoot. And everyone on set had such a great work ethic, it was incredible. Our DP, Maxwell Roberts Pereira, helped us a lot with pre and post production. Our line-producer, Rachel Engelberg, served as a boom operator sometimes. On our first shooting day Pranav was actually boom operating and sound mixing while directing. But it was actually very exhilarating to work with a small crew. It felt like a family and everyone had to work together.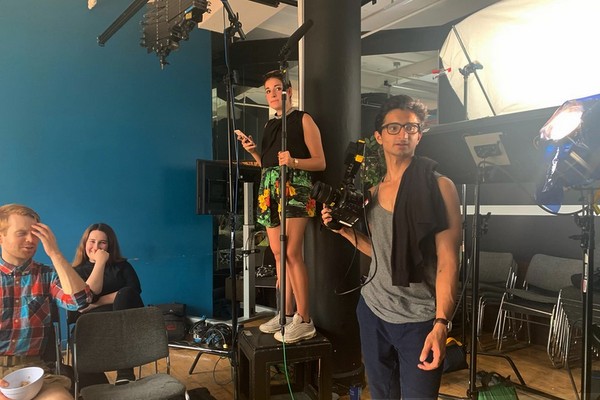 indieactivity: What were the advantages and disadvantages in the way you worked?
Bianca Waechter: For a mockumentary to work, it needs to inherently be shot as a mockumentary. Even though we're telling a pre-constructed story, the privileges we got from fully committing to the form allowed us a lot of leeway which a traditional narrative wouldn't. For example we could get away with not lighting some locations, we could get away with imperfect sound, we could have repeating camera angles, etc. We could do all these things because we tried our best to work like a doc crew. Which is always minimal. And so our small crew was no problem at all. In fact it added to the authenticity of the form, without ever being displayed on screen. A major disadvantage is of course lack of time and pressure. But I like to think that both of these things tend to miracles in some form or another.
---
Director's Statement
Ladida is a story about dreams. Broken dreams. We wanted to put on display a character whose sense of persona had been constructed by a strange dichotomy of meticulous care and blind imitation. We wanted her to desperately seek appreciation. We wanted to put her in a position where she faces her deepest insecurity, and we wanted her to happen upon an unexpected state of content. Most of all, we wanted to have as much fun with all of this as we could.
---
Tell us what you think of the new trailer for the web series "Ladida" What do yo think of it? Genre? More genre? Lets have your comments below and/or on Facebook or Instagram! Or join me on Twitter @oladapobamidele
Follow Ladida on Social Media
Website
IMDb
Facebook
Twitter
Instagram
Vimeo
Actress, director and writer: behind and in front of the camera inventively
The post Hilarious Mockumentary Web-Series made by Indie-Filmmakers Pranav Kothary & Bianca Waechter appeared first on indieactivity.