From the ingenious collaborative minds of visionary writer, Co-Director and Cinematographer Christopher Mitchell and Co-Director Deborah Mitchell comes Motel Gravy, the TV pilot starring Angelo Diaz and Christopher Diaz. Motel Gravy tells the story of a motel superintendent who discovers a bag full of money under a motel room bed. His decision to take the money sets off a series of inescapable mishaps.
While working on TVOne's #1 Hit show ATL Homicide with actors Angelo Diaz and Christopher Diaz, writer and co-director Christopher Mitchell became impressed by both actors' confidence in front of the camera and connection with each other.
In addition to ATL Homicide, Christopher Diaz has worked on several other shows including Grown, which won Project Greenlight and was financed by Matt Damon and Ben Affleck, he also played the supporting role for the project Duels which was a part of the BLACKPILLS streaming platform. Angelo is an Afro-Cuban actor who is fluent in Spanish; a versatility that is breaking many casting molds. He brings his varied history such as his athleticism as a college football player and leadership skills as a U.S. Navy combat medic to every line and every role he interprets including ATL Homicide and Motel Gravy.
Having an already experienced team in Knoxville with whom they work on a daily basis making TV, Christopher Mitchell and his team decided to approach the actors to join forces and create a brand-new project of their own for TV. Mitchell began writing up the pilot and the journey towards the creation of Motel Gravy was underway-incorporating his ability to weave a story that gives the viewer a sense of unease in both subtle and sometimes humorous ways.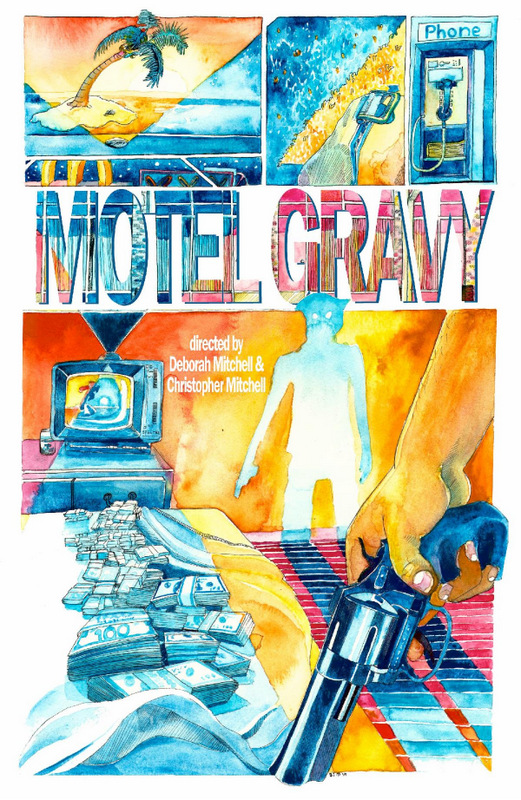 ---
About Christopher & Deborah Mitchell:
As a filmmaking team, between directing and shooting true crime series as well as branded and digital content, Christopher and Deborah Mitchell forge opportunities to tell visual stories together. Having directed branded, documentary and music videos as a team, Motel Gravy is the third narrative project the two have completed together.
CHRISTOPHER MITCHELL
Christopher has directed and shot over a dozen true crime series, resulting in hundreds of episodes for networks such as CNN, Weather Channel, and Discovery ID. Christopher is immersed in film still photography, as well as writing and developing narrative shorts. He is a proud eagle scout.
DEBORAH MITCHELL
After working with five homicide departments shooting and producing The First 48, Deborah spent eight years directing branded, commercial and digital videos. She now writes, directs and edits short and long form narrative films. Deborah received her degree in Visual Story and Video Production at the University of Minnesota.
---
Tell us what you think of the "news". What are you thinking? What more information do you need? Do you have any suggestions? Or did this help you? Lets have your comments below and/or on Facebook or Instagram! Or join me on Twitter @oladapobamidele
The post Mitchell Films' TV Pilot "Motel Gravy" Screened at DTLA Film Festival appeared first on indieactivity.