Kitchen Kingdom is a story about an immigrant family who pursue the American dream
Kitchen Kingdom is a powerful story of a working-class immigrant father and son. The father, Angelo, runs a restaurant by himself. His son, Dennis, has started a software-company with hopes to get rich to secure the future for the family. In a crucial turn of events, Dennis is about to do business with the big Manhattan investor, Dombala, who is interested in the software company. Given everything Dennis and Angelo had to leave behind in order to get to America – everything depends on this deal.
We talk to Nick who plays the son, Dennis about how he made this film while also acting in it. Hello Nick, it's nice to talk to you today,
indieactivity : It is great to meet you.
Nick Bidar : It is such a great thing indeed, and I am honoured.
indieactivity : Give a background of your personal experience as an actor, then with writing, producing and marketing?
Nick Bidar : As an actor, I came to the US to study acting at drama school, and since graduating I've been performing in film and theatre. I started coming up with ideas for scripts around the time I started getting many auditions – a lot of them had scripts that I just didn't believe were any good at all. On top of that, I've always had the mentality that if you want something done you have to do it yourself. That was my motivation at first to start writing, because instead of waiting for a good script to come around I could just make one!
As soon as I began that process I realized how many ideas I have that are fresh and original. I've lived in different countries, travelled to a lot of places, and coming here as an immigrant to pursue this dream of becoming an actor has given me a lot of inspiration for stories to tell. My film Kitchen Kingdom follows an immigrant father and son as two generations try to live out their American dream by becoming successful in their businesses. It's a story I think represents a lot of lives in America in a real and truthful way.
indieactivity : As an actor, what are some of the best career experiences you've had so far?
Nick Bidar : Last year I filmed a pilot episode for a TV-series another streaming service. I can't go into details because of the contract, but I can say that the experience was amazing. The entire script was so thoughtfully created. It was funny, moving and touched on many things going on in society. My role had so many layers too. And the production value of everything was high quality, I mean the set was huge. I'm hoping that the show will be a hit. Although I do mainly film/TV now, my background is strong in theatre and some plays I've done were great experiences as well.
indieactivity : How do you navigate the professional acting world? There must be a lot of uncertainty?
Nick Bidar : Being an actor means being an entrepreneur. When you're an entrepreneur everything can be uncertain – that's part of it. This approach for me is great to stay grounded and sharp. So no matter what comes my way I'll handle it.
indieactivity : For Kitchen Kingdom, did you start with a cast (You or any) in mind?
Nick Bidar : Yes, I had a clear picture in mind for my role and all the other characters as well. I managed to reach out to alumni from my acting school the American Academy of Dramatic Arts and ask them about the project. Emmy-Award recipient Richard Barreto plays the character of my father in the film. I was very glad about that, he's a remarkable actor. And the entire cast really brought great performances.
indieactivity : How long did you take to complete pre-production? (Do you have a writing process?)
Nick Bidar : The script alone took about a month to finish. I had a clear overview of the arch of the story before I started writing it. A huge chunk of the time was also spent at finishing and cleaning up the script, which in this case meant to go back and forth through the script and find small pieces here and there that can be improved. That could be everything from scene directions to props. Afterwards, a lot of energy went into coordinating and scheduling to make sure everything is in place. (Cast, locations etc.) and that was done well ahead of time to make sure everyone could be well prepared. This waiting time was utilized also for us in the cast to meet up for rehearsals.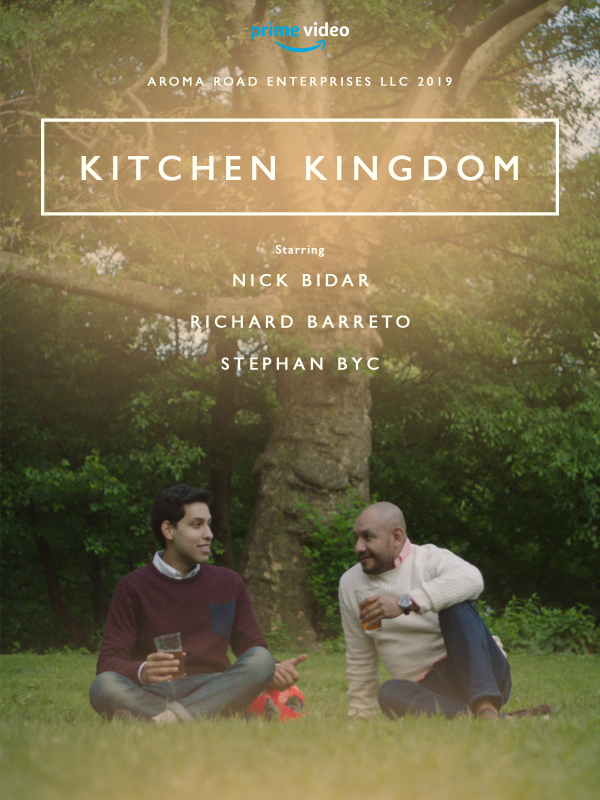 indieactivity : What was your first project out of the gate?
Nick Bidar : I did a short film called "Independent Hustle". The story followed a music producer trying to make it and finding his image in the music business. It was a great experience in many ways. First off, it was the first time when I starred in something I did work for behind the camera at the same time. I wrote the script and directed it. The budget was tight so we had to keep the schedule as efficient as possible.
This meant we shot the entire film in Brooklyn in just one day. Because of careful planning, it wasn't as challenging as I thought it would have been. The film turned out really well, and right now it's going for the festival round. The film is very different though from Kitchen Kingdom. Independent Hustle had a very urban vibe and everything done to fit that music/hip-hop world. From costumes to the music score, I was particularly glad when I got the rights for the ending theme which is a sample remix of the incredible song Blue Lights by Jorja Smith.
indieactivity : During production, what scene (that made the cut) was the hardest to shoot?
Nick Bidar : I remember some of the close-ups in the restaurant just from a technical standpoint requiring way more work that I thought before. The reason why is because we had multiple characters moving to different places in the restaurant and each time the lighting equipment had to be moved and set up from scratch because the light from outside was purposefully blocked to get that warm cinematic feel you will see in the film. This worked out fine. But because the time we had at the restaurant was of course limited, and the setups taking longer than planned it got a bit hectic towards the end.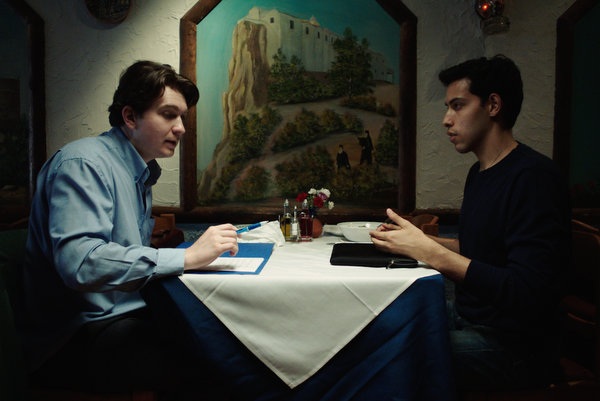 indieactivity : What works better in this latest production that mightn't have worked so well in the last one you did?
Nick Bidar : Everything about Kitchen Kingdom was bigger than the last one. The infrastructure of the project in terms of the set, equipment, location etc. would have been difficult with the budget and limitations of the last film. Every time I'm on a new piece of work, I always want to elevate and improve as much as possible from the last one. Even if I get an Oscar and a Golden Globe for something I will still look for all the ways it can be better next time. Having a growth mindset is key.
indieactivity : Is there anything about the independent film business you still struggle with?
Nick Bidar : Marketing. There's no doubt that there's high-quality, amazing and original work out in the indie world. The problem you face is that when you have no major studio backing, you just can't have that type of marketing in terms of advertisements, media exposure etc. to reach out to as many people as you should. In my case, there are people out there that I do believe my film will be very impactful for, the issue is that they have no way of knowing that because it just hasn't been marketed to them (yet).
indieactivity : How important is marketing? Do you think a project can make any dent without it these days?
Nick Bidar : Super important. You can have the greatest film in the world but if that's not communicated to anybody – what's even the point?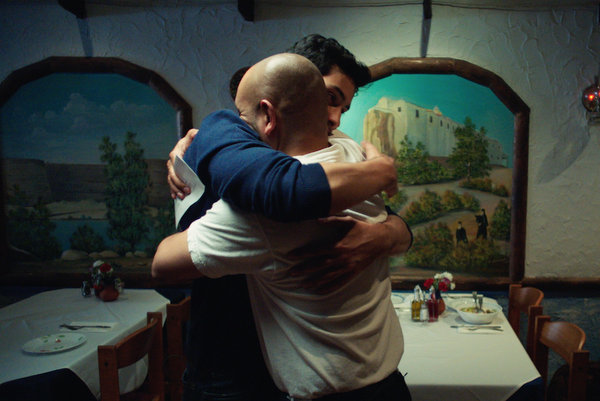 indieactivity : Tell us about the marketing activities on the project – and how it's gone for you?
Nick Bidar : So far it's been through social media. For summer/fall 2019 the plan is for media outlets (websites, newspapers, blogs etc.) to highlight the film. Nobody in the cast, including myself, has millions of followers on their social media, so it's hard to get the kind of attention that a project on a streaming service like this often get. But my expectations are high for what the media will say, because the themes of the film are very current with what's happening in the news right now.
indieactivity : What do you hope audiences get from your film?
Nick Bidar : That immigrants coming to America have positive things to contribute, and are trying their best to make it. Immigrants aren't different from everybody else, and it's great to give that a voice. The film will speak for many, many out there.
indieactivity : What else have you got in the works?
Nick Bidar :There are exciting things ahead but I can't reveal much. I think It's important to keep your head down and keep working.
---
Tell us what you think of the "Making of Kitchen Kingdom". What do you think of it? Genre? More genre? Lets have your comments below and/or on Facebook or Instagram! Or join me on Twitter @oladapobamidele
Follow Nick Bidar on Social Media
Website
IMDb
Facebook
Instagram
YouTube
The post Interview: Nick Bidar Talks About His Journey to Making "Kitchen Kingdom" appeared first on indieactivity.