I am Love, Director and producer Guilherme Pedra is finalizing his next short film, after spending almost 10 months in the editing room.
Almost a year after having finished principal photography, "I am Love" is finally close to a picture-locked cut. "The central themes of the film are standing out much more strongly now", said producer Drew Brown, after having watched the most recent cut Wednesday afternoon. The film was shot in mid-November 2018 and has since undergone various structural changes in the post-production process, including some rewriting. Editing has been a crucial step in its making, as it is where the film takes its ultimate shape and is infused with life.
Director Guilherme Pedra believes the time he has spent away from the film is as necessary as his time working on it in order to "see things more clearly". "It has not been an easy time, but if it wasn't this way, we wouldn't be where we are now", said Guilherme. Producer Drew Brown shares these feelings and adds: "I am really excited for Gui and all of us, who have worked relentlessly on the film. I'm excited to see how this complex story affects people. I think it's important to tell stories like this and I can't wait for people to see it." The film is expected to be finalized and released in the Spring of 2020, when it will run the festival circuit.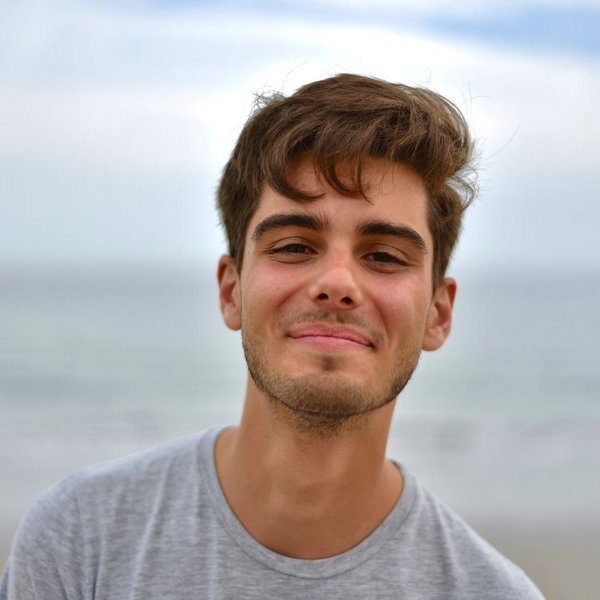 "I am Love" is a poetic short film about Arthur (beautifully played by Dylan Soal), a lonely, New York musician, who is struggling to complete his musical composition. As he searches for light and inspiration, Arthur exchanges intimate letters with a young artist he has never met named Luna (played by Ana Moioli), the protagonist from Pedra's first short "Elsewhere—A Flor Azul".
Luna's letters are an anchor and guide to Arthur's journey of self-expression and discovery, and he soon finds himself falling for her. But after following the sound of a beautiful cello melody coming from a neighboring apartment, he meets Theo—the cellist (played by Isaac Nevrla). As he dives deeper into himself and navigates the two relationships, Arthur is taken by an ambiguous and acute tension, ultimately questioning: is it possible to love more than one person at the same time?
---
Tell us what you think of the I am Love. What are you thinking? What more information do you need? Do you have any suggestions? Or did this help you? Lets have your comments below and/or on Facebook or Instagram! Or join me on Twitter @oladapobamidele
Follow I am Love on Social Media
Website
IMDb
Facebook
Instagram
The post Dramatic Short "I am Love" in Post-production, to be Released Spring 2020 appeared first on indieactivity.