This is NOT be your typical release – Layla O'Shea is the writer and co-producer of an award-winning feature film titled Just Say Goodbye, a film I believe will touch your heart.
Back in 2009, an 11-year-old boy named Carl Joseph Walker-Hoover who lived one town over from Layla hanged himself with an extension cord after suffering relentless bullying. My heart broke as the story did on the news. I thought, "Eleven??". I had a couple kids around that age at the time. I cried.
It brought me back to when I was in high school. A friend of mine told me he planned to commit suicide during April vacation, which was a little more than a week away. I thought he was bullshitting me at first, but then it became pretty clear that he was at least seriously considering it.
After confessing to my mother, at her urging, I made the hardest call of my life the following day. I broke his trust and called his parents. I cried then, too. But in those days, I was a kick-ass tomboy, so crying wasn't really my bag! J
After the call, my friend completely ignored me. I was devastated, but at the same time I was happy/relieved that at least his parents knew, so it was out of my hands. A few days later, he finally came up to me at my locker and gave me a hug so genuine, I can still feel it to this day.
These two stories, the one of Carl and the one of my high school friend, converged on my brain. Characters and story were forming around someone being bullied and what if a teenager heard a friend planned to take his life, but instead of soliciting the help of parents, they tried to convince him alone not to go through with it. This was how my first feature script Just Say Goodbye was born.
This script earned second rounder status at the Austin Film Festival about 8 years ago. Then earned finalist status in another competition, so I knew it had legs.
Flash forward three years later, Matt Walting, then 15 years-old reached out to me about producing the script. He said it made him cry when my daughter gave it to him two years before and said he told himself once he had more film experience he wanted to make the movie. He was 15, so yeah, was super reluctant at first. But after a two-hour conversation over a couple cups of coffee, I realized he had the technical know-how for someone so young.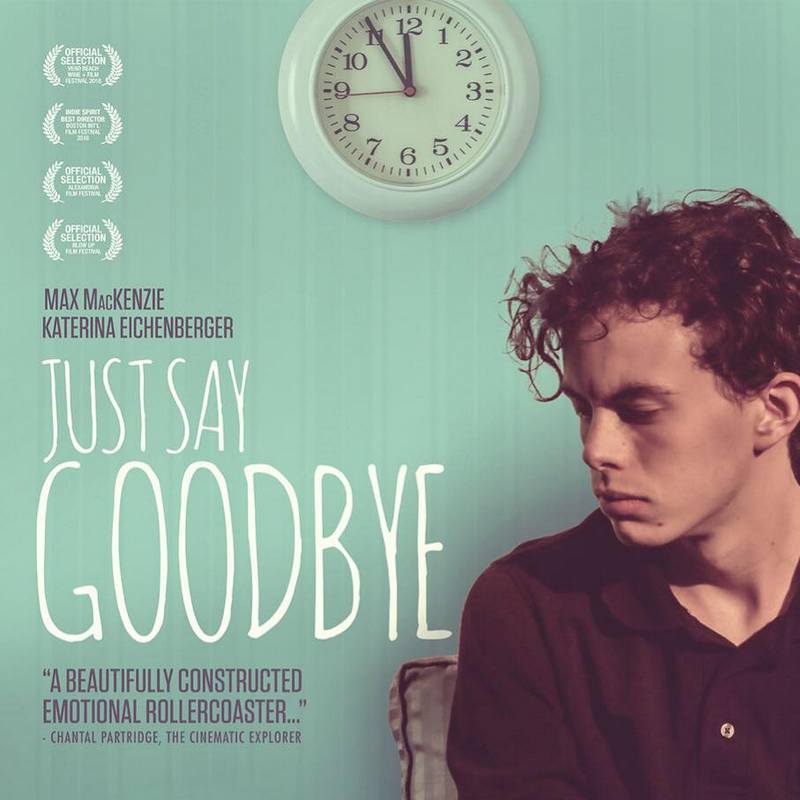 Flash forward another two years… after putting on a producer hat for the first time, begging for favors, money, and getting an Emmy-winning cinematographer on our team, our no-budget ($15K) slow burn, emotional drama won Best Director for feature film at the Boston International Film Festival. Matt was 18 and youngest ever to win the title.
We secured a distributor who believed in our film, and on May 10th, our L.A. premiere kicked off our DVD release through major online outlets like Best Buy and Target, as well as streaming on Amazon Prime and Fandango in the U.S. and U.K. Despite it humble roots, and no marketing budget, our fan base on Facebook grows.
I'm hoping the backstory of our heartfelt indie will encourage you to check it out. And if it moves you like it has so many others, that you'll share it with friends and family – for this is the only way tiny independent projects like ours get out to the masses, for we hope this film encourages teens to reach out to adults when they hear a friend threaten suicide, because sometimes…it really is no joke.
---
Tell us what you think of the Just Say Goodbye. What are you thinking? What more information do you need? Do you have any suggestions? Or did this help you? Lets have your comments below and/or on Facebook or Instagram! Or join me on Twitter @oladapobamidele
Follow Just Say Goodbye on Social Media
Website
IMDb
Facebook
Twitter
Instagram
YouTube
MORE STORIES FOR YOU
The post Just Say Goodbye, Backstory to Award-Winning Feature about Bullying/Teen Suicide appeared first on indieactivity.