The Fourth Kingdom, a documentary directed by Adán Aliaga and Alex Lora won at the BROOKLYN FILM FESTIVAL.
After its premiere last February at the Big Sky Documentary Film Festival, where it won the best short film award, the film has been selected in 20 film festivals, 8 of them Oscars qualifying, winning two of them, which allows the short film to be considered for the Academy Awards.
During this June people could watch it in New York, Sheffield and Palm Springs! It screened at three major film events in the city : Brooklyn Film Festival, Rooftop Summer Series and the Americas Film Festival. On the West Coast it screened at Palm Springs International Film Festival, and in UK opened at the prestigious Sheffield Doc Fest.
The Fourth Kingdom portrays the lives of the inhabitants of "Sure We Can", a recycling center where societies outcasts can redeem cans for money. It premiered at the Big Sky Film Festival winning the first prize in the Mini-doc category and it just won at Brooklyn Film Festival, qualifying the film for the 90th Academy Awards.
The Fourth Kingdom – Trailer from Alex Lora on Vimeo.
Through still compositions and the use of vintage recordings, the filmmakers capture the essence of the place and its inhabitants. Beyond that, the audience will discover a satirical parallelism with the current American politics and its myths: the fear of the other, the fraudulent contradiction of the progress, and the lie that the paradise of opportunities represents. All the American greatness advocated by Donald Trump is pitched here in the alien/alienated characters that subsist in "The Fourth Kingdom", a microcosm that shows the consequences of the excesses in capitalist society.
The Fourth Kingdom is the first collaboration between Adán Aliaga and Alex Lora-Cercós, award-winning Spanish directors whose works have screened at prestigious film festivals such as Sundance, IDFA, Rotterdam, Hot Docs, Chicago, Raindance, RiverRun, Traverse City, Malaga, Valladolid, L'Alternativa, or Documenta Madrid among others.
Production companies: Jaibo Films, Alex Lora, Isabel Feliu
Cast: Manuel Rene del Carmen, Juan "Walter" Perez, Ana Martinez de Luco, Pierre Simmons, Eugene Gadsen
Directors-screenwriters-DoP: Adan Aliaga, Alex Lora
Producers: Isa Feliu, Alex Lora, Miguel Molina, Federico Guarascio
Executive producer: Adan Alaga
Editors: Adan Aliaga, Sergi Dies, Alex Lora
Sales: Jaibo Films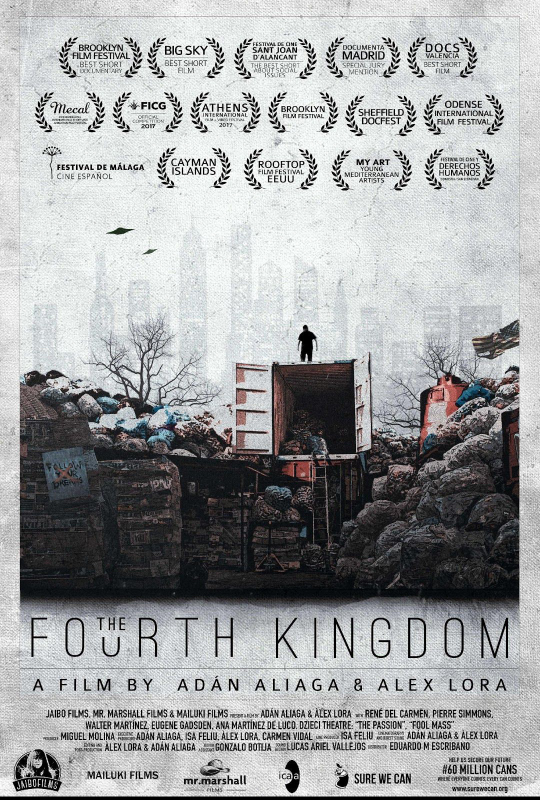 ---
Tell us what you think of the "The Fourth Kingdom". What are you thinking? What more information do you need? Do you have any suggestions? Or did this help you? Lets have your comments below and/or on Facebook or Instagram! Or join me on Twitter @oladapobamidele
Follow The Fourth Kingdom on Social Media
Website
IMDb
Instagram
Vimeo
The post The Fourth Kingdom win at Brooklyn Film Festival lead to the 90th Academy Awards appeared first on indieactivity.