MORE STORIES FOR YOU
The Fourth Kingdom
Date: 2017
Director: Adan Adaga, Alex Lora
Producer: Federico Guarascio, Isabel Feliu
Cinematographer: Adan Adaga, Alex Lora
Production Company: Jaibo Films, Arquiola PC. & Àlex Lora PC.
indieactivity : What is your film about?
Federico Guarascio : The Fourth Kingdom is a documentary. The Fourth Kingdom portrays the lives of the inhabitants of "Sure We Can", a recycling center where societies outcasts can redeem cans for money.
indieactivity : Tell us about the festival run, marketing and sales?
Federico Guarascio : We first got into BIG SKY DOCUMENTARY FILM FESTIVAL then from there we were able to have our documentary premiered in other high profile film festival and won amazing awards like: – Official Competition– FICG | FESTIVAL INTERNACIONAL DE CINE EN GUADALAJARA –Special Jury Mention– MÁLAGA FILM FESTIVAL – Official Competition– ATLANTA FILM FESTIVAL – Best Feature Documentary Award– DOCUMENTA MADRID – Best National Feature Documentary Award & Filming Award
indieactivity : What is your film about?
Shooting Format : HD with DSLR
Screening Format : DCP 2K Regular
World Premiere: November 22nd, 2019, Spain
Website : The Fourth Kingdom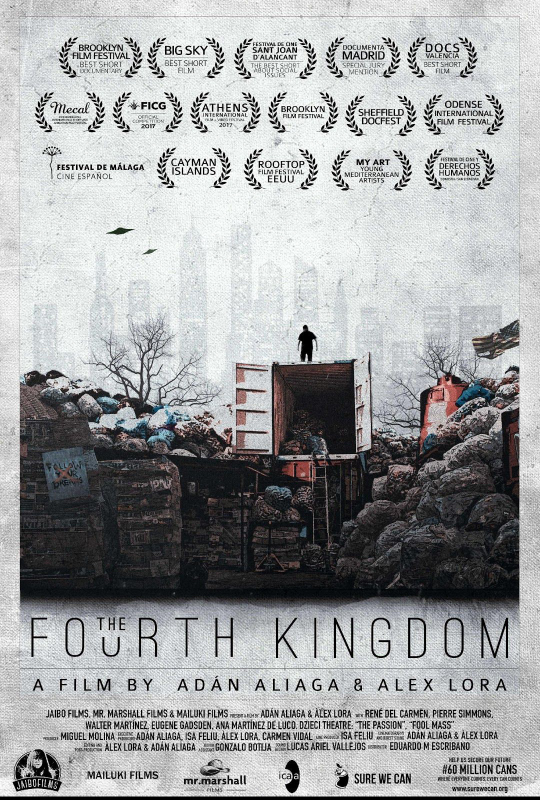 indieactivity : Give the full Official Synopsis for your film?
Federico Guarascio : Inside a Redemption Center in the heart of Brooklyn, founded by a Spanish ex-Missionary, cans and plastics bottles are exchanged for coins. Through the people who pass by, we take a look at the particular logic of this Special Realm, a place where everything becomes possible, where the waste of the society become the dreams of their inhabitants, their elusive "American Dream", a Chimera that many chase but only very few attain. The Fourth Kingdom is inhabited by dreamers who are still dreaming, but ONLY for a different reason.
indieactivity : Development & Financing?
Federico Guarascio : The project started with no budget, we initially made a short version of it. We that got Sundance documentaries found grant. And IDA international documentaries pare Lorentz found. Also we raised money in Spain from national TV and national government found and pre-sales to the public Spanish television. Also I personal raised money from an Italian Production company named City Dog.
indieactivity : Production?
Federico Guarascio : We started recording material in sure we can towards the end of 2016, the idea was to make a short documentary about the reality of the center. But we realized that there was much more to say and we used the short film to get grants and have the necessary funds to transform the material into a feature film. Was shot entirely in one location.
Another rule we applied to our concept was not to leave the space while filming. We didn't want to see these can collectors out on the street, but in their daily life inside this 'Fourth Kingdom. Editing as always in documentaries is one of the most crucial parts. It's not just about delivering a sequence of scenes already decided at the start: rather, it concerns creating a singular language and defining poetic choices. As a producer, I had the honor of supervising post production and therefore helped to define the final form of the film.
indieactivity : Festival Preparation & Strategy?
Federico Guarascio : We didn't hired any PR agency, I followed the festival strategy independently.
indieactivity : The Release?
Federico Guarascio : The Fourth Kingdom was released November 22nd, 2019 in the major cities in Spain. In 2020 is planned the theatrical release in USA.
---
Tell us what you think of the Case Study for The Fourth Kingdom What do you think of it? Genre? More genre? Lets have your comments below and/or on Facebook or Instagram! Or join me on Twitter @oladapobamidele
Follow The Fourth Kingdom on Social Media
Website
IMDb
Instagram
Vimeo
The post Case Study: The Making of The Fourth Kingdom by Federico Guarascio appeared first on indieactivity.