"One-Third of a Second"
The film revolves around Ilyas, an expatriate writer who lived most of his adult life in Australia, returns to Turkey in the hope of finding inspiration for his new book. Instead, he ends up having to deal with the breakdown of a relationship and, a deepening writer's block, in a land he feels estranged.
ONE THIRD OF A SECOND TEASER from Burak Oguz Saguner on Vimeo.
"A few days before starting to write ONE THIRD OF A SECOND, I read an article in a science magazine, which was about the speed of neurons and the traveling time of information in the human body. Even though it happened quicker than the blink of an eye – it still took time for the information to be transmitted. The article got me thinking. By the time we grasped what's going on – it was already in the past. The present was just another word for memory. Ok… So, it took one-third of a second to grasp what's going on, but how long did it take to accept it?
At the end of the day, didn't we all have a hard time to let go of what we know we cannot keep, at least once? Don't we all cling to ideals or habits from moment to moment? Eventually contemplating on the topics of love, desire, belonging, identity, the inherent social and cultural conditioning, and what each individual's role might be within these constructs, ONE THIRD OF A SECOND emerged. Making the film certainly has been an interesting journey which I'm very happy about and now we are doing the festival circuit." –Burak Oguz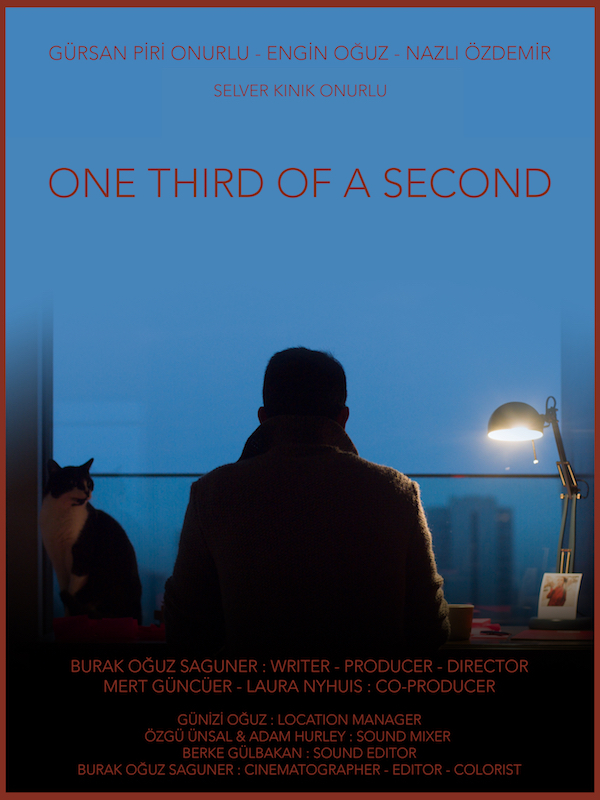 ---
About the Director:
As a cinematographer, Burak has worked on numerous independent short and feature films, documentaries, commercials, and music videos in different parts of the world including Australia, Vietnam, Germany, Switzerland, Greece, Italy, and Turkey.
In 2013 Burak co-wrote, produced, shot and edited the short film IN AUTUMN, which world-premiered at the 29th Warsaw Film Festival and won the Rising Star Award at the 2014 Canada International Film Festival.
Burak Oguz Saguner completed a Postgraduate Degree in Cinematography at AFTRS (Australian Film, TV and Radio School) in 2014. During this time, he shot DRIFTWOOD DUSTMITES, which world-premiered at the 65th Berlin International Film Festival and subsequently won him Best Achievement in Cinematography Award at the St Kilda Film Festival and Best Cinematography Award at the Canberra Short Film Festival in 2016.
In 2019, Burak wrote, produced and directed the short films, ONE THIRD OF A SECOND and WAYFARERS and, now he is in development for his next project BITTER.
---
Tell us what you think ONE THIRD OF A SECOND . What are you thinking? What more information do you need? Do you have any suggestions? Or did this help you? Lets have your comments below and/or on Facebook or Instagram! Or join me on Twitter @oladapobamidele
Follow Burak Oguz on Social Media
MORE STORIES FOR YOU
The post "One-Third of a Second" is a Masterful Directorial Debut Short by Burak Oguz Saguner appeared first on indieactivity.