And Contributes to Afro Futuristic Films with the success of Mino
Los Angeles, CA—Ashunda Norris' latest short film Mino: A Diasporic Myth wins the Jury Prize and will have its LA premiere at The Micheaux Film Festival on February 22, 2020 in downtown Los Angeles at Regal LA Live.
The film, about a coven of Black women who can self-conceive and live without men, has been making waves on the film festival circuit winning the New Orleans Jury Award at the New Orleans Black Film Festival just before the close of the decade in December 2019. Mino: A Diasporic Myth is, at its core, an afro futuristic tale about the power of relationships between Black women.
MINO: A DIASPORIC MYTH
Short Synopsis: In the utopic haven of Biamara, a Coven of Black womyn who can conceive without men must consider denouncing one of their own when she chooses to defy the all female code and self produce a male child.
Southern born and raised in the heart of rural Georgia, Ashunda has written, directed and produced films since she moved to LA seven years ago. She's also had the opportunity to edit a short documentary on location in Kampala, Uganda. Ashunda is currently touring with Mino on the film festival circuit. The film will be available for online viewing after its festival run. Ashunda is an up and coming breakout director with Black women at the forefront of her stories. One to watch in the film industry, Ashunda's work pays attention to detail and her vision in Mino forces audience members to react in unpredictable ways. Ashunda remains fearless and steadfast in a male dominated industry maintaining her connection to Black feminism.
"Mino: A Diasporic Myth is set in 2079 and tells the story of Black women, queer and non queer, who govern their world with a firm but noble hand, where men no longer exist. The Bia womyn keep their orb safe by only birthing female beings. When one womyn new to the land, attempts to self-conceive a non-female, the Coven is forced to confront their own belief systems. Reactions from the audience have been have ranged from pure awe to emotional tears. Ashunda says "Winning my first award at a Black Southern film festival was an absolute joy". I couldn't have done any of it without my outstanding crew and phenomenal cast of Black women. I'm filled with limitless gratitude."
Mino had its world premiere at Richmond, Virginia's Afrikana Independent Film Festival in 2019. The film screened at The San Diego Black Film Festival on Saturday, February 1, 2020 and will be introduced to audiences in Durham, North Carolina at the Hayati Heritage Film Festival February 13 – 15, 2020. Mino will screen at The Micheaux Film Festival in Downtown, Los Angeles February 21 – 23, 2020. And will have its European premiere at Roze Filmdagen, Amsterdam's LGTBQ Festival being held March 12 – 22, 2020. The film also screens at the 10th Annual Charlotte Black Film & Music Festival in Charlotte, North Carolina to be held April 23 – 26, 2020.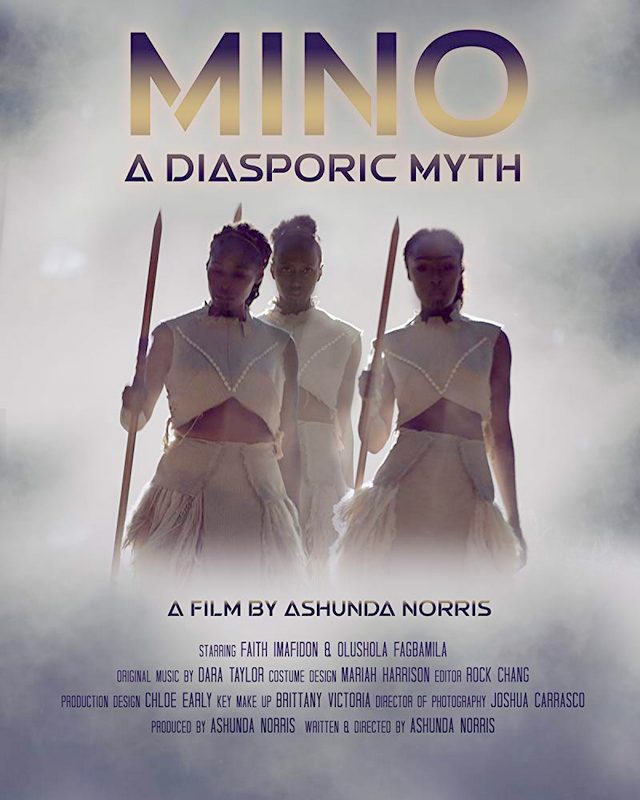 Artist Bio
Ashunda Norris is a fierce feminist, filmmaker, poet and teacher living in Los Angeles. Her honors include fellowships from Cave Canem, the New York State Summer Writers Institute and a residency at The Lemon Tree House. Ashunda's film work has screened internationally, including Nairobi, Kenya and Kampala, Uganda. A proud alumna of Howard University and Paine College, the artist also holds MFAs in Poetry and Screenwriting. Her latest narrative film Soft Times received Best Short Film and Best Lead Actress nominations at the Las Vegas Black Film Festival. Ashunda's writing has been published or is forthcoming in La Presa, The Adroit Journal, Bayou Magazine, Huffington Post, and elsewhere. You can find her online at ashunda.com
---
Tell us what you think of the "Ashunda Norris' win". What are you thinking? What more information do you need? Do you have any suggestions? Or did this help you? Lets have your comments below and/or on Facebook or Instagram! Or join me on Twitter @oladapobamidele
Follow Ashunda Noris on Social Media
Website
IMDb
Facebook
Twitter
Instagram
Vimeo
MORE STORIES FOR YOU
The post Ashunda Norris Wins New Orleans Jury Award for Short Film, Mino: A Diasporic Myth appeared first on indieactivity.