Vision Films Inc. ("Vision") brings the animated children's film Ella Bella Bingo to North America on VOD March 24, 2020 and DVD on April 7, 2020. Ella Bella Bingo is from Studio100 Films and Factoris Films. The screenplay is by Frank Mosvold in collaboration with Rob Sprackling and Johnny Smith of Disney's Gnomeo & Juliet. With a uniquely diverse cast of characters, Ella Bella Bingo is a pre-school road-trip where three kids learn the real magic of friendship and the value of compromise.
Ella Bella and Henry, voiced by young actors Summer Fontana (X-Men: Dark Phoenix) and Jack Fisher (NCIS, Kid Cosmic), are best friends. When a cool new kid moves into the neighborhood and Henry wants to play with him, Ella becomes jealous. When she demands that Henry chooses between the two friends, he doesn't want to hurt anyone's feelings and runs away! Now Ella Bella and the new kid Johnny, voiced by child actor Ben Plassala (Big Little Lies, Shameless, Criminal Minds and CSI), must team up on a bicycle adventure to find Henry and learn the magic of friendship.
The star-studded cast of voices includes the talents of Richard Kind (American Dad, Mad About You), Emmy® nominated Chris Sullivan (This is Us), Tress MacNeille (The Simpsons, Animaniacs, Babs Bunny in Tiny Toon Adventures and the current voice of Daisy Duck), Brennan Murray (Video Game High School), Fred Tataciore (Family Guy), Katie Leigh (Adventures of the Gummi Bears, Totally Spies!, Muppet Babies), Cherokee Rose Castro, Christopher Salazar (Wired, Jane the Virgin ), Devin Hennessy, Lane Compton, Chris Anthony, Stephen Weese and the renowned Mara Junot, "the voice shapeshifter."
This film has received The Dove Foundation's Dove Seal for All Audiences.
It can be found streaming/VOD at the below outlets. The DVD is available on 4/7 including from Amazon (DVD/Blu-Ray), Best Buy, Barnes & Noble, Walmart, Target and more.
Canadian cable providers include Rogers, Shaw, and Bell.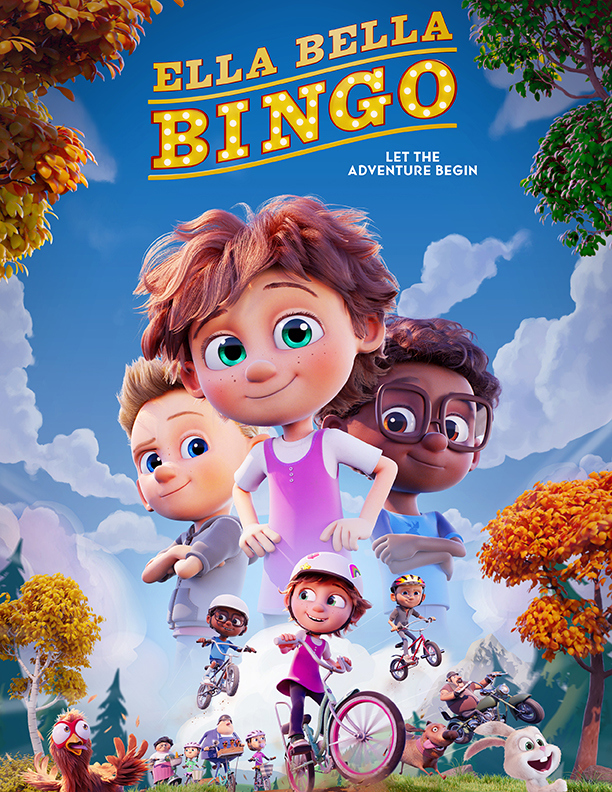 ---
"Ella Bella Bingo is an entertaining ride from start to finish. It is a beautiful tale of friendship and community, uniquely featuring a diverse cast of characters as well as voice actors, and with a soundtrack that parents will enjoy, making it truly fun for the entire family. We are proud to have again partnered with Factoris Films to bring this gem to the US and Canada." says Lise Romanoff.
Vision Films is a leading independent sales and VOD aggregator specializing in the licensing, marketing, and distribution of over 800 feature films, documentaries, and series from some of the most prolific independent film producers in the world. Led by Lise Romanoff, Managing Director/CEO Worldwide Distribution, Vision Films releases 2-4 films a month across Theatrical, VOD, DVD, and television platforms.
---
Tell us what you think of the "Ella Bella Bingo". What are you thinking? What more information do you need? Do you have any suggestions? Or did this help you? Lets have your comments below and/or on Facebook or Instagram! Or join me on Twitter @oladapobamidele
Follow Vision Films on Social Media
Website
IMDb
Facebook
Twitter
LinkedIn
YouTube
MORE STORIES FOR YOU
The post Ella Bella Bingo, Kid's Animated Indie Feature on VOD & DVD appeared first on indieactivity.