In America, physicians have the highest suicide rate of all professions? Timely and critical as doctors serve on the front lines in the war against the deadly COVID19 pandemic, "Do No Harm" sheds light on physician burnout and how it causes 300-400 doctors to take their own lives every year.
"Do No Harm" the groundbreaking documentary film will be streamed in a LIVE VIRTUAL GLOBAL EVENT on April 19th at 8 pm EST followed by a panel discussion featuring the filmmaker, two-time Emmy winner Robyn Symon and experts interviewed in the film include Dr. Paul Puri, UCLA psychiatrist and writer on the NBC hit series "Chicago Med," and physician advocate, Dr. Pamela Wible.
"Do No Harm" follows four people bonded by tragedy on a mission to expose medicine's dirty secret. Doctors and medical students pull back the curtain on the causes and cover-up of the alarming rate of suicide of physicians. At a time when we're facing wan unprecedented doctor shortage, more than one million patients lose their doctors to suicide every year yet because of the stigma of suicide, it's often covered up.
In the U.S., we see how young doctors are set up to fail by being forced to work up to 28 hour shifts putting patients at risk. We confront leaders of regulatory agencies about why the high rates of suicide and burnout have persisted for decades without change. We explore possible solutions including legislative reform and efforts to destigmatize mental health in medicine to make it safe for doctors to reach out for emotional help. But we learn a century-old medical culture is slow to change with a new focus on "resiliency and burnout training" rather than a harsh look at the systemic problems at the root of the epidemic. As more and more doctors leap from rooftops, put a gun to their heads, and overdose on pills, our heroes fight for systemic reform and to save suffering doctors. But will they be able to save Hawkins?
The film draws a link between high rates of burnout, sleep deprivation and the high rate medical errors. Today medical mistakes, from a range of causes result in the preventable deaths of more than 250,000 people every year, making it the 3rd leading cause of death behind heart disease and cancer to which Senator Bernie Sanders asks, "Why isn't this on the front page of the papers every single day?"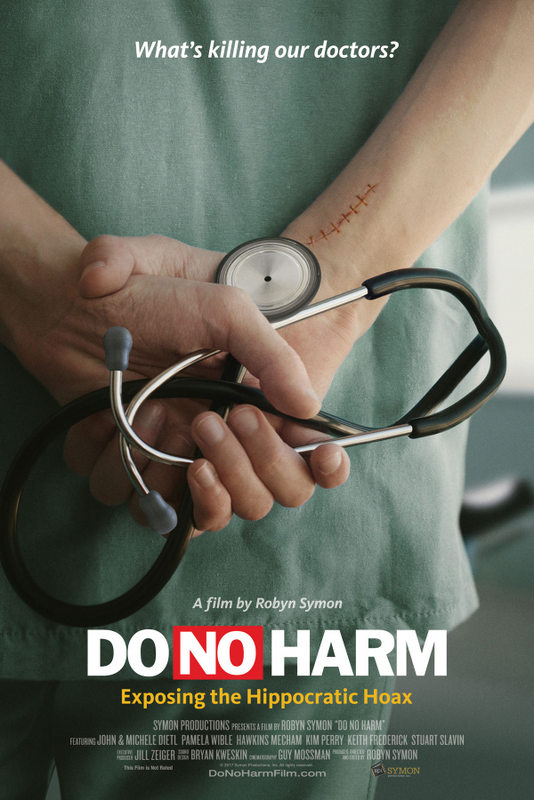 Directed and Produced by Robyn Symon
Executive Producer Jill Zeiger
Edited by Robyn Symon
Cinematography by Guy Mossman
Co-Producers Christopher Bryniak, Derek Muhs, Jeff Tangney, John Chen, Susan Evans,
Music by Ronen Landa
Production Manager Cami J. Kidder
---
Tell us what you think of the "Do No Harm". What are you thinking? What more information do you need? Do you have any suggestions? Or did this help you? Lets have your comments below and/or on Facebook or Instagram! Or join me on Twitter @oladapobamidele
Follow Robyn Symon on Social Media
Website
MORE STORIES FOR YOU
The post Do No Harm Worldwide Virtual Premiere Sheds Light on Physician Burnout and Suicide appeared first on indieactivity.