NIghtfire
Genre: Spy Thriller
Date: The film was completed in Month' 2020
Director: Brando Benetton
Producer: Brando Benetton, Federico Fabiano, Kristine Tsui
Writer: Brando Benetton, Los Silva
Cinematographer: Garrett Nicholson
Editor: Brando Benetton, Garrett Nicholson
Composer: Jonathan Russell
Production Company: F/1.8 Studios
Case Study: The Making of Nightfire
Nightfire is a spy-thriller created as a thesis films from students at Ithaca College, NY. The film follows two American agents who are hired to retrieve military chips containing top-secret information. Their plan goes awry when an unexpected political prisoner (played by Emmy-nominee Dylan Baker) enters the picture.
indieactivity : Tell us about the festival run, marketing and sales?
Brando Benetton : Nightfire was screened in its early versions to establish its critical acclaim. It received a Heritage Award nomination by the American Society of Cinematographers (the highest cinematography recognition we could dream for), as well as 6 nominations at the Action on Film International Film Festival (Best Action Short, Best Action Sequence, Breakout Action Star, Best Supporting Actor, Best Villain, Best Special Effects) and one win (Best Visual Effects). The final movie has been submitted to SeriesFest for its festival premiere and the festival's line-up will be announced soon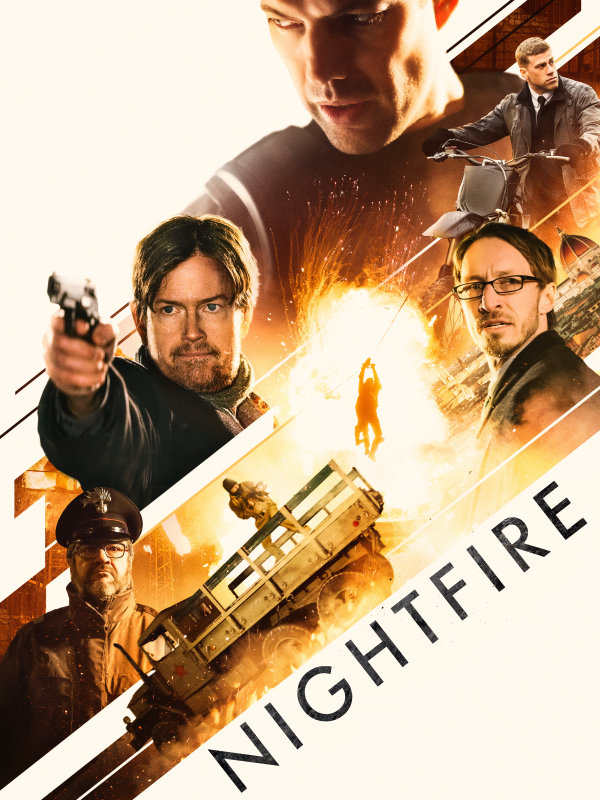 Narrative/Dramatic Features
Budget: Below $120,000
Financing: Academic Grants, Online Grants, Private Equity, Self-raised
Production: the production company
Shooting Format: 2K HD
Screening Format: Digital
World Premiere: Action on Film Festival – Best Visual Effects (Winner), Nominations: Best Action Short, Best Action Sequence, Best Villain (Dylan Baker), Best Supporting Actor (Dylan Baker), Breakout Action Star (Lorenzo Pisoni), Best Special Effects (Corridori SFX); American Society of Cinematographers (ASC) Heritage Award (Nomination)
Website
indieactivity : Give the full Official Synopsis for Nightfire?
Brando Benetton : Two CIA field agents, CARTER and ROSS, infiltrate a military base in Eastern Europe to retrieve Microchips containing Top-Secret content. Their mission is nearly compromised when when they're forced to rescue a prisoner (by the name of OLIVETTI) and take him with them to Italy. In the midst of a political turmoil, U.S. senator GEORGE WILLIAMS is under close scrutiny when he receives the Microchips from the two agents.
Williams invites Olivetti as guest of honor at a large-scale event, hoping it will rectify the US-Ukraine relations in the eyes of the world. Suspicious at Williams' request to destroy any record of their mission, Carter breaks into his office and discovers the chips they retrieved contain a large sum of stolen money, one of the factors causing the current state of political unrest. Carter escapes with hopes of crashing Williams' speech and publicly exposing his plan. Little he knows, things are about to take a turn for the worse…
indieactivity : Development & Financing?
Brando Benetton : As undergraduate film students we aim to make a movie that as audience members would have inspired us—designing a story dripping with scope while still working around the resources at our disposal. This was, after all, going to be a student film. We reverse-engineered the screenplay by working around locations, vehicles and talent who we had access to, aiming to still bring the characters of the story through a journey that felt emotionally authentic. I wrote a first full draft of the script (about 60 pages) which was then revised by co-writer Los Silva, who further improved on it with exceptional new dialogue and grounding the story into political realism.
I find that there's a lot of creativity to be found in Producing while Directing, especially in the pre-production phase. I was supported by two amazing co-Producers (Federico Fabiano and Kristine Tsui), and continued developing the script while I was taking monthly meetings with the City Hall and Mayor's Office in the city we'd be shooting in, often pitching my way through an action sequence to a table of 12 different public authorities—fire marshals, police chiefs. We would go through the script and debate on how much road we could occupy and for how long. That allowed me to expand or compress action sequences months before even designing them, so that we could fully embrace our limitations.
The budget for Nightfire was raised with a mix of small equity investments, self-raised and even grants from the school who was incredibly supportive of the project. We were able to keep the budget so low because we wrote the script around the strengths of the city and local businesses—who came together excited to support a production with a genre and scope that felt new to them. All student crew members were volunteers who donated their time, understanding of the fact that for all of us these two weeks of production were gonna be a film school in itself unlike no other.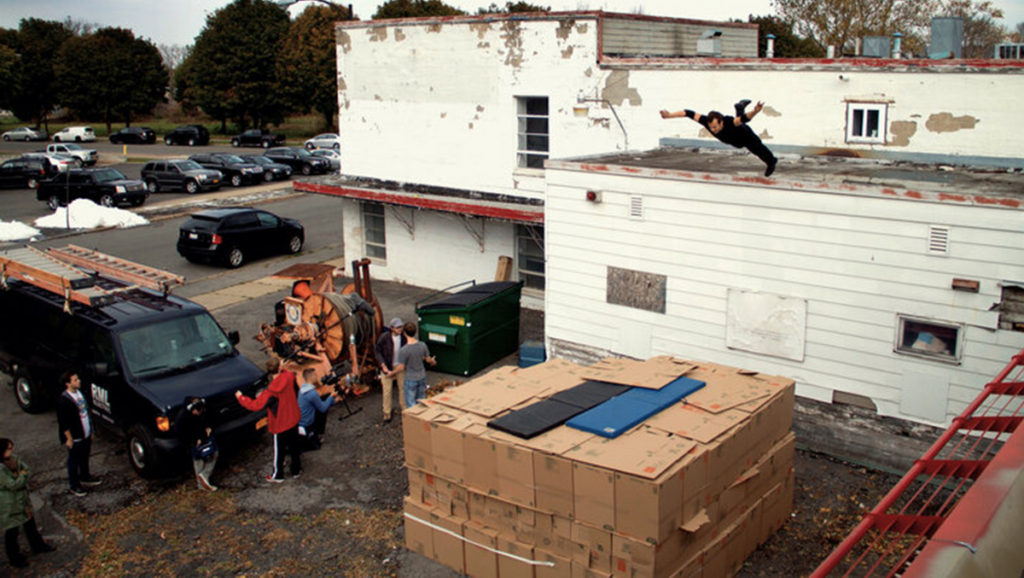 indieactivity : Production?
Brando Benetton : Nightfire was shot in 12 days during a freezing Italian winter, right around the New Year's holiday. With limited time, we set the movie at night because we knew that daylight would be at the shortest during that time of the year, and that we wouldn't have to worry about lighting continuity as shooting the same action sequences was sometimes spread over 5/6 different nights across different locations. We learned a lot about over-scheduling and under-scheduling a movie with so many moving elements—vehicles, extras, permits—and I'd be lying if I didn't tell you that it was incredibly overwhelming most of the times.
Director Edgar Wright ("Baby Driver") inspired us to embrace the concept of the "pre-shoot," a very simple scene that you pull from the script and choose to film with a limited-size unit before principal photography really begins. Not only it fuels the comradery of the crew in a stress-free environment, but creates the illusion of being "ahead of schedule" before the first real day of production. And we did that with the opening scene of Carter discovering the body in the prison cell.
Our first true night of principal photography was a complete disaster. We set out to shoot the most complex set piece of the movie in a single night, with 380 extras in attendance, and finished nearly 8 hours behind schedule, as the sun was rising and we were set to return to set for the "next day" just an hour later. It was a huge lesson in humility of how some scenes are more important than others when it comes to distributing resources. We lived on home-cooked meals and little-to-no-sleep for the following 11 days (give your crews a break!), but were pushed by the adrenaline of screening the very footage we were walking away with at the end of each day—and feeling a deep sense of pride.
We returned back to upstate NY to edit the movie with just 13 weeks left to complete what would be our very last school semester. We first felt ahead of the curve as so many other students were yet to begin shooting their thesis, but soon fell behind as we realized how much footage we would have to go through. What followed was a stressful 3 months fully dedicated to completing the movie, with way too many sleepless nights ("pain is temporary, film is forever") and not enough test screenings.
Before locking our cut we travelled to NYC to record with the actors Additional Dialogue Recording (ADR) that helped polish moments and clarify the emotion of certain story beats. The sound designing experience was a true joy, as sound would often help us "save" what we weren't able to capture on set.
In a conversation I shared with editor Elísabet Ronaldsdóttir (John Wick, Deadpool 2), she revealed how much of the dialogue in Atomic Blonde (2017) was inserted during post-production, often cutting to a OTS of a character listening, and inserting a line of dialogue that was never present in the screenplay or on set. That taught me to always challenge the material, to deliver emotional honesty and narrative clarity every step of the way. If there's a better way to tell the story, be ready to throw your initial vision straight out the window. Eventually, the movie will begin to tell you what it wants to be.
indieactivity : Festival Preparation & Strategy?
Brando Benetton : Our festival run was pretty unconventional – compared to others – because of the length of the movie (43 mins), Nightfire felt more of a TV pilot than any other short or feature. We were immensely grateful to the American Society of Cinematographers (ASC) who recognized the exceptional cinematography work by Garrett Nicholson (and lighting design by Jackson Eagan) with a Heritage Award nomination—despite what we screened was an incomplete version. When we finally learned about the existence of SeriesFest, we felt like it was a match-made in heaven, and that there is such a thing as the right festival for the right movie. So as far as the final master delivery, we took the deadline for that festival as a time frame to work our way towards—so that we could finally share the film with audiences in Spring 2020.
indieactivity : The Release?
Brando Benetton : As far as official distribution goes, we were contacted (nearly a full year after having completed our picture lock) by a NY-based distribution company (Hewes Pictures, who really believed in us!) who had discovered a teaser trailer we posted on YouTube and made an offer to buy the film from that.
They embraced our request to further re-master the soundtrack of the movie (once more, "challenge the material") before officially submitting the film—and paired us with our friends at October Coast PR who have been truly incredible in helping us spreading the word about the film's digital release on May 1 on both Amazon Prime and Hulu.
indieactivity : Advice from the Filmmaker
Brando Benetton : Make movies that you yourself would dream of experiencing on the big screen—that feel emotionally specific to you. But we also have a deep sense of career strategy, and how every single project you invest time in can help push you further along in your career. Even if you want to focus on becoming an action filmmaker, or a rom-com storyteller, make sure that you have budget variety in the ambition of your projects.
For every thriller screenplay you write with car chases in NYC, make sure you have a one-location action drama you could shoot over the course of 10 weekends with your friends. For every large-scale musical number in the middle of Central Park, make sure you have an apartment-based love story that feels overly simple yet emotionally authentic. Write around the resources you already have in front of you. Write "smart."
And always, always have a Plan B. There's a world of opportunities out there that you must create for yourself. Don't wait for a big studio to give you permission to make movies. Go out there and do things yourself. If your stories are engaging, and the work is honest, people will contact you sooner or later—I guarantee it.
---
Tell us what you think of the Case Study for "Nightfire by Brando Benetton" What do you think of it? Genre? More genre? Lets have your comments below and/or on Facebook or Instagram! Or join me on Twitter @oladapobamidele
Follow Brando Benetton on Social Media
Website
IMDb
Facebook
Soundcloud
Instagram
YouTube





MORE STORIES FOR YOU
The post Case Study: The Making of Spy-Thriller, Nightfire by Brando Benetton appeared first on indieactivity.