Sophia McDowell says "We know approximately 1.5 million women and children are bought and sold across international borders every year and exploited for sex or forced labor; 40% of victims of sex trafficking are African-American. Also, the average age of sex trafficking victims fall between 11 and 14 years old."
"Our short film Circuit (directed by Armie Hicks Jr.) follows a young teenagers romantic expectations which are dashed when she becomes the victim of sex trafficking." says Sophia. Circuit stars Sophia McDowell who talks to us about her work on Armie Hicks Jr.'s short film. Hi Sophia! It is great to chat!
indieactivity (IA) : Tell is a little about yourself?
Sophia McDowell (SM): Hi, it is nice to be here. Well, I'm Sophia McDowell. I am a 21-year-old actress originally from Columbus, Ohio but now based in Los Angeles, CA. I started doing theatre acting in 2014 and fell in love with the craft. Once I decided that this was something I wanted to do for my life, I decided to move to LA and start school at the California Institute of the Arts to earn my BFA in acting. I've begun my on-screen career within the last 3 years.
IA: What acting technique do you use?
SM: My training at Cal Arts has taught me many methods of acting including sense memory, deep character work techniques, and full character embodiment. I like to use all of these because I believe it takes both physical and mental work to fully become another person and tell their truth as honestly as possible. Although I would not call myself a "method" actor, I use both a "ritual of engagement" and a "ritual of disengagement" to help me enter and leave a character. Sort of like a warm up and cool down from a workout. This helps me prepare and protect my body and my mind when dealing with particularly intense moments/characters.
IA: How did you get connected to the project? Did you have to audition?
SM: Armie Hicks, the director of "Circuit", and I (Sophia McDowell) were actually friends on Instagram. I auditioned many years prior for another project of his, which I didn't get. May of 2019, Armie reached out to me through DM and told me about this new project that he was working on and how he thought I'd be great for the character of Red. I read the script and did a self-tape audition. He loved it and brought me onto the film!
IA: Let's take this project you did; how did you prepare for such a role: the cast, the physicality the terrain, the climate, weather and the demands of the project?
SM: I prepared for Red by first reading the script a couple of times, this helped me get all of the information available about her, her situation, a bit of her background, etc. Then I could imagine the rest of her info on my own that wasn't in the script. I also did a lot of research on the human trafficking epidemic, including reading articles and watching documentaries/movies surrounding the topic. Before we started filming, Armie brought all of the cast and producers into one room. We talked a lot about the script and the severity behind telling a story about human trafficking. He also showed us an interview he did with real-life trafficking survivors whom so graciously shared their stories. Which informed parts of our script and helped shape our characters. This was a way for us, with permission, to share their stories and help bring awareness.
We filmed "Circuit" in three days, one day shoot and two night shoots. I was new to night shoots at the ¿me, but I was so excited to be a part of this project, so I would sleep all day and prep for the night! Our cast/crew worked in 3-4 locations around LA: the warehouse/basement where the girls live, the bougie downtown LA penthouse, the kitchen in the apartment, and finally the motel room. The weather was on our side for the most part, but we did have a small earthquake happen during the kitchen scene that we had to pause for and let pass!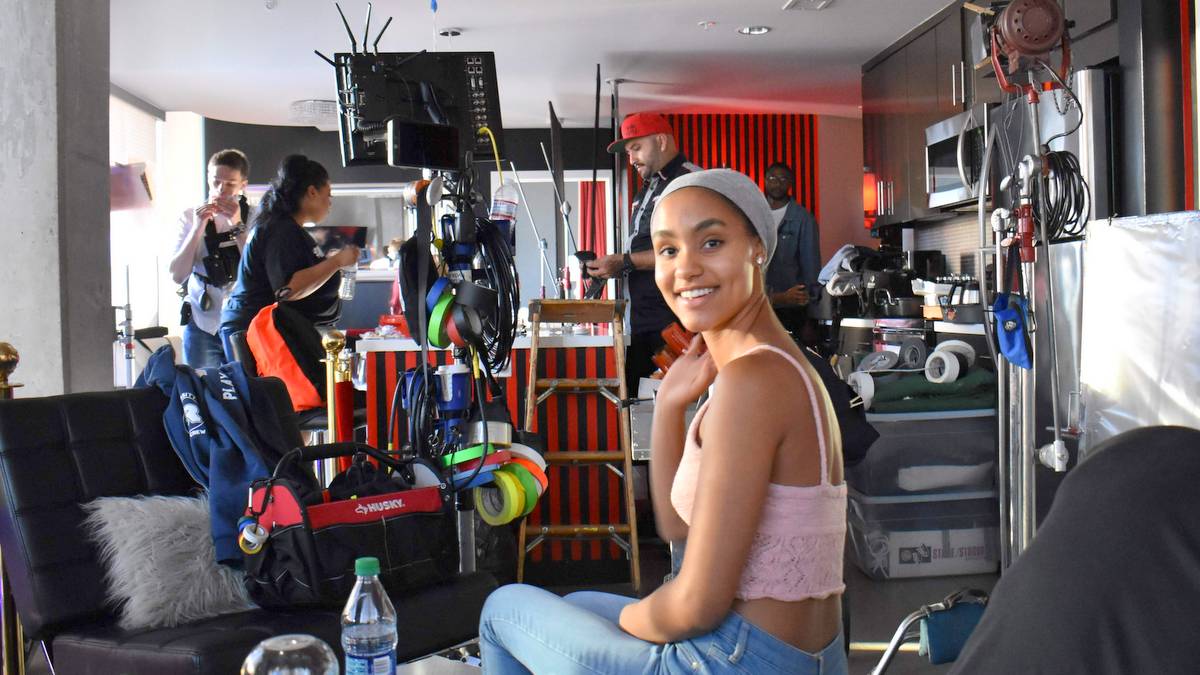 ---
IA: As one of the cast on the project, how did this 'choice' work for you?
SM: Playing Red was unlike any character I had approached before, which is what a attracted me to the project. The environment with my fellow cast and crew on set was very positive and supportive. I felt very lucky to have been cast, so this choice was an easy one!
IA: How do you create the character from a script into a person?
SM: An important part that sparked me about playing Red (Sophia McDowell) was how she is never called by her birth name, rather by a nickname her captor gives her. That immediately makes her an object to these grown men in the system. Armie and I talked a lot about how Red is different from the other girls, meaning that she's been in the system for 6 years at this point. Ge ng an idea of her life landscape helped me play that subtle push and pull in her mind – "do I love Driver or am I being brainwashed?" "Is this how my life is gonna be or can I try and reclaim it"?
A fun aspect of playing Red was her hair, makeup, and costume! Laying out all of the red clothes I owned, pu ng on the long red wig, and her red lipstick was an integral part of transforming into my character. Red, Blondie, and Jade have to change their appearances before being traded for sex acts multiple times a day. This was a way that Driver could control them and use them as objects rather than human beings. Red being able to change and do her makeup quickly was a key part in the script and on screen, it showed how familiar she was with the system.
IA: What part of the story challenged you when you read it? What drove you to get on the project?
SM: A challenging part in the script was the night in Suit's apartment and the scene with Lawyer. The gentleman ac/ng with us in those scenes were very respectful on set, but they had to play these creepy and evil men. Facing those scenes was something I did not take lightly and I had to mentally prepare before the pre-sex scene.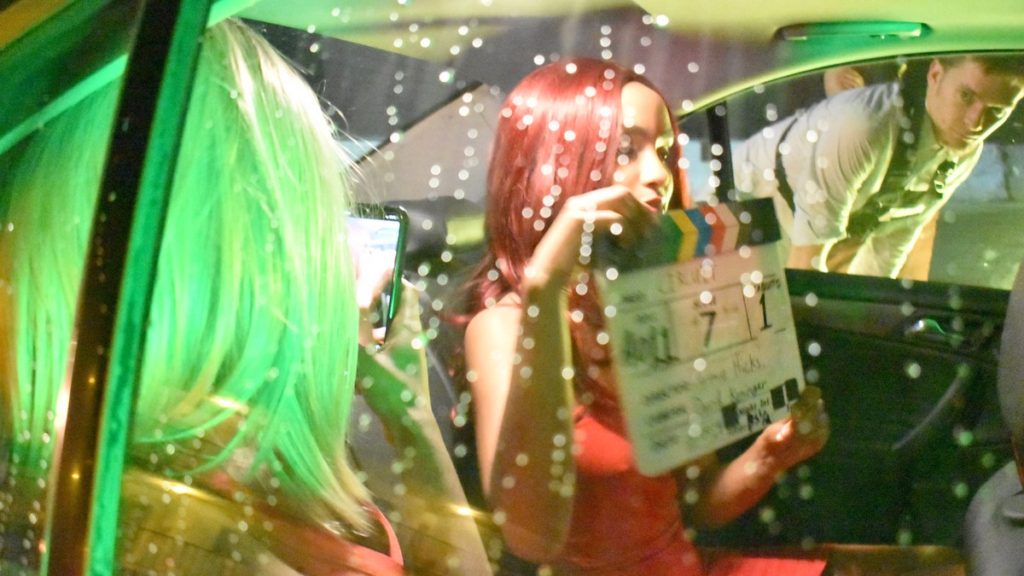 ---
IA: Explain one creative choice you took on set of this production?
SM: The scene where Red a empts to run and escape the apartment. Armie gave me a note to maintain urgency and remember that this is a chance Red might never have again, so she goes for it.
IA: You're not new to indie films. What do you enjoy about the work that keeps you working?
SM: When working with up-coming writers/directors, especially with Armie Hicks, it has always been a genuine experience. There was an element of true collaboration on set. Our DP, David Keninger, maintained a lot of communication with the actors about how there should be a relationship between the actor and the camera. From watching the daily's back, that connection was very evident and so important on screen.
IA: Give an example of a direction you received from the director during the production?
SM: Armie gave us a great note about the stillness and quiet but stale energy of the opening scenes in the kitchen. He said that each girl has a duty and an individual relationship with Driver. There's favouritism and popularity in this house they're stuck in, and to keep that in mind. Does Red try and get his attention? And why?
IA: How did you collaborate with your cast members from scene to scene?
SM: We became very comfortable with each other on set! We got along and would be making jokes between takes, but could zone in and be very professional when necessary. It's important to have balance! Before each shoot day, Armie would give an initial speech about what the day was going to look like, so we were all on the same page. That energy helped us keep the space positive and productive.
IA: As main cast on the film, describe the feeling of responsibility that you shouldered. Where you scared? Or did it fire y2ou up? What scenes where difficult to shoot?
SM: I was definitely fired up and happy to be on set! It was a chance to work with new people on a project so special. I wouldn't say the scene with Lawyer was difficult, but it was new territory for me. However, I felt safe the en/re /me. Our director and producers made sure of that, which was much appreciated.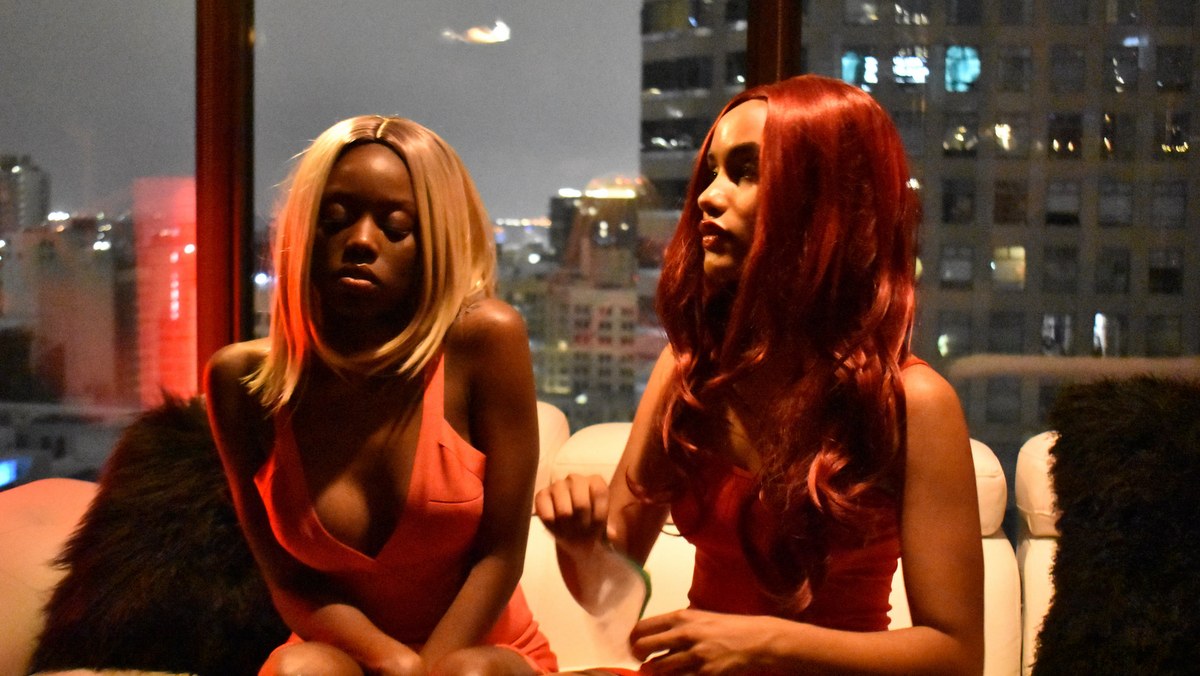 ---
IA: What did you take away from the film production?
SM: I learned so much from our DP, David Keninger, our lighting department, and from our director Armie. For example, it was fascinating to watch them collaborate and discuss why certain lighting was necessary to portray a certain tone. Knowledge like that is very important for an actor to learn, it only helps in our ac/ng process.
IA: What do you like most about the director, and his/her collaboration with his/her team?
SM: Armie Hicks is very intelligent and personable. He is a director who is open to collaboration, new ideas, etc. He is an actor as well, so that helps him give well-rounded notes to his team. You always feel valued as an actor on set with him!
IA: What is next for you?
SM: I am working on a new film called "Mulatto" in late summer! And I am going to be a BFA4 actor at Cal Arts in the fall. I am looking forward to graduating, earning my degree, and continuing to build my career. I'll be posting about new projects on my Instagram.
IA: What advice do you give actors regarding what you learnt on the project?
SM: I would tell my fellow actors to "be like a sponge" and gather as much information from your cast/crew in the /me you have! The key thing for an actor is to stay informed: whether it's about your character or about the environment you're filming in. It all helps in giving an honest performance.
---
Tell us what you think of the interview with "Sophia McDowell". What do you think of it? What ideas did you get? Do you have any suggestions? Or did it help you? Lets have your comments below and/or on Facebook or Instagram! Or join me on Twitter @oladapobamidele
Follow Sophia McDowell on Social Media
IMDb
Facebook
Twitter
Instagram
YouTube





MORE STORIES FOR YOU
The post Actress Sophia McDowell plays Red in Armie Hicks Jr.'s short, Circuit appeared first on indieactivity.