NYC/LA July 22, 2020 | The powerful and timely feature documentary film Don't Be Nice from Radio Drama Network is coming to DVD, Apple TV, On Demand, and EST/TVOD everywhere today. The acclaimed film follows a NYC team of young African American, Afro-Hispanic, and queer slam poets as they fight to find the words to speak their truths to a nation awakening in Black Lives Matter protest and on the brink of a general election.
Challenged by their coaches to compete for the National Poetry Slam Championship, the team breaks through personal boundaries and explores issues such as race, police violence, gender, identity, and sexual politics and creates its most vulnerable and honest work yet. Don't Be Nice shows the risks artists take to find their voices, and the power those voices have to open hearts and minds.
The Official Trailer for Don't be Nice directed by Max Powers produced by Nikhil Melnechuk and Cora Atkinson
---
Don't Be Nice by producers Nikhil Melnechuk and Cora Atkinson and director Max Powers, qualified for the 92nd Academy Awards Best Documentary category after successful limited theatrical runs in New York and Los Angeles.
Pre-orders for Don't Be Nice started on July 7th on Apple's iTunes and Apple TV and are available here. DVD pre-orders are available on Amazon. The film will be available nationwide on the following systems starting July 21st: Amazon, Apple TV, AT&T, Direct TV, Dish, FandangoNOW, Google Play, iNdemand, iTunes, Microsoft, Telus, Vubiquity and Vudu
Don't Be Nice cast includes: Lauren Whitehead, Ashley August, Sean DesVignes, Timothy DuWhite, Joël François, Noel Quiñones, Jon Sands, Caroline Sinclair, and Olutayo Bosede.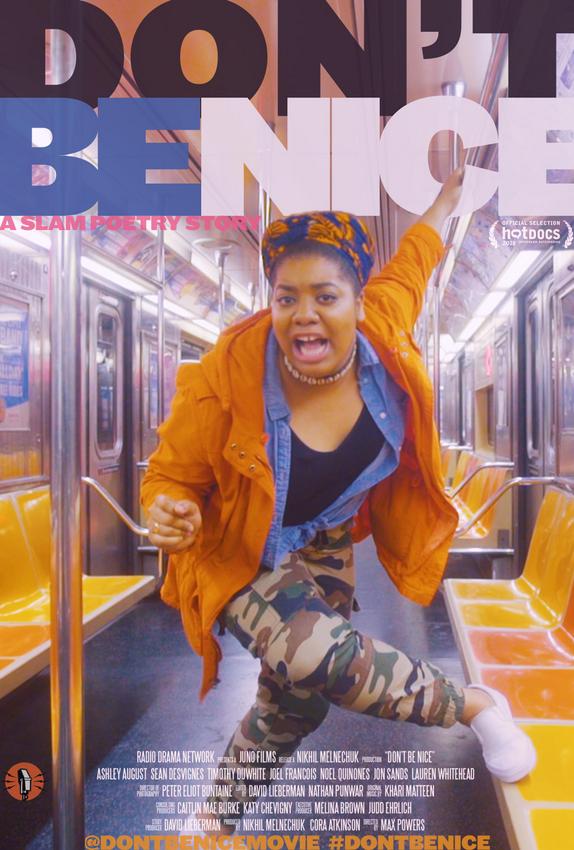 The film is from Radio Drama Network and is distributed by Juno Films. The film is a Nikhil Melnechuk Production from producers Nikhil Melnechuk and Cora Atkinson, executive producers Melina Brown and Judd Ehrlich, consulting producers Caitlin Mae Burke, Katy Chevigny, and Melissa Jackson, and story producer David Lieberman. Peter Buntaine is the cinematographer with editing by David Lieberman and Nathan Punwar and music by Khari Mateen.
The film first premiered at Toronto's documentary festival Hot Docs, made it's U.S. debut at AFI Docs and went on to play at 27 others festivals around the world. The film picked up seven awards including Best Documentary at Macon Film Festival, Atlanta DocuFest, Vail Film Festival, and Middlebury New Filmmakers Festival, the Audience Favorite at Roxbury International Film Festival, Best Director at River Bend Film Festival as well as the Jim Ewing Young Director Award at Port Townsend Film Festival. The film was honored with the Best Social Issue Documentary award at Film Threat's Award This! 2020.
---
Tell us what you think of the Don't Be Nice, Powerful Slam Poetry Documentary on DVD & On Demand. What are you thinking? What more information do you need? Do you have any suggestions? Or did this help you? Lets have your comments below and/or on Facebook or Instagram! Or join me on Twitter @oladapobamidele
Follow Nikhil Melnechuk on Social Media
Website
IMDb
Facebook
Twitter
Instagram
LinkedIn





MORE STORIES FOR YOU
The post Don't Be Nice; A Powerful Slam Poetry Docu. now on DVD/On Demand appeared first on indieactivity.